Meet the CEO: Ahmed Ismail takes helm of Majid Al Futtaim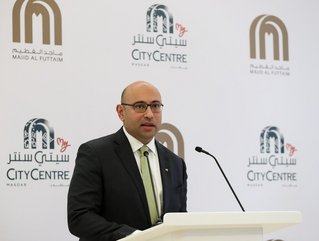 Having already taken two of Majid Al Futtaim's businesses to great heights, Ahmed Ismail has now taken the top job at the Emirati conglomerate
Ahmed Galal Ismail is no stranger to successful leadership. As a 16-year veteran of Emirati retail conglomerate Majid Al Futtaim, Ahmed has led two of its businesses to great heights, including MAF Properties, the firm's largest and most profitable operating company, whose revenues grew by 51% to a new first-half record in 2022 under Ahmed's tenure.
So impactful has his leadership been during his tenure at MAF that this month the Egyptian strategist was named to the top job, as CEO of MAF Holdings, in a move that was "supported unanimously by the shareholders" the company told Reuters.
Taking the helm of MAF Holdings, which operates malls, residential properties and cinemas across the Middle East, and is one of the leading drivers of economic growth and impact in the region, Ahmed replaces Alain Bejjani who, as the face of the MAF brand globally since 2015, was one of the region's most high profile CEOs and who was praised by Dubai's former finance chief Nasser Al-Shaikh for "steering [MAF] though the pandemic to safety".
MAF Holding – sustained growth and sustainability wins
This executive shake-up, which many are describing as unforeseen, comes as the privately held conglomerate – whose namesake billionaire founder and owner passed away a year ago – has enjoyed a steady economic recovery in the retail and leisure sectors following the pandemic, reporting revenues of US$4.9 billion in the first half of 2022, an increase of 15% compared H1 2021.
This sustained growth is in large part thanks to MAF's "strong, customer-focused strategy", and its "prudent financial discipline and strong governance", says Ahmed, adding that the company is well-positioned to remain focused on "sustainable value creation".
MAF, which has a strong balance sheet with total assets valued at around AED62.9 bn, recently raised US$1.25bn though a sustainability-linked revolving credit facility, marking its second Sustainability-Linked Loan (SLL) and making it the largest SLL borrower in the region.
This demonstrates MAF's commitment to achieving real, tangible sustainability targets, as it continues to reduce its Scope 1 and Scope 2 emissions, implement LEED certification for its buildings, and improve gender diversity within the organisation.
Ahmed Ismail – track record in growing businesses
Ahmed comes to the top job with a track record of turning around businesses and leading them to growth.
He kicked off his career as a project manager at Procter & Gamble in Cairo and then Frankfurt, before moving to Booz Allen Hamilton in Dubai where he advised organisations and governments in the retail, media, tourism and transportation sectors.
Here, he led a variety of strategy, turnaround, restructuring and transformation programs for major private sector and government clients across the region – a role that got him noticed regionally and he was subsequently headhunted by Majid Al Futtaim Holding.
Joining MAF in 2007, to head strategy, Ahmed was made CEO of MAF Ventures, the investment arm of MAF Holding, the following year where he proved his strategic management mettle over the next few years – successfully steering the business through the economic crisis, and posting record performance and profits in 2012.
Ahmed spent 10 years leading MAF Ventures. Responsible for more than 3,000 employees across eight countries in the MENA region, he oversaw the development of new enterprises to complement and reinforce MAF Holding's leadership in core industries and was instrumental in building an extensive and impressive portfolio – including VOX Cinemas, the leading cinema chain in the region; Ski Dubai, the region's first and largest indoor ski slope; Najm Cards, the pioneering retail-led credit card in partnership with Carrefour; and global fashion brands such as Abercrombie & Fitch, Juicy Couture, Jane Norman, and Hoss Intropia.
As CEO of Majid Al Futtaim – Properties since 2018, responsible for MAF's malls, hotels, communities and project management operations, Ahmed has been instrumental in the subsidiary's success – not only helping to grow its revenues by 51% to a new first-half record in 2022, but also in its continued commitment to sustainability and overhaul of culture.
In December, MAF received the Green Star status from GRESB for implementing outstanding sustainability practices across its properties' portfolio and further achieved a full score for integrating ESG best practices into management processes.
Working closely with human capital director, Ahmed also developed a 'market shaper' culture – an organisation perceived as driving the evolution of the sector – to stimulate more innovation and external orientation.
Ahmed also serves on the board of Endeavor, a global non-profit dedicated to high-impact entrepreneurship.