Red Sea Global: Building sustainable tourism in Saudi Arabia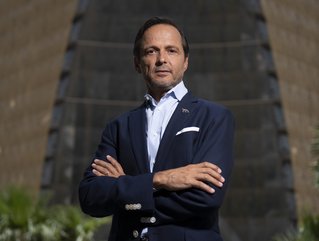 John Pagano, CEO Red Sea Global
Luxury property developer Red Sea Global is transforming Saudi Arabia into an incredible, sustainable tourism destination. We speak to the CEO John Pagano
There is a new focal point for luxury tourism emerging in the Middle East. While the UAE's glittering cities of Dubai and Abu Dhabi have been transformed beyond recognition in the past 25 years, Saudi Arabia is now tapping into this lucrative audience via property developer Red Sea Global.
As the name suggests, these developments hug the stunning Red Sea coast that the Kingdom is blessed with, while the recent rebrand from Red Sea Development Company to Red Sea Global is a sign of its long-term intentions.
For now, the focus is on two signature projects – projects that are already well on the way to completion, not just a fantasy sitting on some architect's drawing board. No less than three hotels – including St Regis, Ritz-Carlton and Six Senses no less – will be welcoming their first guests this year, serviced by a new, dedicated airport. Another 13 hotels will be opening in 2024.
The terrain being developed by Red Sea Global – and indeed the other megaprojects backed by the Kingdom's sovereign wealth fund Public Investment Fund (PIF) – is the ultimate blank canvas, which carries as many challenges as it does benefits. Not least, the need to not only preserve but actually enhance the natural habitat.
The CEO overseeing this once-in-a-lifetime opportunity is John Pagano, who will need to draw on every ounce of his near 40-year international career to make this dream a realty reality. He shares his vision, and that of Red Sea Global, exclusively with Business Chief.
Q. In your own words, how would you describe Red Sea Global?
Red Sea Global is a world leader in responsible property development and regenerative tourism. We are creating two of the most spectacular luxury tourism destinations on the planet, The Red Sea and Amaala, and we're putting the natural world and our local communities at the core of everything we do. We're setting new standards for sustainability, and we welcome others in our industry to join us in proving that tourism can be a force for global good.
Q. Can you explain the rationale for the rebrand from Red Sea Development Company to Red Sea Global?
We rebranded last year as Red Sea Global to reflect our transformation from a developer of a single destination to one with projects up and down Saudi Arabia's Red Sea coast and the abilities and aspiration to one day expand abroad. Our brand expresses our confidence that we can draw on the lessons we've learned about regenerative tourism to contribute to our industry on a broader, global scale. For example, we recently formed a partnership with The Ocean Race, one of the biggest events in international sailing, to promote ocean health as well as a lasting sporting legacy in Saudi Arabia. We see ourselves as a company of visionaries and innovators that aims to do better for people and planet.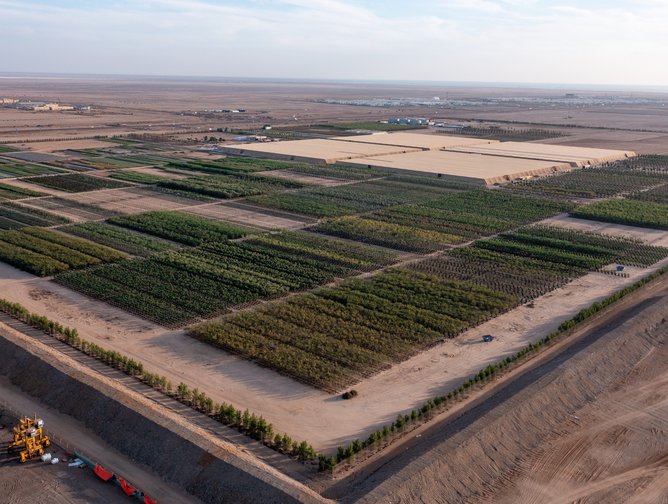 The landscaping nursery will provide 25 million plants for the project
Q. Saudi Arabia aims to have a sustainable tourism industry, including your projects. Can you outline some of the key initiatives making the development sustainable?
From Day One, our objective has been to set new standards for the tourism industry by not just conserving the environment but enhancing it. At The Red Sea destination, we're developing just 22 of more than 90 islands. We're preserving the remaining 75% of those islands, nine of which we've designated as special conservation zones. Overall, less than 1% of the area will be developed.
Our resorts will generate zero waste to landfill and ban all single-use plastics once operational. We're also capping our annual number of visitors at both The Red Sea and Amaala to protect their precious ecosystems.
We're led by science, and one of our first steps at The Red Sea destination was to thoroughly assess a pristine lagoon at the heart of the project site, using marine spatial planning. We drew up a list of actions to help ease pressure on the lagoon's environment, from cleaning beaches to rebuilding fish stocks. A peer-reviewed scientific journal in Switzerland even published our study.
In a separate effort, we surveyed the wildlife and habitats of 200 kilometers of coastline; no property developer has done a bigger environment survey. This survey serves as a baseline for us to track progress toward our goal of achieving a 30% net conservation benefit by 2040.
We're also farming corals and planting and restoring mangrove trees, one of nature's best defenses against global warming. We use treated wastewater from our constructed wetlands sewage treatment plant – the biggest of its kind in the Middle East – to irrigate our landscape nursery, also the largest in the region.
To reduce our carbon footprint, we're installing the world's largest microgrid supplied exclusively by renewable energy. Our solar farms have surpassed 85% completion, and we're building the world's biggest battery storage facility. Our water desalination plants and our other utilities and infrastructure, as well as our land vehicles and boats, will be powered entirely by electricity generated from renewable energy.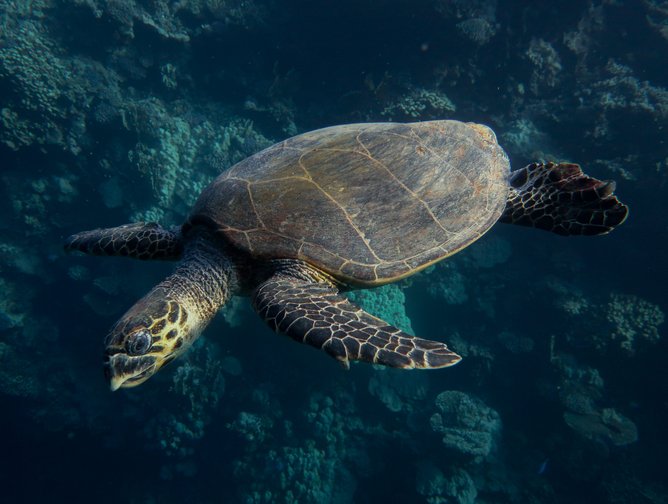 The critically endangered Hawksbill sea turtle
Q. How are you protecting the environment?
To expand on the above, Red Sea Global will own and operate Saudi Arabia's first-ever fleet of carbon-neutral electric buses, as part of our e-mobility and zero-carbon strategy. We've also partnered with a company called ZeroAvia to develop seaplanes powered by hydrogen fuel cells. And we're investing in a battery storage facility that will, at 1,200MWh, be the largest of its kind, enabling The Red Sea destination to be powered by 100% renewable energy day and night. Both The Red Sea and Amaala are planned to run exclusively on renewables.
Other initiatives include our installation of innovative floating nurseries for corals. These offshore nurseries have achieved a 90% success rate, and our findings may contribute to protecting coral reefs in other parts of the world. We're also planting and restoring millions of mangroves. Independent research suggests that tree for tree, mangrove forests can sequester up to four times more carbon than other land-based forests. They're also hotbeds of biodiversity. Our landscape nursery, the largest in the Middle East, is already home to more than two million plants and trees that will beautify our destinations while creating new terrestrial habitats.
Our decision to develop only 1% of the total area at The Red Sea destination speaks for itself. Once The Red Sea and Amaala become operational, we will limit the number of visitors at both destinations to help protect habitats and wildlife, including the critically endangered Hawksbill sea turtle and Halavi guitarfish and the regionally endangered sooty falcon. We will limit The Red Sea to one million visitors annually, and Amaala to 500,000.
Q. What makes the region you are developing unique and special – attractive to tourists?
We're developing an incredibly diverse region. It ranges from an archipelago of idyllic islands fringed by the world's most vibrant coral reefs to rugged mountains, dormant volcanoes and dramatic desert dunescapes. There's no shortage of opportunities to explore both above and below the water and to learn first-hand about the unique local culture and traditions from the region's gracious and welcoming residents. This corner of Saudi Arabia is a hidden gem for international tourism. And it's all within eight hours of flying time for 85% of the world's population.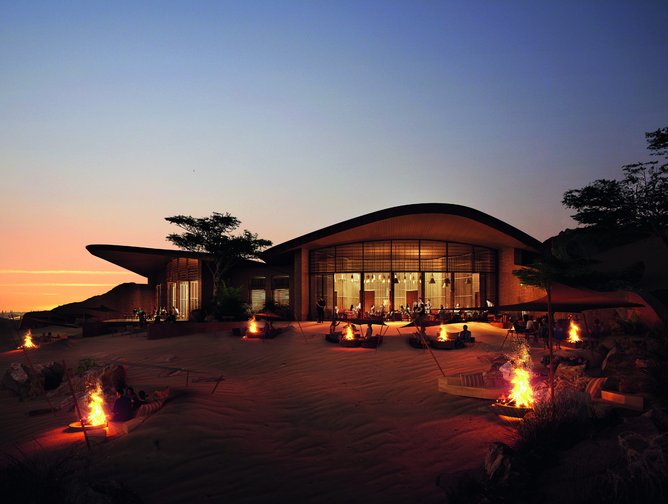 Six Senses Southern Dunes
Q. The Red Sea will be ready to welcome the first guests in 2023 – is that going to happen?
We are firmly on track to welcome guests this year to our first resorts at The Red Sea. They are our Six Senses Southern Dunes, and the St. Regis and Nujuma Ritz-Carlton Reserve resorts, located on a collection of islands known as Ummahat.
Thirteen more hotels will open in 2024 to complete our first phase at the destination. We plan to raise that number to 50 hotels once the project is completed. At Amaala, we are developing eight hotels in the first phase of the Triple Bay development and plan to welcome our first guests in 2024.
Q. Is the International Airport also due to open this year?
Yes, our Red Sea International Airport will open this summer, with capacity to handle domestic arrivals from both Riyadh and Jeddah. By 2024, it will be able to accommodate international flights. It will be powered solely by renewable energy, like the rest of The Red Sea destination, and is on track to become the first carbon-neutral airport in the Middle East.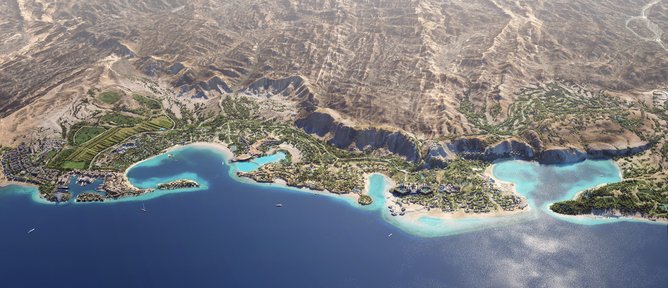 Red Sea Global's unique location
Q. What other milestones will be hit in 2023?
This will be a pivotal year for our company. We'll be opening our first three hotels and our dedicated airport, transforming The Red Sea from a project to a destination. We're also pushing ahead with the remaining 13 hotels in the destination's first phase, as well as eight resorts at Amaala. That's enough to keep us busy for now, though we hope to make some exciting announcements throughout the year regarding our growing portfolio of projects and subsidiaries!
Q. You have just taken delivery of the villas for the Sheybarah Island resort. Is that a significant milestone?
The first of our orb-shaped over-water villas arrived at Sheybarah Island in early January. They were manufactured by Grankraft in the United Arab Emirates and shipped to us by sea. We'll take delivery of the remaining villas throughout this year.
These amazing villas are clad in stainless steel and will perch above the crystal waters off Sheybarah Island, about 30 minutes by boat from the mainland. They're a great example of the efforts we make to minimise our impact on the environment at The Red Sea. By having the villas manufactured off-site and shipped to us ready-made, we need only to install them, thus avoiding any potential disturbance to delicate wildlife habitats by having to construct them on-site.
Q. Tell us about the key partners involved in those villas?
Grankraft, based in the UAE emirate of Sharjah, is producing all 73 of our over-water and beach villas for Sheybarah Island. The villas themselves were designed by Killa Design, one of the Middle East's top architectural firms. Mammoet is our transport and installation partner, and P&O Logistics is supplying the deck carrier vessels.
Q. How many partners do you rely on for the entire project?
Our ambition cannot be achieved by us alone, and we have a growing number of partners who bring not only the right expertise, but also the passion and commitment to innovation needed to support our mission to change the way tourism development is delivered.
Between The Red Sea and Amaala projects, we have already awarded more than 1,300 contracts worth in excess of SAR 25 bn ($6.6bn).
Q. How important are those partnerships for Red Sea Global's success?
Our experience at Red Sea Global shows how important it is to work with like-minded partners, from our hotel operators to research institutions to sporting organisations. We can't change the tourism business – or the world – by ourselves.
Partnerships are vital for innovation. We've worked closely with the King Abdullah University of Science and Technology in many ventures from the outset, and these collaborations have contributed greatly to our science-led approach to development.
Partnerships with the private sector are just as important. For example, we formed our first joint-venture last year with Almutlaq Real Estate Investment Co.; together, we'll develop our Jumeirah The Red Sea, a 159-key resort on Shura Island. The joint venture demonstrates the private sector's confidence in The Red Sea destination's future success.
Equally, our hotel partners share our commitment to regenerative tourism, and I've already described our strategic partnership with The Ocean Race.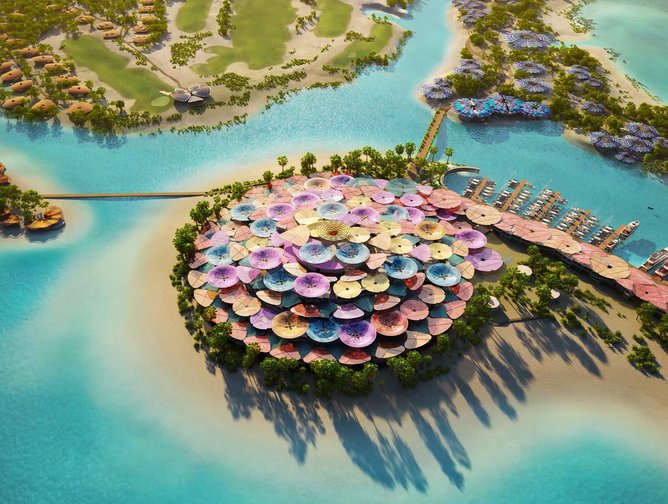 Coral Bloom concept
Q. Will pre-fabrication help Red Sea Global meet its timelines and project delivery?
Absolutely. As I mentioned, off-site manufacturing reduces potential risks to our precious environment. It also helps to ensure the successful delivery of elements like the orb-shaped Sheybarah Island villas that require technically complex production processes. Our destinations are relatively remote, and we can't produce everything we need by ourselves on-site. Pre-fabrication saves us time and minimises the footprint on the ground, while ensuring that we maintain our exacting standards for quality.
Q. How much is being manufactured in Saudi Arabia and how much imported?
We source materials, equipment and manpower locally whenever possible. As part of our support for Saudi Vision 2030, we are committed to creating opportunities for the Kingdom and its people. Our model of responsible development will drive economic growth, both in local communities and on a national scale.
Since the company's inception in 2017, over 70% of the total value of contracts has been awarded to Saudi firms, highlighting our commitment to strengthening the local economy.
Q. Give us an idea of the scale of The Red Sea Site in numbers – eg land area, number of new jobs created, expected visitor numbers?
The Red Sea destination encompasses 28,000 square kilometres, an area that's almost the size of Belgium. It's massive and includes some 200km of coastline, more than 90 islands, and even a range of dormant volcanoes, though we're only developing 1% of the area. With The Red Sea, we expect to create upwards of 70,000 direct and indirect jobs. Many of these jobs will appeal especially to younger Saudis entering the work force. As for visitor numbers at The Red Sea, we'll cap them at no more than 1 million annually to prevent over-tourism and the stress it can put on the environment.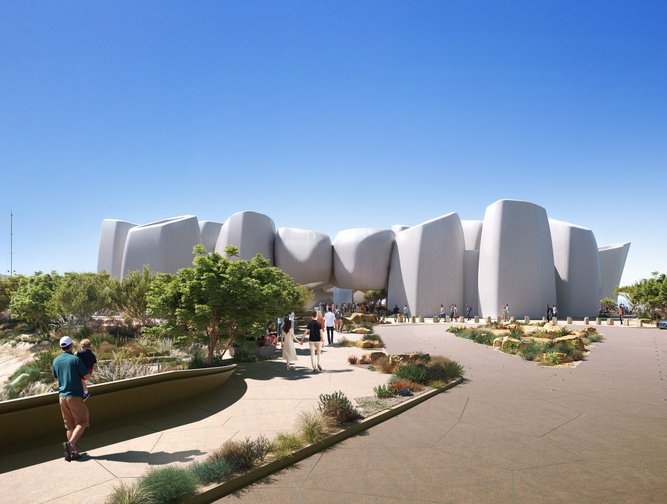 Marine Life Institute
Q. Can you also tell us about Amaala? What it is, timelines for completion, how it complements The Red Sea?
Amaala is an ultra-luxury wellness destination inspired by arts and the purity of the Red Sea coast. Phase one of Amaala – Triple Bay – is well underway. Upon completion, the destination will be home to 3,000 rooms across 25 luxury hotels and 900 prestigious villas, apartments and estate homes, alongside state-of-the-art facilities and high-end retail establishments, all overlooking breathtaking shorelines.
Two of Amaala's signature attractions will be the Red Sea marine life institute – an educational and scientific research centre designed by Foster + Partners – and the Yacht Club at Triple Bay Marina, which we expect will become an international hub for luxury yachting.
We're developing eight hotels in the first phase at Amaala and plan to welcome our first guests at the end of 2024. Amaala and The Red Sea have different geographies and different markets, but they share the same DNA in terms of responsible development and operations, and they complement one another perfectly. Amaala focuses on wellness, health and the arts, while The Red Sea targets guests with an active and adventurous lifestyle.
Q. Bearing in mind you are Global, where is next for the company?
Our portfolio has grown from a single destination to more than a dozen projects along the Kingdom's western coast. We've shown that we deliver on what we promise, while prioritising people and planet, and we're poised to take our business to a higher level. We want to amplify our message of regenerative development, though for now we have plenty to keep us busy inside Saudi Arabia and have no immediate plans to expand abroad.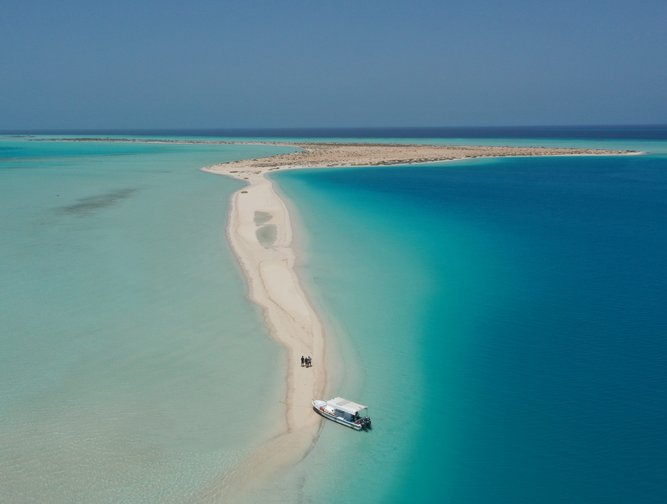 Stunning seas meet white sands in Saudi Arabia
Q. On a personal level, what is the biggest challenge you are currently facing, and what is your biggest achievement so far?
We're pioneers of Saudi Arabia's emerging tourism industry, and much of what we're doing is new and has never been tried before. As a result, we sometimes encounter bottlenecks and constraints. One of our most pressing constraints relates to contracting capacity. With so many massive construction projects underway in the country, and indeed the region, there aren't enough contractors in the Kingdom to support everyone at once. So, we're widening our search and looking for contractors further afield in places like Qatar, Turkey and the UK.
My biggest achievement is to be part of the most amazing tourism projects in the world, projects that will put Saudi Arabia squarely on the international tourism map and help diversify and strengthen the nation's economy. I get a great sense of personal fulfillment from knowing that Red Sea Global is creating many thousands of jobs for eager young Saudi women and men, and equipping them, through the right educational and training programs, to become future leaders.
Q. How would you describe your leadership style, and has that adapted over your career, especially working in different countries and cultures?
I try to listen to the experts before making a decision; I don't pretend to know something I don't. I appreciate how important it is to recruit the best talent and assemble the strongest possible teams. As a result, I feel a strong emotional connection with my colleagues, and I know I can trust them to do the right thing.
I also value different cultural perspectives. This has been extremely important at Red Sea Global, where almost half of us are Saudis and the rest of us are foreigners hailing from some 40 countries.
I pay attention to details because the little things matter, especially in our business. Our guests at The Red Sea and Amaala will expect service of the highest standard. Part of my job is to make sure we've covered all the bases and are more than prepared to surprise and delight our visitors.
Q. What gets you out of bed in the morning?
The thrill and satisfaction of knowing I'll be moving that much closer to realising a dream. It's a dream I share with everyone else at Red Sea Global, our employees and partners, and with the Saudi leadership.
My dream is to make our company the global leader in regenerative development, by setting new standards for our industry that make tourism a force for good. Also, I love to learn, and every day brings new challenges and lessons that ultimately help me do my job better. Finally, as a parent and as someone who cares deeply about humanity and our planet, I look forward to making each day count toward creating a legacy that benefits future generations.
Q. What keeps you awake at night?
My concern that too many other people in the world may lack my sense of urgency about what we need to do collectively to create this positive legacy for our children. Time is a luxury that mankind simply does not have. I worry about apathy and a lack of awareness about the risks we all face if we divorce ourselves from nature. This can keep me awake at night. So can drinking too many espressos as I lead my team to the finish line.