stc Group delivering on IT infrastructure growth strategy
stc Group CEO Eng. Olayan Mohammed Alwetaid
Saudi Arabia's digital champion stc Group continues to invest in global telco and IT infrastructure, including US$2.27bn stake in Telefónica
It has been a significant year for Saudi Arabia's digital pioneer stc Group, as it continues to expand operations both inside the Kingdom and globally.
Proof of that ambition came in the recent acquisition of a 9.9% stake in Telefónica – one of the largest telecommunications companies in the world – for US$2.27 billion.
Telefónica has a significant presence in Spain, Germany, the UK, and Brazil, and has a diverse portfolio of infrastructure assets and cutting-edge technology platforms, where it is developing state-of-the-art capabilities in cognitive intelligence, edge computing and IoT.
This latest move comes after the acquisition by Tawal – a subsidiary of stc Group – of United Group's telecommunications tower assets in Bulgaria, Croatia and Slovenia.
"Telefónica and stc Group share many similarities, with a vision to use technology to connect people and a strategy to drive growth," said Mohammed K. A. Al Faisal, Chairman of stc Group.
"This long-term, significant investment by stc Group is a continuation of our growth strategy, as we invest in vital technology and digital infrastructure sectors across promising markets globally."

New digital opportunities for stc Group
The Group offers a variety of ICT solutions and digital services in several categories including telecommunication, IT, financial technology, digital media, cybersecurity, and other advanced digital solutions, and is tasked with leading the digital transformation in Saudi Arabia and regionally.
In the latest report to shareholders, CEO Eng. Olayan Mohammed Alwetaid outlined some of the Group's significant achievements and milestones, while also setting the future agenda.
He pointed to new opportunities across digital and new technology which he says would enable digital transformation across all sectors.
stc has implemented its DARE 2.0 strategy – laying foundations for growth across commercial (gaming, media, smart home), business (cyber, cloud, mega projects, IT), wholesale (data hub) and new markets (Kuwait, Bahrain, digital banking, TAWAL and Aqalat).
In 2022, stc Group increased its share capital from SAR 20 billion to SAR 50 billion (US$13.3 billion), marking the largest capital increase in the history of Saudi Capital Market. The increase is intended to drive the growth and expansion strategy, as well as deliver shareholder value.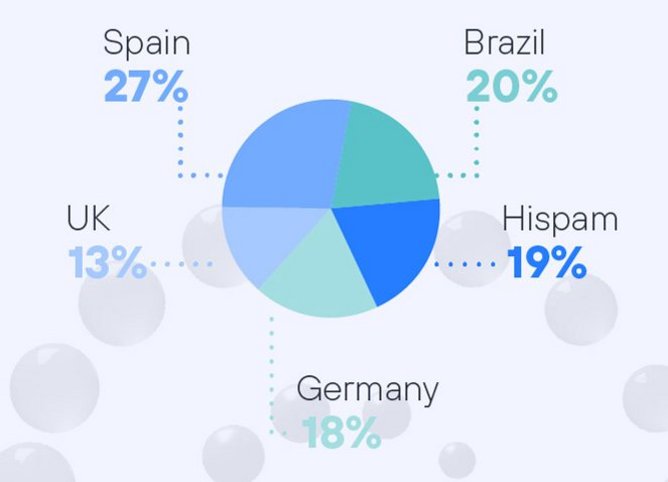 Telefónica's revenue breakdown by region
stc Group expands global footprint
stc Group collaborates with businesses to bring world-class capabilities and technologies to Saudi Arabia. One example being the founding of the General Cloud Computing Company for Information Technology in partnership with Alibaba Cloud, Saudi Company for Artificial Intelligence (SCAI), and the Saudi Information Technology Company (SITE).
Working alongside the Public Investment Fund (PIF), stc established Internet of Things Information Technology Company – iot squared. This is due to expected growth and increasing demand for Internet of Things services and products.
There was also the 2022 launch of center3 – Digital Centers for Data and Telecommunications Company. This digital connectivity hub owns digital infrastructure assets, including data centres and submarine cables, and aims to capitalise on Saudi Arabia's strategic location at the crossroads of east and west. stc Group signed an agreement with Huawei to localise the manufacturing of data centre equipment, helping to drive technology leadership.
In August 2022, stc landed the Saudi Vision Cable (SVC), the first high-capacity, high-speed submarine cable in the Red Sea.
Looking further afield, stc expanded its footprint with the strategic acquisition of Egypt's Giza Systems, and TAWAL's acquisition of Pakistan's AWAL Telecom.
Telefónica deal comes after revenue hike
That latest acquisition of the stake in Telefónica came as the Spanish telco giant posted net income for Q2 2023 up 44.5% Y-o-Y to reach €462 million (US$495 million).
"Telefónica accelerated in meeting its objectives during the second quarter and confirms the strength of the business and the good momentum of the company, which allows us to upgrade our guidance and renew our ambition to move towards a new vision for the company,"
Telefónica is preparing its 2023-2026 business plan based on three pillars: Growth, Profitability and Sustainability.
"Telefónica is not content to simply adapt to the future but has decided to shape it with a radical evolution," said Chairman José María Álvarez-Pallete.
"The new times catch us well prepared to anticipate, respond and complete the challenging journey we undertook almost a hundred years ago. Our time has come. It is Telefónica's time. We are ready for the future."
Looks like another shrewd move by stc Group as it continues its own growth agenda.
******
For more business insights, check out the latest edition of Business Chief Middle East & Africa and be sure to follow us on LinkedIn and Twitter.
You may also be interested in the Business Chief US website.
Please also check out our upcoming event – Procurement & Supply Chain LIVE in London on September 26-27, 2023.
BizClik is a global provider of B2B digital media platforms that cover executive communities for CEOs, CFOs and CMOs, as well as leaders in Sustainability, Procurement & Supply Chain, Technology & AI, Cyber, FinTech & InsurTech. We also cover industries including Manufacturing, Mining, Energy, EV, Construction, Healthcare and Food & Drink.
BizClik, based in London, Dubai and New York, offers services such as content creation, advertising and sponsorship solutions, webinars and events.