UK businesses 'squeezed but still standing', says BCG survey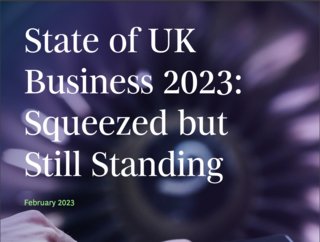 Boston Consulting Group's new survey entitled 'State of UK Business 2023: Squeezed but still standing'
Boston Consulting Group's Centre for Growth publishes UK business survey showing signs for optimism despite recession and economic struggles
Businesses in the UK are showing resilience and optimism despite the current economic downturn and expected recession.
That's according to a survey from Boston Consulting Group's new survey entitled 'State of UK Business 2023: Squeezed but still standing', which has been released by the firm's Centre for Growth.
The survey of 1,500 business leaders says 75% of those polled expect a recession this year, but 61% expect an upturn in economic fortunes by 2025. And 63% say their own revenues will grow over the next three years.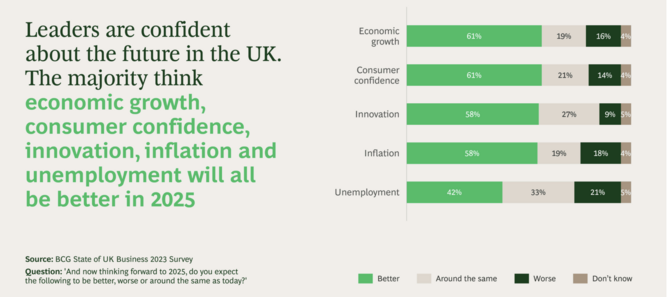 Insights from the BCG survey
This may be welcome news for other business leaders in the UK, following the most recent International Monetary Fund prediction that the UK would perform worse than other advanced economies this year, revising its forecast of slight growth to a contraction of the economy of 0.6%. In fact, the UK is expected to be the only country to shrink this year across all advanced and emerging economies. However, the IMF has said it expect the UK economy to grow by 0.9% in 2024.
Continuing to buck these trends for 2023, The Bank of England has said unemployment will rise sharply this year but the BCG survey shows that 77% of leaders expect their headcounts to stay the same or increase over the next year.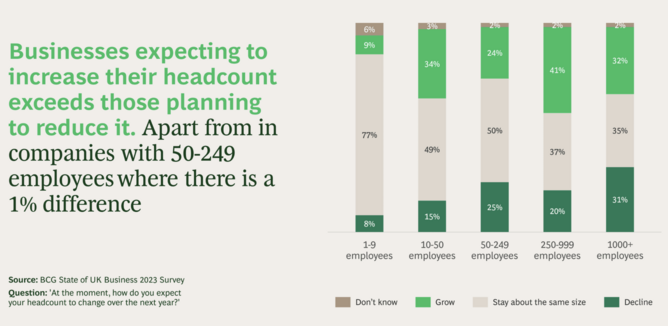 Insights from BCG's survey
Painting a positive picture of business outlook in the UK
The Centre for Growth, which focuses on accelerating sustainable and inclusive economic growth in the UK, has also produced the UK Business Resilience Index, and say that action on supply chain diversity and flexible working is boosting resilience and revenue expectations.
"It is easy to get downbeat about the UK's prospects both in the short and medium term but those running our businesses tend to be more optimistic," says Raoul Ruparel, Director of BCG's Centre for Growth.
"Business leaders are anticipating a short-lived downturn with the labour market likely to remain stronger than expected. It's also encouraging to see that an economic downturn will have little to no impact on business leaders' prioritisation of environmental sustainability and net zero. UK businesses are undoubtedly feeling squeezed, but they're still standing and, in many cases, looking optimistically to the future."