Ultimate guide to three hottest Middle East startup cities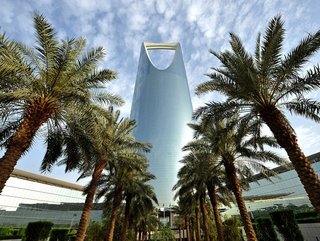 Riyadh is proving a startup hotspot / Credit: Four Seasons Hotel Riyadh
With Middle East cities rising in the startup ecosystem, we deliver the essential guide to doing business across three major hubs – including where to stay
While Silicon Valley remains top for startups, cities in the Middle East and North Africa are rising, a recent report from Startup Genome finds.
Among the region's five leading startup ecosystems, Tel Aviv, Dubai and Riyadh are riding high on entrepreneurial spirit, top talent, and business-friendly environments. Which probably explains why all three cities are attracting more business travellers than ever before.
If you're one of them, check out our essential guide to these three regional hubs – from where to stay to how to get around.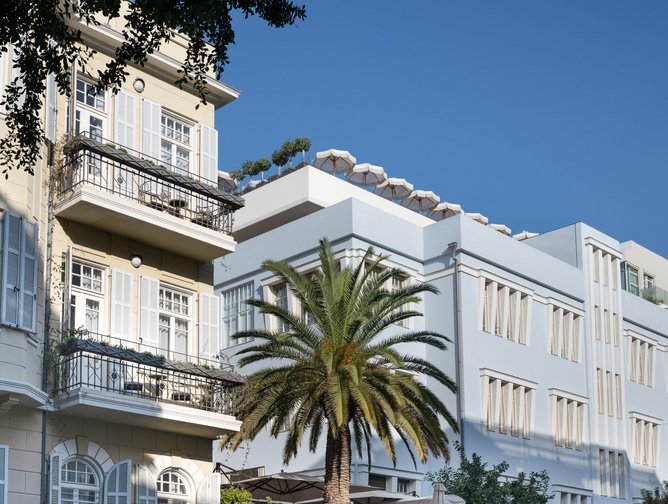 The Norman, Tel Aviv / Credit: The Norman
TEL AVIV
Where to stay Staying in the city centre or near key business districts like Rothschild Boulevard or Sarona ensures easy access to meetings and networking. As well as the usual business suspects (Sheraton Tel Aviv and David Intercontinental, recognised by World Travel Awards 2022) there are plenty more boutique and interesting options.
Take The Norman, one of a growing number of luxury boutique hotels in the city. Situated near the Rothschild Boulevard and close to city landmarks, this old-world hotel screams exclusivity, from its critically acclaimed restaurants including a Japanese-tapas-style affair to a rooftop lounge bar, wellness area, citrus garden, boardroom and private dining room.
Staying for an extended period? Check into one of six apartments at The Levee, which is located in the fashionable district of Neve Tzedek, and delivers a clutch of services including 24/7 concierge, Netflix subscription, laundry service, and complimentary breakfast.
Where to eat If you're looking to fully embrace the Tel Avivian lifestyle, head to Port Said, an always-packed outdoor eaterie with an ever-changing menu helmed by iconic Israeli chef Eyal Shani. Or try HaBasta, a tiny laid-back affair in Carmel Market that promises original Israeli and Palestinian food, the freshest fish, and a wine list compiled by one of the country's best sommeliers (Aviram Katz).
If you can only do one thing Stroll the city's Low Line from Rothschild Boulevard down to the beach – it's brimming with cafes, street art and life.
Need to know Doing business here is surprisingly casual, from attire to location, with many meetings held in cafes, largely thanks to the city's vibrant coffee culture. Most Israelis work Sunday-Thursday (some Friday mornings) with Fridays, Saturdays off for Shabbat. Gett is the most popular taxi app though Uber and Bubble are also available. When travelling into Ben Gurion Airport, the Fattal VP Private Terminal offers a hassle-free experience. Ranked as the sixth most expensive business trip destination in the world, Tel Aviv expects cash tips between 15-20%.
Did you know? Power naps are embraced here, with many businesses, including Google, encouraging employees to take short power naps to enhance productivity and creativity.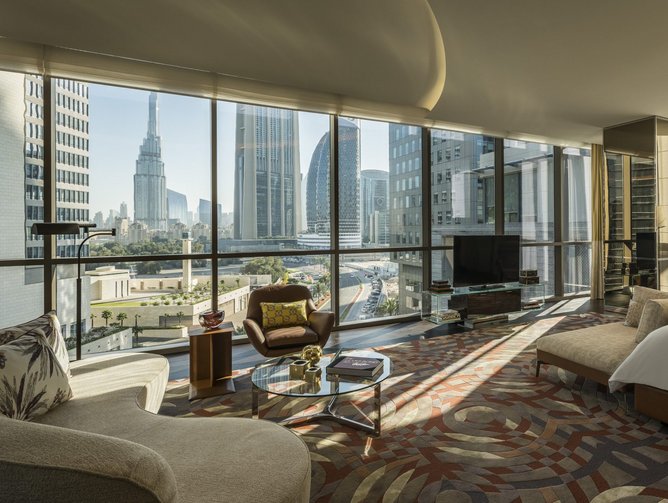 Room with THE view – at Dubai's Four Seasons Hotel DIFC / Credit: Four Seasons
DUBAI
Where to stay Downtown Dubai and neighbouring Business Bay offer easy access to Dubai international finance Centre (DIFC), and Burj Khalifa. An ideal bleisure destination, DIFC delivers over 40 cafes and restaurants, art galleries, food markets, bespoke tailors and a handful of five-star hotels. Among these, the intimate Four Seasons Hotel DIFC is home to spacious suites with dazzling Dubai skyline views and roomy workspaces, the city's best cigar lounge (Churchill Club) and The Penrose Lounge (a hub for business meetings).
Also here, the Waldorf Astoria DIFC – which delivers big on design, with décor inspired by TV series Mad Men – houses the multi-award-winning contemporary grill Bull & Bear, suites with floor-to-ceiling windows and dazzling views, a grooming suite, cigar lounge, and personal concierge for every suite.
Fancy something more chilled (and creative)? Head to 25hours Hotel One Central, with its array of co-working spaces, lobby library, podcast recording room, rooftop pool and bar, and Indian restaurant. Alternatively, ME by Melia Dubai, a Zaha Hadid-designed hotel housed in the iconic Opus and surrounded by the skyscrapers of Business Bay, provides a Burj Khalifa view, trendy tapas bar, and personalised workouts.
Where to eat There are so many, but Assiano at Atlantis, The Palm is not to be missed. This underwater experience delivers stunning views of 65,000 marine animals and an award-winning degustation menu courtesy of Gregoire Berger, one of the UAE's most innovative chefs. For authentic Emirati dishes in a courtyard setting, head to the original Arabian Tea House in the historic Al Bastakiya area.
If you can only do one thing Head to the Fahidi historic district and souq, then take a traditional abra ride across Dubai Creek to the Gold Souk
Need to know The workweek here is Monday to Friday. Book the Marhaba Meet and Greet service at Dubai Airport for stress-free fast-tracking through the airport. For taxi travel, download the Careem app.
Did you know? Dubai offers plenty of coworking spaces, which can be booked by the day or week. Try Modern Working in the Opus building (DIFC), which offers private offices, a recording studio and events space. Or opt for WrkBay, which boasts meeting rooms, podcast studio, cafe and a sanctuary garden. Both can be booked by the day.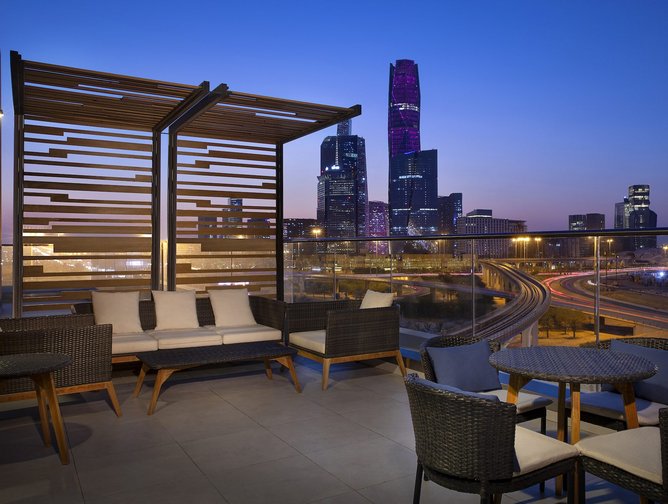 Business suite at the Riyadh Marriott Hotel / Credit: Marriott
RIYADH
Where to stay Among award-winning business hotels, the Courtyard by Marriott Riyadh Northern Ring Road in the business district is home to a business centre, three meeting rooms, a networking lounge and spacious suites with flexible workspaces. Also popular with business travellers, and a favourite of Cristiano Ronaldo, the Four Seasons Hotel Riyadh is located in the world's third-tallest building, the iconic 99-floor Kingdom Centre, which is connected to a mall. Rooms come with ample desk space, a media hub, Nespresso coffee machines and stunning skyline vistas, while service is highly personalised. And they have a women-only floor.
Looking for something more casual and boutique, Al Mashreq Boutique Hotel delivers an exceptional location in downtown Riyadh and sits in stunning surroundings (think palm trees, water fountains and traditional Arabian architecture) with facilities including meeting rooms, a business centre, Hammam and indoor pool.
A more sustainable offering comes courtesy of the multi-award-winning voco Riyadh, home to 23 meeting rooms, four restaurants, five spa rooms, a Moroccan bath, pool, and the city's first EV charging point. Among its many green credentials, biodegradable personal hygiene items, energy-efficient shower heads, and plush bedding made from recycled plastic.
Where to eat Riyadh is now home to renowned upscale brands such as Hakkasan, Cipriani, and Mamo, but for some regional flair and food, head to Maiz, a restaurant with grand interiors and huge chandeliers that's on a mission to put Saudi food on the map, with its innovative spin on traditional dishes.
If you can only do one thing At sunset, head to the Sky Bridge at the top of the 300m-tall Kingdom Centre for dramatic views of the city and surrounding desert.
Need to know As per Saudi Arabian law, alcohol is forbidden, and modest clothing is required. Transport-wise, opt for Saudi's new airline Riyadh Air, which delivers the newest, most efficient planes and is committed to using Sustainable Aviation Fuel; while Careem and Uber are widely used taxi apps. Riyadh's brand-new Metro, opening in 2024, will deliver six lines and 84 stations. The Meet & Greet service at Riyadh Airport is well worth the riyals.
Did you know? For women travelling to Saudi, most hotels offer separate fitness and wellness spaces for women, or opt for the centrally-located five-star women-only Luthan Hotel & Spa. Download the Leena ride-hailing app where all drivers are women.