What to know about Oxagon, the NEOM city open for business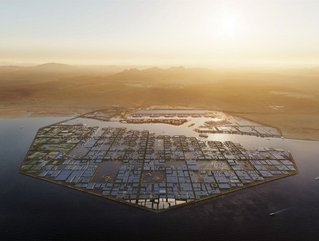 Oxagon port is now open
Saudi's gigaproject NEOM has announced Oxagon port is open for business. As the world's first fully integrated port, here's what you need to know
Build it, and they will come. That often quoted line from the movie Field of Dreams could have been made especially for NEOM – the gigaproject taking shape more quickly than you may expect in Saudi Arabia.
You can't fail to have heard of NEOM – the region created by Saudi's Public investment Fund (PIF) to redefine urban living – but how much do you know about Oxagon? The coastal city aims to bring the best of residential and industry together as a global hub for innovation, logistics, and clean energies.

Powered by 100% clean energy, it will be home to 90,000 people by 2030, and the largest floating structure in the world. That's right, the vast majority of Oxagon will be offshore, built to a modular system that will allow for future expansion.
But it would be wrong to just talk about Oxagon in the future tense – especially as the port has just opened.
That is hugely significant not just in the project timeline but also as a logistics hub and supply route for the entire NEOM dream.
With 13% of global trade passing through the nearby Suez Canal, Hexagon is also of significant strategic importance – forming a stepping stone between Asia, Africa, Europe and the Americas.
Port of NEOM pivotal to entire project
The management of Duba Port was transferred from national maritime regulator Mawani to NEOM in 2022. Located in Oxagon, the port is the main seaport for the northwest of Saudi Arabia, and has been renamed as Port of NEOM.
"The Port of NEOM will be pivotal to the continued commercial competitiveness, economic diversification and maritime trade ambitions of the Kingdom," said Nadhmi Al Nasr, Chief Executive Officer, NEOM.
"Our vision is to build one of the world's most technologically advanced, efficient and sustainable ports with the first fully integrated and automated supply chain and logistics network, and this first phase of development is a step towards realising that."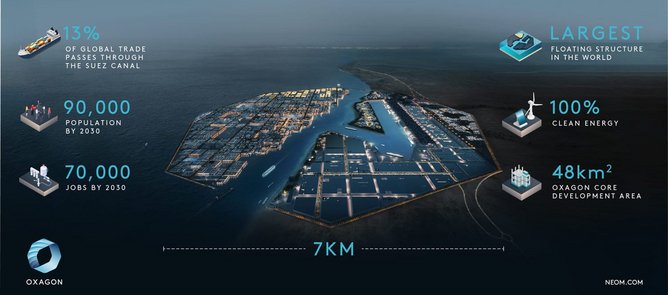 Oxagon, the floating super city built around the Port of NEOM
The Port of NEOM will be a critical enabler to the overall build, operations and economic ambitions of NEOM – from the import of goods and materials during the development phase and as a new global port serving the region.
By the beginning of 2025, NEOM says the first container terminal will be operational with integrated supply chain and logistics solutions. When completed, the port will operate at net carbon zero levels with 100% renewable energy at source, set to make it the world's most sustainable port.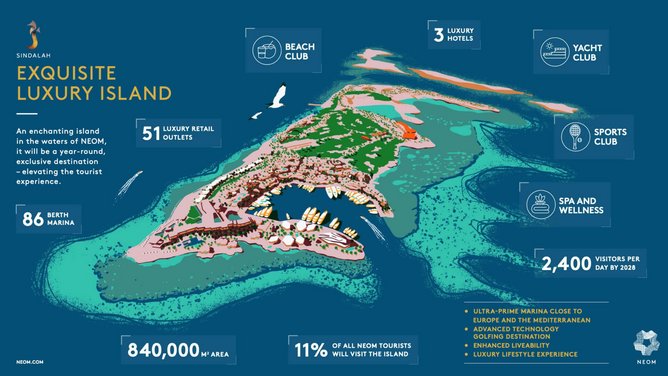 Sindalah – an island paradise for luxury seekers
Hexagon is one of four regions being developed as part of NEOM. The others are:
THE LINE – eventually home to 9 million people, this reinvention of city life will see THE LINE stretch for an astonishing 170km, being only 200 metres wide and 500 metres tall.
Sindalah – the luxury island destination for yachting and golf enthusiasts, featuring high-end properties and facilities.
Trojena – set high in the Saudi mountains, Trojena will offer year-round skiing and adventure sports, and is due for completion as early as 2026. Divided into six districts, there is also a manmade lake, a 'folded vertical village', health and wellbeing facilities, and more than 100 indoor and outdoor experiences.