10 key takeaways from the UAE Climate Tech forum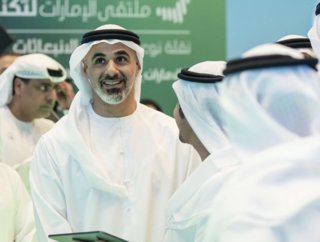 His Highness Sheikh Khaled bin Mohamed bin Zayed Al Nahyan, Crown Prince of Abu Dhabi attended the UAE Climate Tech forum
Ahead of hosting COP28, the UAE delivered its first climate tech forum convening CEOs, tech leaders and policymakers to drive decarbonisation at scale
The heat is on...
... not just on the planet, with the latest IPCC report showing emissions are still rising and confirming the need to reduce emissions by 43% by 2030 – but crucially on governments and businesses to accelerate action on decarbonisation.
Which is why the UAE, which plays host to COP28 later this year, is organising a lineup of forums in the run-up to COP bringing together the world's leading experts and CEOs to address the most pressing challenges and opportunities.
The first of these, the UAE Climate Tech Forum, took place this week over two days in Abu Dhabi.
Marking the world's first-ever decarbonisation tech event aimed at empowering organisations to reduce emissions at scale, the conference brought together 1,500 global policymakers, CEOs, experts, tech leaders, and investors from across the world to collaborate on the solutions and innovations needed to drive decarbonisation at scale.
Organised by the Ministry of Industry and Advanced Technology (MoIAT), and in partnership with ADNOC and Masdar, the forum was designed to help drive disruptive technologies and economic opportunities that accelerate decarbonisation.
So, what did we learn? What was said? And what launches and collaborations materialised?
1
COP28 President-Designate calls for collective action, not 'finger-pointing'
In his opening address to 1,500 industry leaders, Dr Sultan Al Jaber, ADNOC CEO and President-Designate of COP28, called for collective action to transform, decarbonise, and future-proof economies.
'We need to phase out emissions from all sectors, including transportation, agriculture, heavy industry, and of course, fossil fuels, while investing in technologies to phase up all viable zero-carbon alternatives," he said.
For this to happen faster, "we must create an active partnership between the largest producers of energy, the biggest industrial consumers, technology companies, the finance community, governments and civil society".
Dr Al Jaber stressed the urgent need for a responsible and pragmatic energy transition that is laser-focused on phasing out fossil fuel emissions while phasing up all viable zero-carbon alternatives while ensuring that the Global South is not left behind.
"Let's end the finger-pointing and point to actions and targets and let's point to a brighter future," he said.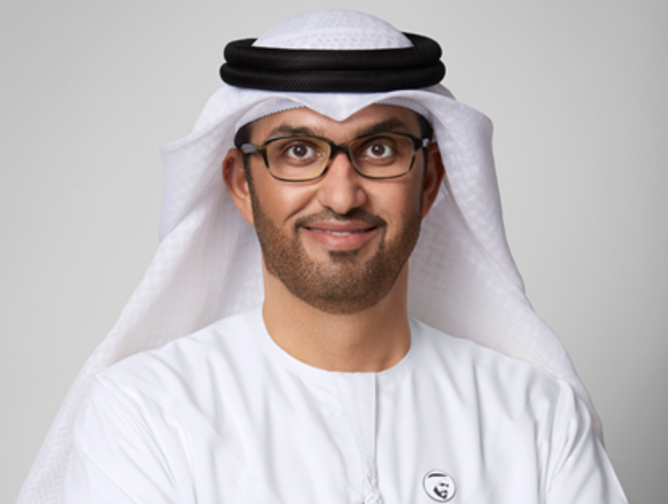 Dr Sultan Al Jaber, President-Designate of COP28, is calling for collective action to transform, decarbonise, and future-proof economies
2
UAE plans to move from linear economy to circularity

The UAE plans to move from a "linear economy to circularity", with an annual 7% GDP growth target to double its economy in the coming years, Abdulla bin Touq, UAE Minister of Economy announced during the forum.

Last year, the country approved 22 policies aimed at accelerating the country's transition to a circular economy, and set up the UAE Circular Economy Council, which will create policies focused on manufacturing, food, infrastructure, and transport.

3
ADNOC and Baker Hughes sign deal for green tech solutions
The Abu Dhabi-based oil giant signed an agreement with Baker Hughes to accelerate the development and commercialisation of tech solutions for green and low-carbon hydrogen, and graphene.

This will see the two collaborate on the study, piloting and ultimate deployment of innovation solutions from Baker Hughes' hydrogen portfolio, including new growth stage decarbonisation technologies that the firm has invested in across graphene, methane pyrolysis and next-gen electrolysis spaces.

This builds on ADNOC's US$15 billion commitment towards decarbonisation projects by 2030.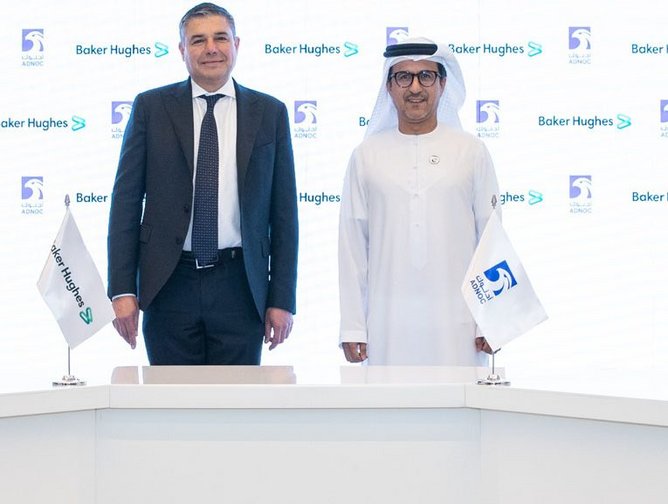 ADNOC and Baker Hughes partner on accelerating the development and commercialisation of tech solutions for green and low-carbon hydrogen
4
AIQ showcases AI-powered decarbonisation solutions
Known for its expertise in driving the AI-powered transformation of the energy sector, Abu Dhabi-based tech pioneer AIQ, a subisidiary of G42, showcased its cutting-edge suite of AI solutions designed to support the industry's entire value chain.
Among these, AI Emissions Platform is an AI-powered automated software that enables companies to forecast their industrial greenhouse gas emissions for enhanced ESG reporting. The platform utilises AIQ's advanced AI and machine learning capabilities, deployed in the cloud, to predict emissions and facilitate decarbonisation planning.
The firm also presented a live demo of its Smart Vessel software, a pioneering solution designed to improve safety onboard vessels with a focus on automated monitoring, detection and reporting incidents.
5
Call for oil and gas methane emissions to be phased out by 2030
Dr Sultan Al Jaber, President COP28 urged the oil and gas industry to eliminate methane emissions by 2030 and adopt comprehensive net zero plans by 2050.
Emphasising the significance of reducing methane emissions, which account for around 30% of global temperature rise since the industrial revolution, the ADNOC CEO called for a phase-out of emissions across all sectors, including transportation, agriculture, and heavy industry, while investing in zero-carbon alternatives. He highlighted the role of technology in achieving this and underscored especially the need to invest in hydrogen and carbon capture technologies, as renewables alone cannot address emissions.
6
Beeah Group and AIQ announce transformational partnership
The region's sustainability pioneer Beeah Group announced a partnership with Abu Dhabi green Ai pioneer AIQ on the development of AI-based solutions and opportunities to drive sustainable growth in waste management and renewable energy sectors.
While BEEAH Group has already achieved several firsts in the region with technology and AI, including its iconic headquarters where predictive AI and a digital twin enable operations at LEED Platinum standards, the group is aiming to "explore new avenues for AI-based technological development, create new business efficiencies, and achieve greater targets to support the UAE's sustainability agenda", Khaled Al Huraimel, Group CEO said.
Beeah Group and AIQ to partner on developing AI-based solutions for waste management and renewable energy
7
ADNOC kicks off US$1m global competition for tech innovators
The Decarbonisation Technology Challenge, launched at the forum and supported by AWS, BP, Hub71, and the Net Zero Technology Centre, is looking to find and nurture energy transition tech innovators that can help transform and decarbonise the global energy sector.
Companies specialising in carbon capture utilisation and storage, new energies, oil and gas emissions reduction, digital applications and advanced materials for decarbonisation, and nature-based solutions are invited to apply.
Ten finalists will be invited to pitch their innovations to a panel of judges in December, and winners will receive pilot opportunities worth up to US$1m with access to research and innovation centres in Abu Dhabi.
8
Masdar and IRENA set roadmap to triple global renewable energy capacity by 2030
One of the world's leading clean energy companies, Masdar, signed an agreement with the International Renewable Energy Agency (IRENA) to collaborate on a project for COP28 that will outline global targets for renewable energy by 2030.
The main objective? To establish a global baseline for renewable energy, with a focus on solar, wind, hydropower, geothermal, and other technologies including battery storage, complemented by region-specific data. The project will also highlight the challenges faced by different regions in meeting their renewable energy ambitions and provide recommendations for action.
"The world needs to commit to tripling global renewable energy capacity by 2030 and to double it again by 2040… and this joint research project with IRENA will emphasise the vital role of renewable energy in limiting global warming when the world comes together at COP28," HE Dr Sultan Al Jaber said.
9
Emirates Development Bank joins IRENA's Alliance for Industry Decarbonisation
By joining the global action group, whose aim is to decarbonise industrial value chains and accelerate net-zero ambitions, Emirates Development Bank (EDB) not only underlines its commitment to helping decarbonise and cut industry emissions but showcases its flexible financial solutions to support companies operating within the Renewables sector.
For investments in alternative or renewable energy, or businesses shifting to clean and renewable energy sources in the UAE, the Bank offers up to 100% financing of the project value with a maximum tenor of 15 years.
"We are fully dedicated to scaling up our finance solutions, deploying significant resources, and stimulating innovation to support the transition to cleaner sources of energy and deeply cut industrial emissions," Ahmed Mohamed Al Naqbi, Chief Executive Officer of Emirates Development Bank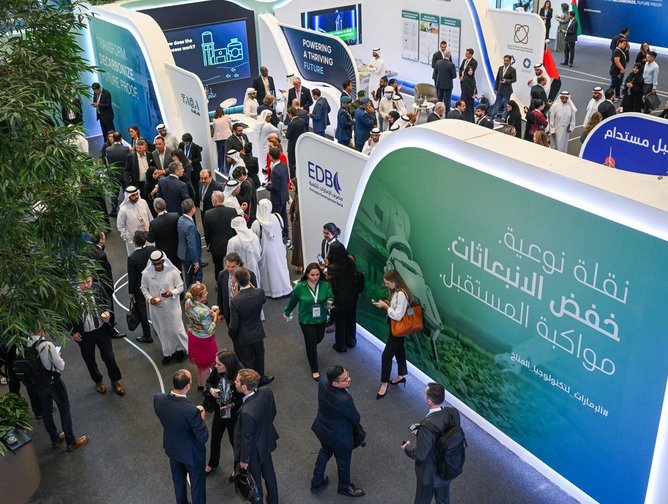 By joining global action group IRENA, Emirates Development Bank showcases its flexible financial solutions to support companies operating within the Renewables sector
10
New water solutions company established to achieve circular economy ambitions
Abu Dhabi Sewerage Services Company (ADSSC) announced its re-branding to newly established Sustainable Water Solutions Holding Company (SWS), as the company looks to revolutionise the global water industry through a focus on resource recovery and water circularity.
The aim of SWS Holding is not only to achieve circular economy ambitions in the UAE, but become a globally competitive sector leader.
"Our mission is to create and implement sustainable water solutions to enable the circular economy," the newly appointed CEO of SWS Holding, Ahmed Al Shamsi, said.