Abu Dhabi Sustainability Week 2023 – all you need to know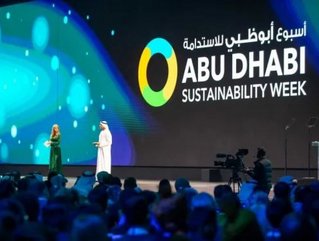 Kicking off next week, Abu Dhabi Sustainability Week will reinforce the UAE's commitment to addressing climate change challenges ahead of hosting COP28
If ever there was a time to pay attention to Abu Dhabi Sustainability Week (ADSW) – now in its 15th year and scheduled to take place next week (January 14-19) – 2023 is that year.
Not only is sustainability an issue more urgent than ever, but with COP28 taking place in the United Arab Emirates later this year, all green eyes are focused on this Arab country, which is championing sustainability as a key pillar of its economic and social progress and prosperity.
With a target of becoming net zero by 2050, the UAE has become increasingly ambitious in its sustainability goals, recently publishing a third NDC (Paris Agreement) to increase its emissions-reduction target to 31% by 2030, up from the previous 23.5%.
And just this month, Sheikh Mohammed bin Rashid, Prime Minister and Ruler of Dubai, announced that enhancing the UAE's sustainability was one of the most important government priorities in 2023, as he gave the green light to 33 initiatives aimed at preserving ecosystems, improving the condition of arid and drylands and mitigating the impact of climate change.
Such initiatives, along with the forthcoming UAE-hosted COP28, taking place November 30 to December 12, are likely to be among the numerous dialogues, discussions, and debates at the upcoming Abu Dhabi Sustainability Week – whose theme this year is 'United on Climate Action Toward COP28'.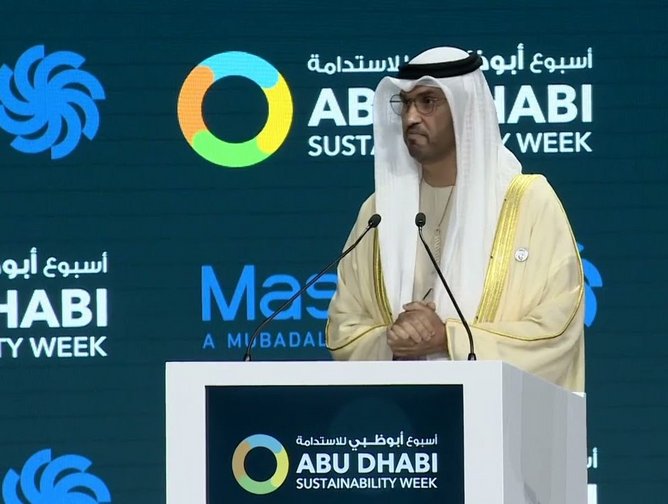 ADSW 2023 – accelerating the world's sustainability development
Hosted by the UAE's Masdar, one of the largest clean energy companies of its kind, ADSW 2023 will convene heads of state, policymakers, industry leaders, investors, youth, and entrepreneurs, for a series of impactful dialogues on the transition to a net-zero future – and importantly, on how to leverage the assessment form the critical first Global Stocktake of the Paris Agreement, due to take place at COP28, to accelerate climate progress.
"We stand at a critical moment as nations prepare to gather in the UAE to highlight progress on meeting climate objectives and to explore pathways to net zero," says Sultan Ahmed Al Jaber, UAE Minister of Industry and advanced technology and chairman of Masdar.
"Ahead of COP28, ADSW 2023 will provide a platform for vital dialogue between key stakeholders and decision makers, as we look to forge alliances and develop innovative solutions to deliver an inclusive energy transition."
Al Jaber emphasises the need for a "just and inclusive energy transition that supports the needs of developing nations while ensuring a more sustainable future for us all" and believes ADSW serves as the ideal platform for delivering this.
As well as the Opening Ceremony (January 16) – which brings together 4,000 global delegates, including world leaders, senior policymakers, and business leaders – and the Zayed Sustainability Prize Forum (January 16), which showcases innovative solutions to sustainability challenges, ADSW 2023 will deliver a roster of events – the majority of which will also be available online.
The events will focus on a wide range of critical topics including food and water security, energy access, industrial decarbonisation, health, and climate adaptation.
Introducing the inaugural Green Hydrogen Summit
For the first time, ADSW 2023 will feature a Green Hydrogen Summit. Taking place on January 18 and hosted by Masdar's green hydrogen business, which aims to produce up to one million tonnes of green hydrogen per annum by 2030, the summit will highlight green hydrogen's growing importance in the global drive toward net zero.
This comes as green hydrogen "continues to show growing promise as a critical enabler of our net-zero future", says Mohamed Jameel Al Ramahi, Masdar CEO.
Masdar's green hydrogen business aims to produce up to one million tonnes of green hydrogen per annum by 2030, with Masdar already actively involved in various projects related to green hydrogen production, including agreements with leading Egyptian state-backed organisations to develop green hydrogen production plans.
"The UAE and Masdar have long believed that green hydrogen will play a key role in that energy transition and as we continue to explore low-carbon and zero-carbon energy solutions, the time is right for green hydrogen to take a more central role at ADSW," Sultan Ahmed Al Jaber, chairman of Masdar, says.
Among topics set to be discussed at the inaugural summit are developments in hydrogen production, conversion, transport, storage, and use, along with high-level discussions focused on the development of the UAE hydrogen economy, the role of government and regulation, and panel sessions on a broad range of topics including innovation, sustainable finance, green energy in Africa, and hydrogen's value chain.
In addition to these knowledge-based sessions, the summit will feature a dedicated Hydrogen Hub, showcasing developments by companies in this sector.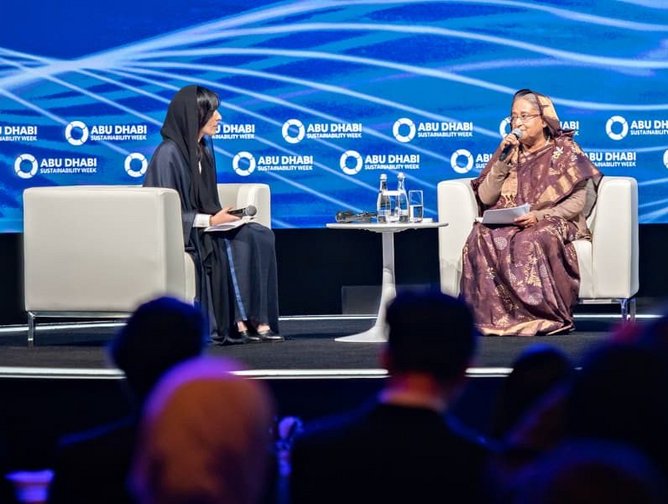 Inclusivity with a focus on women central to ASDW 2023
As in previous years, ADSW will host the Women in Sustainability, Environment and Renewable Energy (WiSER) Annual Forum (January 17), which gives women a greater voice in the sustainability debate and encourages world leaders to press forward with initiatives to build a more inclusive sustainable future.
The 2023 WiSER Annual Forum will focus on the theme "empowering women to lead climate adaptation" and will explore how to increase support for women in areas including climate finance, climate-resilient infrastructure, food security and access to Agritech, education and training on climate change, and gender-responsive climate adaptation policies.
Prior to the forum, the platform has launched a global campaign pledge – #IAmWiSER – to champion women as agents of sustainable change, in line with the UN SDGs 5 and 7, which aim to "achieve equality and empower all women and girls".
Globally, women and girls experience the greatest impacts of climate change, which amplifies existing gender inequalities and poses unique threats to their livelihoods, health, and safety, according to UN Women.
The #IAmWiSER campaign has been endorsed by five notable women who are today advancing the sustainability agenda on the global stage, including Mariam Almheiri, UAE Minister of Climate Change and Environment; Ambassador Lana Nusseibeh, Permanent UAE Representative to the UN; Damilola Ogunbiyi, CEO of Sustainable Energy for All (SEforALL) and Co-Chair of UN-Energy; Peggy Choi, Founder and CEO of global knowledge-sharing platform, Lynk; and Alexandra Palt, EVP Chief Corporate Responsibility Officer of L'Oréal.
Palt says the #IAmWiSER pledge is not just about celebrating "the achievements of women who have worked tirelessly to build a more sustainable future for their communities and our planet", but about "inspiring and empowering future generations to follow in their footsteps".
Young people will also be given a platform with the Youth 4 Sustainability Hub (January 16-18) aiming to attract 3,000 young people, while 70 small and medium-sized enterprises and startups will participate in ADSW, many showcasing cutting-edge technologies.
Among other globally significant events, including partner-led events and opportunities for international engagement on sustainability-related topics, will be: