Capgemini report highlights gap in GHG measurement, impact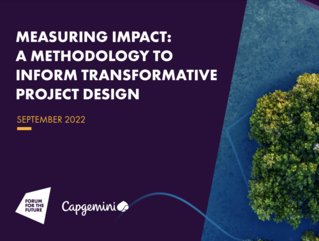 Capgemini and Forum for the Future report tackles gap in measuring GHG emissions when it comes to GHG reduction projects for clients and partners
Leading sustainability consultancy Capgemini has worked in collaboration with Forum for the Future to produce a new report, Measuring Impact: A Methodology to Inform Transformative Project Design.
The in-depth report aims to stimulate much-needed debate on how organisations working to deliver sustainable outcomes for clients can meaningfully measure these impacts.
By using the GHG Impact Methodology for calculating the greenhouse gases emissions during the design phase or even at the end of a project, organisations can look to deliver better outcomes while also providing a more sustainable solution.
The report acknowledges that significant progress has been made in carbon accounting over the last 20 years, with most large organisations calculating and reporting their carbon impacts based upon the Greenhouse Gas (GHG) Protocol. However, while this framework works well assessing across Scopes 1,2 and 3 – a gap remains when it comes to measuring the GHG impact of a project specifically designed to reduce the GHG impact of a client or partner.
This report outlines the thinking of both Forum for the Future and Capgemini on this important topic. By sharing the GHG Impact Methodology, the report aims to enable more accurate and meaningful decision-making during the project design phase and an accurate impact calculation at the end.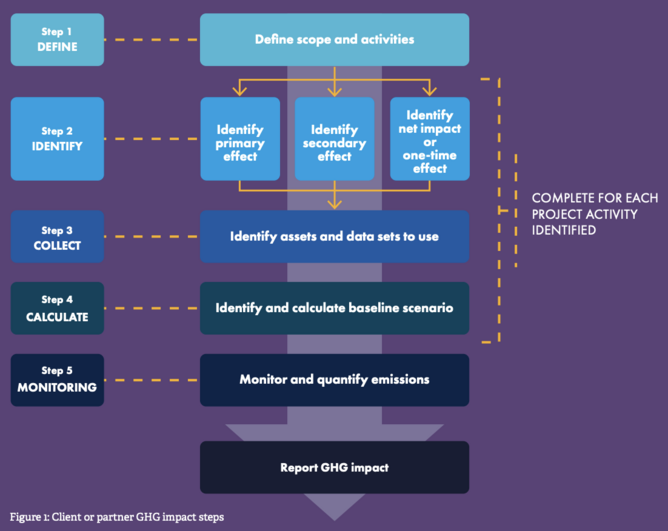 Six principles for greenhouse gases reporting
Forum for the Future and Capgemini recommend following the six principles set out in the GHG Protocol for Project Accounting are applied.
Relevance: Use data, methods, criteria, and assumptions that are appropriate for the intended use of reported information
Completeness: Consider all relevant information that may affect the accounting and quantification of GHG reductions, and complete all requirements
Consistency: Use data, methods, criteria, and assumptions that allow meaningful and valid comparisons
Transparency: Provide clear and sufficient information for reviewers to assess the credibility and reliability of GHG reduction claims
Accuracy: Reduce uncertainties as much as is practical
Conservativeness: Use conservative assumptions, values, and procedures when uncertainty is high
The GHG Impact Methodology has been refined by Capgemini over a number of years while trying to understand the wider carbon impacts of transformation projects it delivers to clients.
Lessons learnt from working with clients on GHG
Calculating the potential GHG impacts for projects can make an important contribution to the decision-making process and shine a light on potential, sometimes unexpected, secondary carbon impacts.
The report says the development of both the GHG Impact Methodology and also Capgemini's Client Carbon Impact Calculator, has provided some key learnings:
At present, there is no single globally recognised GHG impact methodology, which makes it difficult for companies to understand the carbon impacts of potential projects, and to compare potential supplier approaches
Datasets (such as conversation factors) are often difficult to find and are widely created in English, excluding a large proportion of the global population. Ultimately, reducing carbon emissions must be a global endeavour so inclusion and accessibility is critical
Ensuring we follow up with a systemic approach remains the key challenge – perhaps as important as initially measuring the CO2e emissions. This may require capacity building across organisations to ensure a systemic lens along with long-term thinking covering the full spectrum of impacts across social, economic, and environmental considerations.
Download the report here.