Consultancy BCG publishes Annual Sustainability Report 2022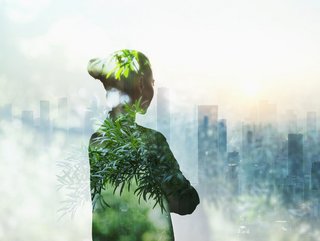 BCG has an eye on the future as it celebrates its 60th anniversary
One of the Big 4, Boston Consulting Group appears to be on track to meet sustainability goals as it celebrates its 60th year and 20th in the Middle East
Boston Consulting Group celebrates its 60th anniversary this year, and while that does not make BCG one of the elder statesmen of consulting (Arthur D Little has been going for more than 135 years), it is an appropriate time to look at the future – and that means sustainability.
It is also a double celebration, marking 20 years of BCG in the Middle East, with offices now present in Dubai, Abu Dhabi, Riyadh, Jeddah and Doha.
BCG has just published its Annual Sustainability Report 2022, a weighty tome outlining the positive change the consultancy is driving in its own organisation and the clients it works with.
Those measures included BCG involved in more than 1,500 projects across 780 clients in 2022.
"We are committed to being the most positively impactful company in the world. This ambition lies at the heart of everything we do and is core to our purpose and values," said Christoph Schweizer, CEO of BCG.
"We are proud to partner with clients, governments and nonprofit organisations to create positive and sustainable economic, environmental, and societal impact."
2022 also saw the appointment of two important C-suite leaders. David Webb was named Chief Sustainability Officer as well as his role as MD of North American Systems, while Nadjia Yousif was named Chief Diversity Officer.
"It is essential that BCG is not only representative of the societies we serve, but also that everyone at BCG feels that they can bring his, her, or their full self to work," said Yousif on the appointment. "I am so excited to shape and progress the DE&I agenda at BCG and beyond."
BCG's workforce grew to 30,000 in 2022, with women accounting for 46% of total headcount.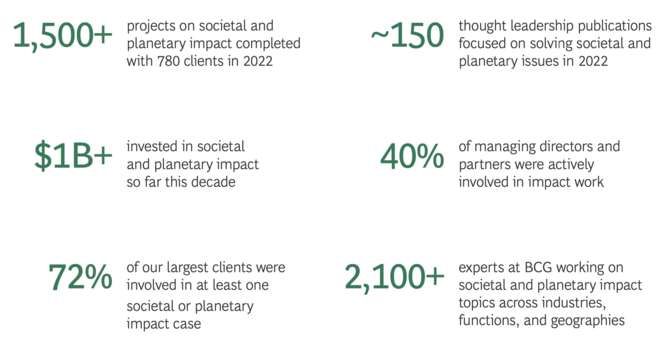 BCG's vision and impact in 2022
Social Impact and Climate & Sustainability key to BCG business
There is no wonder BCG is putting extra focus on sustainability issues, with 12% of the firm's work focussed on Social Impact and Climate & Sustainability.
BCG has invested more than US$500 million in climate action since 2020 and is committed to investing US$2 billion by 2030.
"We have set ambitious, science-based targets aiming to halve our emissions intensity by 2025 and achieve net-zero climate impact by 2030," said Webb.
"In addition to evolving the way we operate to reduce emissions, we are proud to be one of the companies helping support climate innovation in our industry and beyond. One way we do this is by supporting the development of breakthrough climate technology such as sustainable aviation fuel and direct air capture."
Key findings from the report chart BCG's climate change progress since 2015:
greenhouse gas emissions have decreased by 30%
water usage has reduced by 20%
waste generation is 15% less
energy consumption has dropped by 10%
The report also highlights some case studies where BCG has helped clients achieve their sustainability goals.
These include helping one client reduce its greenhouse gas emissions by 20% by implementing energy efficiency measures in its offices and factories; helping another client reduce its water usage by 15% by installing water-saving fixtures in its buildings and implementing a water conservation program; and helping another client reduce its waste generation by 10% by implementing a recycling program and composting food waste.
Download the 2022 Annual Sustainability Report here.