Discover the future of sustainability & ESG at London event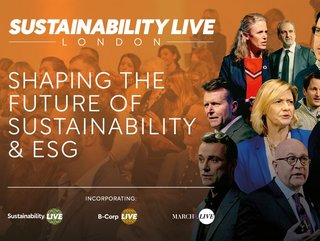 Top business leaders and sustainability pioneers take to stage at Sustainability Live London hybrid event 7-8 September to discuss ESG, net zero, B Corp
In just four weeks, sustainability leaders and pioneers from the world of business, consulting and academia will be heading to London's iconic Business Design Centre for Sustainability Live London.
With a theme of Shaping the Future of Sustainability & ESG, the two-day conference being held on 7-8 September 2022 will tackle some of the biggest business challenges organisations face now and in the immediate future.
The multi-track content programme features inspirational speakers from some of the world's biggest and most sustainable companies, delivering essential insight to more than 5,000 attendees joining in person in London or virtually around the world.
"Our last Sustainability Live London event was standing-room-only which just goes to show the significance of sustainability and ESG issues," says Scott Birch, Chief Content Officer, BizClik Media Group, organisers of Sustainability Live London.
"With geopolitical uncertainty, fears of a global recession and inflation spiralling out of control, one thing seems clear – sustainability is essential for business survival and success in these rapidly changing times. What are you doing to future-proof your firm? What is your sustainability strategy? What are the opportunities presented by ESG? All of these will be answered at Sustainability Live London."
This is an opportunity to hear from more than 70 of the world's most inspirational sustainability leaders as they discuss and debate the most pressing issues and discover how some of the world's leading companies – including Schneider Electric, Unilever, Microsoft, Interos, Capgemini, and Coutts – are implementing their ESG strategies.
With a focus on creating actionable change and real-world partnerships, the conference agenda will deliver keynote speeches, live roundtables, and presentations from leading executives, discussing everything from ESG strategies and renewable energy to sustainable supply chains and ethical financing. There is also a focus on ethical investing, the circular economy, third-party supply chains, B Corp certification, and equitable workplace practices.
Sustainability Live London to tackle net zero, ESG, B Corp, Scope 3
Sessions are delivered across two live stages and one virtual stage plus – new for this event – educational, in-person workshops. Key topics covered include:
Environmental, Social & Governance Strategies
Net Zero & Planet
Diversity, Equity & Inclusion (DE&I)
Circular Economy
Sustainable Supply Chains & Scope 3
Ethical Investing & Finance
Inclusive Economy
B-Corp for Non-Profits
B-Corp Accreditation & Certification
B-Corp Standards & Governance
Women in Sustainability
DE&I Education
There are more than 70 confirmed speakers for the event with more being added each week. Speaker highlights at Sustainability Live London include:
Business Design Centre ideal venue for Sustainability Live London
After a successful inaugural event in London's Tobacco Dock, the show is moving to a more central venue at Business Design Centre – renowned for its own credentials when it comes to sustainability and CSR.
"Business Design Centre is not just a brilliant events space, it's an example of how a Grade II Listed legacy building can still lead the way when it comes to sustainability," adds Birch. "The venue has won industry CSR awards, has been carbon neutral for more than a decade, sends nothing to landfill and uses 100% renewable energy. Being easily accessible by public transport is also a huge plus."
Six reasons to attend Sustainability Live London event
Discover the latest practices and principles for ethical investing routes that meet your environmental, social and governance (ESG) policies
Be inspired to provide a more equitable workplace from some of the world's leading trailblazers in diversity, equity, and inclusion (DE&I)
Learn how carbon footprint reduction is everyone's problem and how to enforce transparency among third-party supply chains
Understand why B Corps are important and how Open Finance and Open Data can evolve to support sustainable finance
Unlock what your customers want to know about your company's position on sustainability and how to differentiate your value proposition for a competitive edge
Network with your peers, alongside a raft of inspiring leaders, movers, and shakers from across the entire sustainability ecosystem
How to register free for Sustainability Live London conference
The two-day conference is free to attend either in person or virtually. Those visiting the show will be able to interact with the sessions, attend the workshops and also network with speakers and other attendees during designated networking breaks.
The virtual experience is the perfect solution for anyone unable to travel to London, as it still offers live access to all of the content stages, plus virtual networking via the event app. Virtual attendees can also post questions via the app to really get involved in the live sessions.
Click here to register for Sustainability Live London on 7-8 September 2022 or visit sustainability-live.com