Emirates leading the charge towards sustainable aviation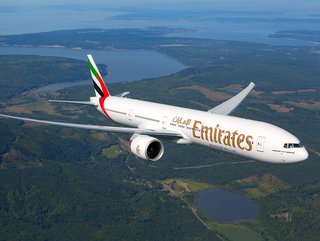 in January this year, Emirates completed a demonstration flight using 100% SAF.
Emirates makes the biggest single commitment by any airline on sustainability with a US$200m aviation sustainability fund, amid most profitable year ever
Aviation has a problem, and it's not a dirty secret. The proliferation in recent decades of air travel, brought on particularly by budget airlines, has seen leisure travel reach new heights.
According to the International Civil Aviation Organization (ICAO), there were 3,232 billion passenger miles flown in 1980. By 2020, that number had grown to 4,578 billion passenger miles – and it is only going top keep on growing, especially as countries such as India and China cater to their domestic markets.
And here's the problem. That huge increase in time in the sky is creating significant amounts of carbon dioxide.
It is estimated that global aviation is responsible for around 2.5% of CO2 emissions. This may not sound like a lot, but it is more than the emissions of some entire countries, including Sweden, Norway, and Switzerland.
The good news is, airlines are taking responsibility, and searching for solutions to make flying more sustainable – with Dubai-based Emirates Airline leading the way.
Biggest single commitment by an airline to sustainability
The world's largest international airline has committed US$200 million to fund research and development (R&D) into reducing emissions, with the money to be spent over three years on new fuels and energy technologies.
This marks the biggest single commitment by any airline on sustainability and arrives as the airline delivers a record financial performance – posting US$2.9 billion profit in the fiscal year ending March 31, marking an 81% jump in revenue from the previous year.
"We looked long and hard at the reality we face in commercial aircraft and engine technology, fuel supply chain, and our industry's regulatory and eco-system requirements," said Sir Tim Clark, President of Emirates Airline.
"It's clear that with the current pathways available to airlines in terms of emissions reduction, our industry won't be able to hit net zero targets in the prescribed timeline. We believe our industry needs better solutions, and that's why we're looking to partner with leading organisations on R&D. Our aim is to contribute meaningfully to practical solutions for the long-term sustainability of commercial aviation."
While the search goes on for these solutions, Clark says Emirates will continue to increase the use of Sustainable Aviation Fuel (SAF) – which is made from renewable sources such as plant oils and waste products. While not 100% clean, SAF releases far less CO2 than jet fuel.
Emirates first flew with a portion of SAF back in 2017, and in January this year completed a demonstration flight using 100% SAF.
Which begs the question, if airlines have the technology to do this, why aren't they? It would be easy to think it is purely a matter of cost but while SAF is more expensive, it is the limited supply that is the issue.
IATA estimates that global annual supply of SAF currently meets less than 0.1% of airlines' needs.
The pros and cons of SAF were discussed in a fascinating panel session at Sustainability LIVE, featuring Nikhil Sachdeva, Global Lead for Sustainable Aviation at Roland Berger.
Sachdeva said there are two main challenges when it comes to implementing SAF – scale-up and cost.
"Generally speaking, SAFs are a wonderful solution and do not require significant changes to aircraft or engine technology," he said, pointing out that standard engines are already compatible up to 50% SAF usage and that engine manufacturers are moving rapidly to bring this up to 100%.
"However, SAF volumes remain extremely low (<0.5%) and need significant scale up, which will hopefully also allow costs to come down to affordable levels."
Joining Sachdeva on that panel was Susanne Bouma, Head of Partnerships & Programmes, Renewable Aviation at Neste – the world's largest producer of SAF, which is looking to increase production from 100,000 tons to 1.5 million tons this year.
"The biggest challenges are production capacity and the price of SAF," said Bouma. "We need to increase demand for SAF to attract the investments needed to ramp-up SAF production capacity. Businesses and individual travellers can play a key role as they can create demand by choosing to make their air travel more sustainable by voluntarily paying for using SAF."
"Combating climate change does come at a cost. So the question should not be 'What does SAF cost?' but rather 'What would it cost if we don't use SAF?'"