Engie and Posco leading latest Oman green hydrogen project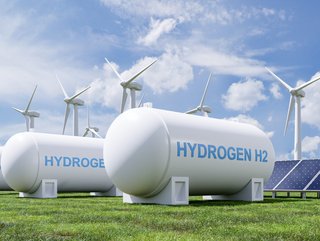 Oman is on track to become the sixth largest exporter of hydrogen globally, and the largest in the Middle East by 2030
Green hydrogen industry gets another boost in Oman as Engie and Posco lead consortium to export 1.2 million tonnes to Korea by 2030
When it comes to green hydrogen, one country in the Middle East region is staking a claim as the market leader – Oman.
Currently the largest non-Opec oil producer in the Middle East, Oman has positioned itself as a low-emissions hydrogen supplier, setting ambitious targets that will see the Gulf nation become the sixth largest exporter of hydrogen globally, and the largest in the Middle East by 2030.
Hydrogen, which can be produced using renewable energy (green hydrogen) and natural gas (blue hydrogen) is expected to play a significant role in the future as economies and industries transition to a low-carbon world.
Back in February, the Sultanate issued a Royal Decree to actively promote clean hydrogen projects and allocate land accordingly. Shortly after this, Hydrogen Oman (Hydrom), which is a subsidiary of Energy Development Oman, signed deals for six green hydrogen projects worth US$20 billion.
These projects would require 15GW of renewable energy and would be expected to produce 700,000 tonnes of green hydrogen for local industry and for export.
Those initial deals were signed with BP Alternative Energy Investments, Green Energy Oman (GEO), Green Hydrogen and Chemicals, Hyport Duqm consortium and SalalaH2 consortium.
Engie and Posco to lead consortium
Now, a consortium led by French energy leader Engie and South Korea's top steelmaker Posco has been awarded a 340 square kilometre land block by Hydrom, in Duqm, with downstream elements to be established at the Port of Duqm.
Engie and Posco will lead a consortium designed to mobilise Oman's renewable energy resources through green ammonia projects with a capacity of 1.2 million tonnes per year.
The consortium includes Samsung Engineering, Korea East-West Power Co., Korea Southern Power Co., and FutureTech Energy Ventures Company Ltd.
The project will include up to 5GW of new wind and solar capacity, battery energy storage system (BESS) and a renewable hydrogen plant. Some 1.2 million tonnes per year of green ammonia will be exported to Korea in 2030.
Construction is due to begin in 2027, with the first shipment planned in 2030.
"This venture will benefit from Engie's industrial expertise," said Sébastien Arbola, Executive Vice President in charge of Flex Gen & Retail activities.
"By developing renewable energies, renewable hydrogen and flexible assets such as batteries, this project is perfectly in line with the Group's strategy to accelerate the transition to carbon neutrality. It will contribute to several of our 2030 ambitions: reaching 4GW of hydrogen capacity and 10GW of batteries."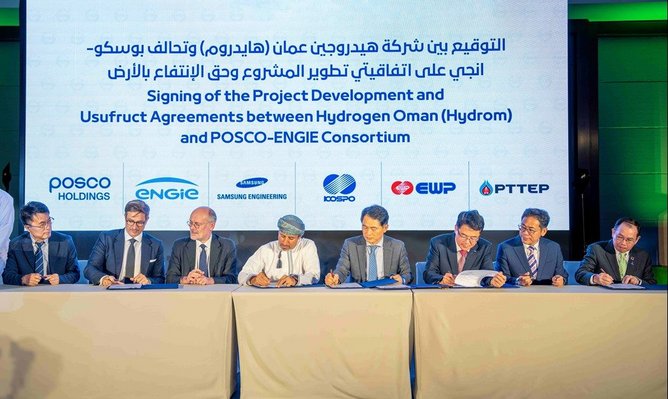 Signing of the Oman green hydrogen project agreements
Engie accelerating the transition to carbon neutral
With a presence of 30 years, France-based Engie is a long-term international investor in the Middle East with a presence of more than 30 years in the region. In the GCC, the water and power developer produces 30.5GW of power and 5.8 million cubic metres of drinking water via desalination.
The Paris and Brussels-listed company has targeted 4 gigawatts of green hydrogen capacity globally by 2030, and as such has projects planned in Asia, the Middle East, Africa and Europe.
Last year, Engie signed an agreement with Fertiglobe, the Abu Dhabi-based chemicals joint venture of Adnoc and OCI, and Masdar to co-develop a green hydrogen facility in the UAE for the production of ammonia. In 2021, Engie and Masdar also announced a US$5 billion partnership to develop the UAE's hydrogen economy along with other projects regionally with a capacity of at least 2 gigawatts by 2030.
Oman on track to be world's sixth largest exporter of hydrogen
While Oman is better known for being an oil and gas developer, and is the largest non-Opec oil producer in the Middle East, the country boasts globally competitive solar and wind energy resources – and so it makes sense to utilise this.
With a target to achieve net zero emissions by 2050, Oman is planning to produce 1 million tons of renewable hydrogen a year by 2030, up to 3.75 million tonnes by 2040, and 8.5 million tonnes by 2050 – which would be greater than total hydrogen demand in Europe today.
The 2040 hydrogen target would represent 80% of Oman's current LNG exports in energy-equivalent terms, while achieving the 250 target would almost double them.