Europe corporate emissions can drop 50%, reveals CDP report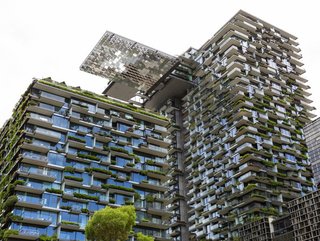 If Europe's most carbon-intensive firms matched the best climate performers in their industry, corporate emissions could be halved, reveals CDP report
If all companies in Europe matched the best European climate performing firms in their industries, corporate emissions on the continent could be cut in half.
That's according to a new report by CDP, the non-profit that runs the global environmental disclosure system for companies, cities, states and regions, and global management consultancy Oliver Wyman.
The report titled Now For Nature: The Decade of Delivery finds that while European companies are driving global progress on science-based targets (SBTs), they are often failing to act on their wider environmental impacts – from deforestation to water security.
Europe driving progress on SBTs
The number of companies with approved SBTs grew 85% last year, and now covers businesses responsible for one-third of reported emissions, but still just 16% of firms have targets aligned with the Paris agreement's 1.5°C goal.
The pandemic brought a 13% drop in reported corporate emissions, but there is little evidence of real reductions. After adjusting for Covid-19, cuts are in the range of the pre-pandemic trend of 1.5% per year – far short of the 4.2% required for companies to align with the Paris agreement's 1.5°C pathway.
The analysis gives reason for optimism, however, with 450 million tonnes of CO2 estimated to be 'locked' in and to come from companies with targets being set through the SBTi.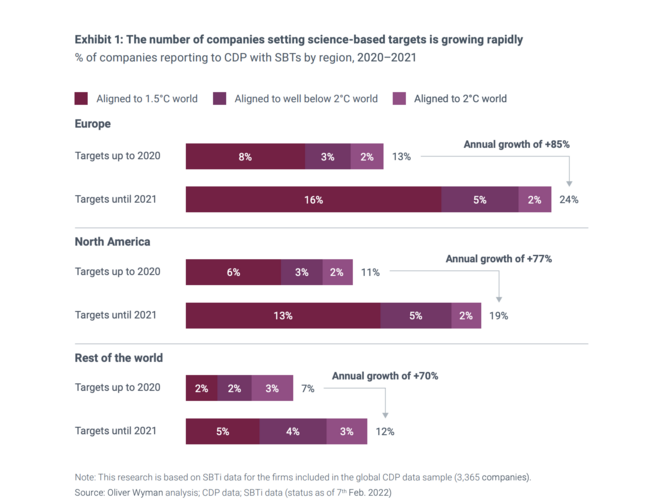 There are also signs of a picked-up pace in finance with European financial institutions leading the world on aligning their portfolios to the Paris Agreement. In a 50% annual improvement, nearly half of European financial institutions now report 'financed emissions' – those linked to investment, loans and insurance activities – compared to just 32% in North America – though just 27% include at least half of their portfolio. Meanwhile, a third (32%) of disclosing financial institutions report encouraging companies in their portfolios to set emissions targets in line with 1.5°C.
Take La Banque Postale, among Europe's largest but youngest banks, which has some of the world's most ambitious environmental targets. In 2021, it became the only European bank with an approved SBT, covering 85% of its portfolio. Accelerating its net-zero commitment to 2040, it will exit coal, oil and gas by 2030, and aims to halve its residential mortgage emissions by 2030.
"There has been a huge acceleration in climate ambition with more companies setting science-based targets, and while this is a worldwide phenomenon, Europe is leading the way," says Rob Bailey, Partner at Oliver Wyman.
'However, progress in reducing emissions is more mixed. The data is clouded by the impact of Covid restrictions, but after adjusting for this it is hard to see evidence of the step-change in emissions reductions needed. There is going to be a laser focus on delivery now."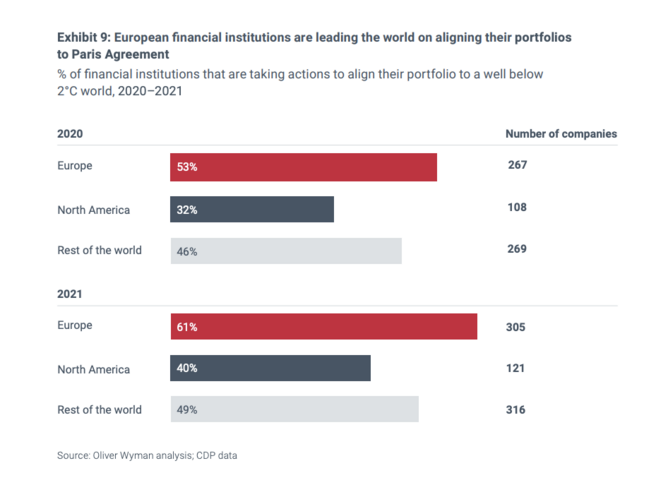 Progress on wider nature issues slower
The report finds that broader nature issues are yet to progress at the same pace. Investors are nearly twice as likely to assess their portfolios for climate risks than for forests (88% vs 46%), for example.
And less than a quarter of businesses with supply chains in high deforestation-risk countries have a strong zero-deforestation commitment, and under half of those sourcing beef, soy and palm oil have full traceability systems.
On water security, 77% of companies reported reducing or maintaining water withdrawals, but just 14% have a target to address water pollution.
Just 1 in 20 (5%) companies disclosing to CDP on climate, forests and water have a robust emissions target (an SBT), a target for reducing water withdrawals, and a best-practice forests commitment including zero-deforestation.
This points to a trend of companies under-appreciating their wider – but significant – environmental impacts on nature and biodiversity.
Companies' indirect (scope 3) emissions represent the majority (86%) of their emissions – or six times those they produce directly, according to the report. Yet just over half (53%) of companies disclose data on their most important sources of these indirect emissions – typically from their supply chains and use of their products.
For companies, it may suggest they are ignoring clear business risks. The average risk related to climate change was valued at €355 million, 10 times larger than the average impact of water risks, and five times larger than deforestation-linked risks, such as incoming EU regulation banning deforestation-linked imports.
A recurring finding is that leadership is confined to few companies. This is whether looking at action on climate, forests, or water security, and is especially true for engagement throughout value chains. If all companies matched the best in their industry, emissions equal to those of the UK and Ireland could be spared each year.
While Maxfield Weiss, Executive Director at CDP Europe, says he's "encouraged by leaders in Europe's financial system and real economy stepping up", he sees leadership as really concentrated.
"We must broaden action out across the whole market. It's high time all companies and financial institutions with huge, global environmental footprints take urgent action to align their value chains with our planet's natural boundaries. We need to see a true transformation to reach both net-zero emissions and a full recovery of nature."

Read the full report.