Schneider report: Manufacturing's rapid green transformation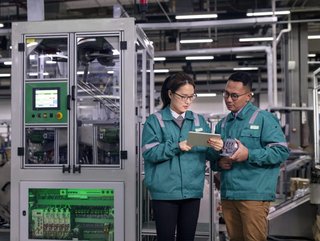 Leading manufacturers now seek total carbon visibility across the entire supply chain in a shift from just process efficiency – Schneider Electric report
Leading manufacturers are currently undergoing rapid green transformations, moving from incidental to intentional sustainability, according to a new report by Schneider Electric in collaboration with MIT Technology Review.
A world leader in digital transformation of energy management and automation and passionate advocate of sustainability for more than 20 years, France-headquartered Schneider Electric is also the world's most sustainable corporation in 2022, according to sister publication Sustainability Magazine.
The report, titled Equipment management and sustainability, reveals a concerted push towards sustainability within the manufacturing sector, with a long-term goal of total carbon visibility across the entire supply chain.
This is a major achievement considering the carbon impact of the world's manufacturing industries has held the imagination of climate change activists for decades.
Rather than making sustainability merely a by-product of responsible equipment management, as was until recently the case, leading manufacturers are shifting to make sustainability the goal of process improvements.
"Sustainability is no longer a happy coincidence," says Frederic Godemel, EVP of Power Systems & Services at Schneider Electric. Instead, the pairing of efficient equipment management and purposeful green principles is seeing manufacturing set on a course for effective decarbonisation in the long term.
But while many manufacturers are upping their green game, the time they have to decarbonise is swiftly dwindling.
"Manufacturers must accelerate their efforts through optimal use of data and digital technologies if the industry is to make a significant contribution to international climate goals when it matters," says Frederic.
Manufacturers – the routes to decarbonisation
Decarbonisation in the manufacturing process comes through improving equipment operations, reducing waste, and making products with less carbon-intensive inputs. And manufacturers have several levers to pull in their efforts to decarbonisation.
One is to diversify their energy sources away from fossil fuel-based electricity, purchasing from renewable energy producers or developing photovoltaic microgrids to product their own green power.
Another is to accelerate the efficiency of equipment maintenance and process optimisation, using improved data, analytics, and IoT-based sensors to identify production-asset faults and assess operating conditions with greater accuracy.
A third lever involves modernising manufacturing processes to reduce processes and the amount of raw materials used during production, as well as decreasing the usage of machinery and improving the performance of existing machinery.
Take Nestle, which is undergoing digital transformation and as part of this has a major energy-intensive equipment initiative to instal IoT sensors for its machines in 500 facilities globally. These sensors monitor water, gas, and energy consumption for each, and make correlations with its respective process performance data.
This will help the global food manufacturer lower manufacturing energy consumption by 5% in 2023. And in the future, such correlation analysis will help Nestle conduct "big data analysis to carbon-optimise production-line configurations at an integrated level" by combining insights on material usage measurements, energy efficiency of machines, rotation schedules for motors and gearboxes, and as many as 100 other parameters in a complex food-production facility, says Buela Salazar, Nestle's Eurozone maintenance manager.
"Integrating all this data with IoT and machine learning will allow us to see what we have not been able to see to date," he adds.
How technology is being used to make manufacturing more sustainable
From modernising processes to enable decarbonisation, to leverage technology to build better predictive processes, here's how leading manufacturers are creating sustainable organisations.
Product-specific sustainability practices on the rise Leading firms are modernising processes to enable decarbonisation, which is being achieved by improving equipment operations, reducing waste, and making products with less carbon-intensive inputs. The report suggests that manufacturers are seeking increased access to visibility through data analytics and digitally connected supply chains. Embracing Industry 4.0 principles, they are using sensors and performance management tools to increase the flow of carbon/sustainability-relevant data across the firm's entire operations.
Modular processes enabling better predictions Technology is also being used to build better predictive processes and reorganize them to be leaner and modular. It allows producers to adjust assembly lines, processes, and material inputs for more precise calibration. In turn, this allows for better forecasting and 'on demand' customised manufacturing. Organisations can now use virtual designs to stress-test new sustainability production models in virtual reality before committing them to the carbon-intensive 'physical' reality, such as digital twinning to reduce energy in production design processes.
Purposeful design aids the circular economy Leading manufacturing firms are reimagining manufacturing processes in pursuit of 'circular economy' goals. This often involves a long-term business plan for managing materials and 'design for sustainability' manufacturing principles. These include building facilities to disassemble existing products to make better use of spare parts and total cost of ownership (TCO) models, which link product design to fewer processes, more sustainable inputs, and even reducing the lifespan of machinery-intensive products to take advantage of iterative innovations in electric efficiency.
Read Schneider Electric's report here