Top 10 Michelin-starred sustainable restaurants in Europe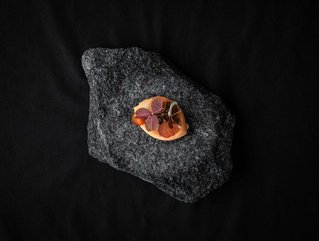 Fine dining and sustainability can go hand in glove as our selection of the top 10 Europe-based Michelin-starred restaurants prove
Any foodie worth their salt knows the value of a Michelin Star, the French three-tiered rating system honouring the world's finest restaurants. But even the savviest gourmand may not have heard about Michelin's Green Star, which landed in 2020.
Michelin's Green Star recognises restaurants committed to sustainable gastronomy – those sourcing ingredients responsibly, championing local and ethical produce, pioneering the fight against food waste, using seasonal ingredients, eliminating non-recyclables from their supply chains, focusing on a plant-based menu, and tackling issues related to ethics and wellbeing.
To date, 338 restaurants across 21 countries have bagged Michelin-worthy green credentials, the majority of which are in France (82), followed by Germany (52), Spain (27), the UK and Ireland (22), and the Nordic countries (34).
We've rounded up 10 of Europe's greenest gourmet restaurants, from London to Moscow, Amsterdam to Copenhagen, to ensure you eat well and sustainably.
1 Silo, London
Dubbed the world's first zero-waste restaurant, east London-located fine-dining eatery Silo may not have a Michelin star to its name (yet), but it has bagged Michelin's prestigious Green Star.
Embracing a pre-industrial food system, showcasing pure foods born from clean farming, Silo's philosophy is based on respect – "respect for the environment, respect for the way food is generated and respect for the nourishment we give to our bodies", says owner Douglas McMaster.
This is reflected in its mainly plant-based menu and zero-waste ethos which extends to absolutely everything. The tasting menu maintains control of what is ordered and all ingredients are utilised to the max with meat prepared following a nose-to-tail approach. Leftovers and scraps are composted, and the restaurant mills its own flour, churns its own butter and oat milk and brews its own fermented beer from live cultures.
All produce is locally sourced, arrives in reusable containers and is served on crockery made from crushed wine bottles. Even the furniture is recycled with tabletops made from recycled food packaging and lamps made from Mycelium, the vegetative part of fungi.
2 ONA Restaurant, Ares, Southwest France
Not only does vegan restaurant ONA (Origine Non Animale) have a Green Star, it's also the first double Michelin-starred vegan restaurant.
Led by self-taught vegan chef Claire Vallee, ONA is 100% vegan, organic gastronomy with no meat or dairy on the menu and no leather or fur products in the décor. Instead, the interiors feature wood and bulrush plants while a terrace showcases 140 varieties of organic edible plants used in the kitchen.
ONA uses seasonal, organic and local produce and the menu, which changes monthly, is designed as a sensory journey around organic seasonal products, both raw and cooked. All energy used is renewable and the restaurant has its own compost system.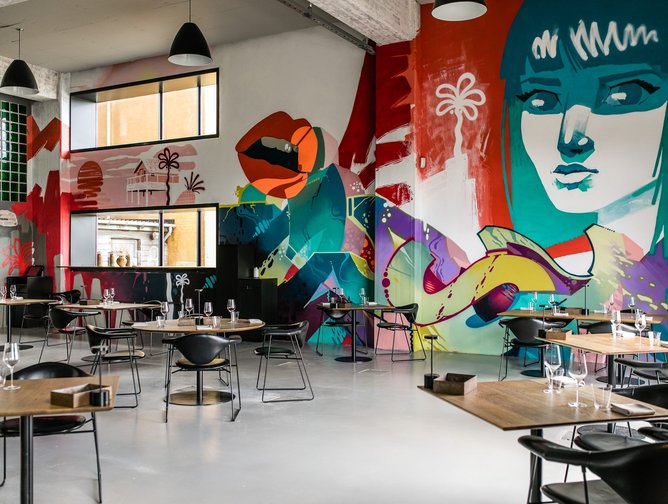 3 Amass, Copenhagen
Credited with being the most sustainable restaurant in the Nordics, fine-dining Amass has been led by former Noma chef Matthew Orlando since its 2013 debut.
The restaurant's minimal setting – industrial dining room with high ceilings and an open kitchen – mirrors its minimal approach to cooking with all parts of all ingredients used, the creative chefs cleverly turning skins, seeds and stems into dried seasonings, misos or crisps.
Ingredients are organic and seasonal, many grown in Amass's own garden which features 80 varieties of plants and an aquaponic farming system, with the remaining ingredients sourced from Danish farmers and suppliers. Meats are sourced only from farms that practice ethical animal husbandry, and waste is composted or turned into biofuel.
4 Twin Garden, Moscow, Russia
Two Michelin Star Moscow-based Twin Gardens is one of just three Russian restaurants with a Green Star in 2021.
Founded in 2017 by twin brothers Ivan and Sergey Berezutskiy (Ivan trained at El Bulli) and previously included in the World's 50 Best Restaurants list, Twin Garden's concept – described as a "symbiosis of science and nature" – is seasonal and designed around ingredients that come from the brothers' own farm near Moscow.
The menu offers a tasting course with dishes to represent different Russian regions and vegetables take centre stage – the brothers even make their own vegetable wine. As tech-savvy as they are green, the restaurant boasts a solar-powered oven, and high-tech lab equipped with a mushroom wall and 3D food printer.
5 ANG, Tvaaker, Sweden
Owned and run by three siblings who are third-generation dairy farmers, One Michelin Star ANG is a destination restaurant complete with a vineyard, hotel and spa located in Halland country on the western coast of Sweden.
Organic, seasonal and local produce take centre stage with ingredients sourced from the Halland region only, many foraged each morning from nearby forests, meadows and fields, with vegetables grown, and lambs reared, on the restaurant farm.
ANG offers a zero-waste surprise tasting menu with paired beverages, all organic and artisanal with wines produced from the onsite vineyard. "We choose our produce very carefully in both quality of flavour and sustainability aspects with most of our ingredients based right here in Halland county," says chef Filip Gemzell.
6 Loam, Galway, Ireland
Credited with being the first chef in Ireland to champion natural ingredients, owner Enda McEvoy runs One Michelin-Star Loam, located in an industrial-style setting with open kitchen that contrasts with the most natural of ingredients.
Loam has committed to using ingredients sourced only from the west of Ireland using local farmers and fishermen and delivering highly creative dishes with a focus on seasonal and foraged ingredients like elderflowers and sea vegetables.
A zero-waste, nose-to-tail and leaf-to-root ethos is followed, with any unused food preserved through pickling and fermentation, while waste is composted. They also use renewable energy sources and educate students at local schools.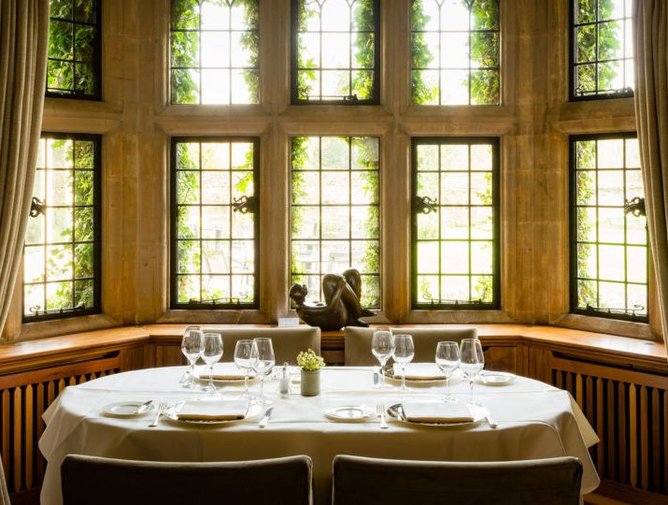 7 Le Manoir aux Quat' Saisons, Oxfordshire, UK
Seasonality and sustainability go hand-in-hand at two Michelin-Star Oxfordshire-based Le Manoir aux Quat' Saisons, the iconic 15th-century country house restaurant led by legendary chef Raymond Blanc OBE.
Not only is the setting divine, and the elegant dishes classically French with a modern touch, but all produce is either organic, free-range or artisanally produced. Much of the produce hails from the estate's two-acre kitchen garden which features 90 different organic herbs and vegetables, and from its 2,500-strong heritage fruit orchard.
"We are driven by ethical, environmental, seasonal and regional values," says Raymond Blanc. The restaurant even runs its own culinary and gardening school.
8 La Mirande, Avignon, France
Led by chef Florent Pietravalle and located in a private mansion within the historical walls of La Mirande in the south of France, one Michelin-star restaurant La Mirande sources local, organic produce from within a 150km radius.
It is the seasonal ingredients on offer that dictates each day's changing menu with vegetarian dishes dominating. Education is as important as execution with each guest receiving a map of the region detailing regional producers used.
The chef grows his own mushroom crops in his cellar, fed by coffee grounds, and aromatic herbs on the kitchen roof. The restaurant also separates out compostable waste, which is recovered by an association.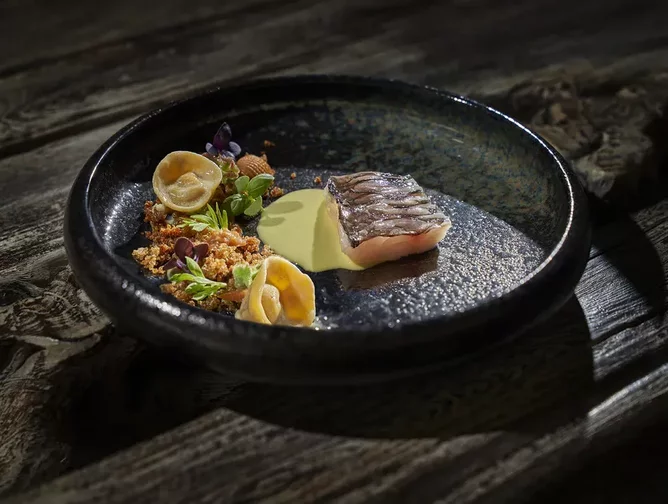 9 Il Gallo d'Oro, Funchal, Madeira, Portugal
Located within five-star hotel The Cliff Bay in the coastal town of Funchal on the stunning Portuguese island of Madeira, two Michelin-Star Il Gallo d'Oro is passionate both about respecting traditional flavours and championing the use of local products.
With a focus on Iberian and Mediterranean cuisine, French chef Benoit Sinthon delivers highly-creative dishes that are always based around seasonal organic products, with a particular emphasis on showcasing those both from the restaurant's own garden and from the sea nearby.
10 Bolenius, Amsterdam, the Netherlands
One of eight Michelin Green Star restaurants in the Netherlands, Bolenius is not just known for being a flagship restaurant of the Dutch Cuisine movement, but for placing vegetables at the heart of its sustainable cuisine.
Bolenius delivers a minimalist menu that reflects the purity of ingredients with dishes based around local produce and in particular vegetables picked daily from the restaurant's own vegetable garden.
In fact, owner and chef Luc Kusters is renowned for his creative use of leftover vegetables, as well as his use of techniques such as salting and preserving to ensure all produce is utilised. The restaurant also sources sustainable fish and local meat.