Two new initiatives to spur corporate climate action in MENA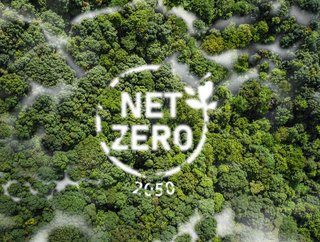 The MENA region is at risk of warming at twice the global rate, and corporate action is lagging. Will these new initiatives galvanise business action?
The pivot towards sustainability for the Middle East in 2023 is crucial.
Not just because all eyes are on the region as it hosts two consecutive Climate Change conferences – Cop27 last year in Egypt and Cop28, to be held later this year in Dubai – but because the Middle East and North Africa (MENA) region is at serious risk from the effects of the changing climate.
MENA is at risk of warming at twice the global average. Projections suggest temperatures could rise by as much as 4C by 2050 and some cities in the region potentially becoming uninhabitable by the end of the century if action isn't taken.
"In MENA, the situation is more severe than in many others, evident by almost twice the rate of temperature increase compared to global averages in the last three-four decades," says Akram Alami, ESG lead at Bain Middle East.
To help accelerate climate change action, the regional consultancies of EY and Bain Consulting have recently unveiled separate initiatives – a climate change tool to measure the readiness of GCC countries and a regional coalition of public-private leaders as a forum for action.
Net-zero strategies across the region
That's not to say that action hasn't already been taken by regional governments with nearly every country in the region having introduced a long-term net-zero strategy.
The UAE and Oman have announced a goal of net-zero by 2050, while Saudi and Bahrain are aiming for net-zero by 2060 with the Kingdom undertaking US$1 billion in climate change initiatives under the Saudi Green Initiative.
Less ambitious are Qatar and Kuwait. With the highest carbon intensity per capita in the world, Qatar has created a national climate change action plan to lower GhG emissions by 25% by 2030; while Kuwait has pledged to reduce its emissions by 7.4% by 2035.
According to the recently launched MENA Climate Readiness Index (CCRI), which measures the readiness of the six members of the GCC (Saudi, UAE, Oman, Bahrain, Kuwait, Qatar) as well as Egypt and Jordan, almost all countries have substantially reduced their per capita emissions from 2015 levels.
This comes as countries in the region continue to look to diversify their economies away from fossil fuels through large capital investment.
"The MENA region is also on its way to becoming a global leader in carbon capture, utilisation and storage and planning for the future of circular economies," says Richard Paton, EY-Parthenon MENA Leader.
"Together, with the leadership the region is taking in energy transition, the use of renewables, and development of hydrogen, MENA is on track to become a forerunner the development of a low carbon economy."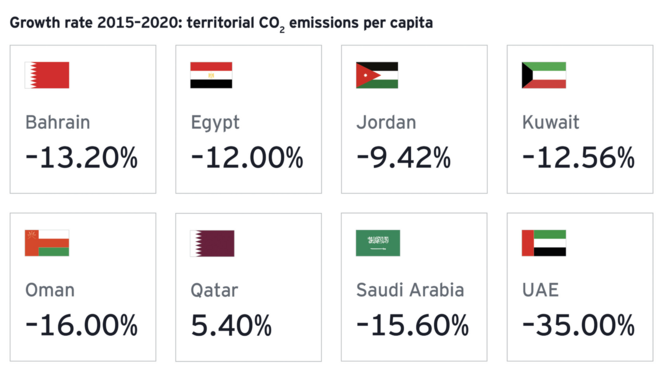 These numbers demonstrate significant progress in reducing carbon emissions by using technology
Corporate action on climate change in MENA is lagging the rest of the world
But to have the impact needed in the region, strong policies must be accompanied by committed and strategic action from non-governmental stakeholders – namely business.
The WEF insists that businesses have a responsibility to help the region achieve net zero and improve its ability to prepare for and adapt to climate change shocks.
And new Bain research has found the region lagging the rest of the world in corporate ambition related to national sustainability efforts.
The consulting firm recently evaluated more than 200 publicly listed and private companies for their disclosures and sustainability measures across MENA's nine major economies, making up nearly 80% of the market cap, and found "room for substantial improvement".
Just half of the companies surveyed have started ESG reporting, with 40% disclosing their Scope 1 and Scope 2 emissions, while only 12% have announced their commitments to becoming net zero, and just 6% have defined a roadmap to do so. The data also shows a lack of transparent and consistent disclosures policies, reduction roadmaps and science-based target setting.
7% disclose their emissions to the Carbon Disclosure Project (CDP)
2% have Science-Based Target initiative (SBTi)-assessed and approved targets
One-third include water or circularity-related initiatives
While they found encouraging signs of progress from some of the largest companies in the region, namely Majid Al Futtaim, ADNOC, Etihad Airways (UAE), Agility (Kuwait), as well as Saudi Aramco, ACWA Power and SABIC (Saudi Arabia), the larger business community "needs to adopt consistent and transparent emissions disclosure policies and reduction targets, Bain found.
There is a strong business case for action, new WEF analysis in collaboration with PwC has found. By acting now to increase resiliency along their supply chains, businesses can minimise risks to their operations and capitalise on new opportunities.
One estimate found that investing US$1.8 trillion into adaptation efforts glob ally could generate US$7.1 trllion in total net benefits by 2030.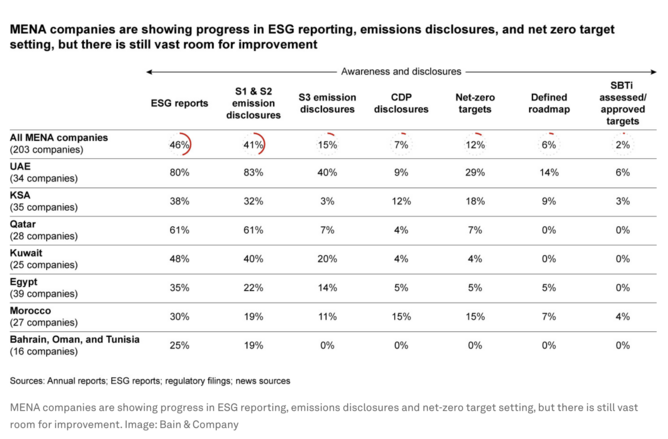 Leadership Forum and Climate Readiness Index
With a wider and more extensive public discourse needed on action to abate global warming's impact on the region, WEF and Bain have partnered on Leaders for a Sustainable MENA, a community of government and business leaders with the ambition to work together to accelerate climate action across the Middle East.
They have established a region-specific coalition to work alongside peers on tangible best practices, tailored to MENA and the unique set of circumstances it confronts.
"We want to encourage action, and the best starting place for that is through discussions that are authentic to the region, tackling issues and inhibitors unique to MENA," says Raja Atoui, Partner at Bain & Company Middle East.
"Business can play a huge part in helping governments achieve their overall climate goals, and this is a hugely positive step on the way to doing that."
Similarly, in support of efforts towards regional climate change, EY's recently launched MENA Climate Readiness Index (CCRI) is a new and pioneering climate change tool designed to help "governments, businesses, and civil society organisations as they work to evaluate and enhance their readiness to tackle environmental challenges and impacts", says Yasir Ahmad, EY MENA Climate Change and Sustainability Services Leader.
The Index measures the readiness of the six members of the GCC (Saudi, UAE, Oman, Bahrain, Kuwait, Qatar) as well as Egypt and Jordan across a number of areas, like effectiveness of their adaptation and mitigation strategies and their ability to finance and implement these strategies.