UAE partnerships on sustainability accelerate ahead of COP28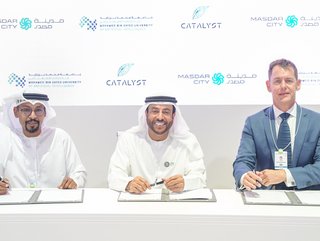 The UAE's messaging ahead of COP28 is that collaboration is key to sustainable success, as these just-inked private-public partnerships at ADSW prove
The message coming out of Abu Dhabi last week was that collaboration is the holy grail of sustainable success.
Talks during Abu Dhabi Sustainability Week 2023 , themed 'United on Climate Action Toward COP28' , emphasised the UAE's sustainability stance ahead of hosting COP28 - which is that collaboration between countries as well as between private business and the public sector is crucial if we are to keep 1.5C alive.

​​​​​​​At the opening ceremony, COP28 President-Designate, Dr Sultan Al Jaber, underscored the need for transformational, game-changing partnerships and solidarity to drive climate action for all.
As well as collaboration between countries and governments, the success and importance of business collaboration and public-private partnerships was reinforced with the announcement that the UAE will partner with the Breakthrough Agenda to deliver actions agreed upon at COP27.
These include further steps to decarbonise power and transport; Plans to develop new investments in green steel, scale up low-emission hydrogen production and shift to sustainable agriculture by COP28. The Breakthrough Agenda, initiated by the UK COP Presidency builds on the work of the Race to Zero and the UN Climate Change High Level Champions to accelerate decarbonization of five major high-emitting sectors.
"Collaboration is the key driver behind the shift towards a more sustainable industrial sector and a greener economy," Omar Al Suwaidi , Under-Secretary of The Ministry of Industry and Advanced Technology (MoIAT) said during ADSW.
MoIAT is one of the UAE ministries focused on facilitating partnerships between stakeholders, including financial institutions, national industrial firms, and global corporations, with the aim of supporting both UAE GDP growth and the county's net zero strategic initiative.
During ADSW 2023, MoIAT facilitated a partnership between three private companies to build a plastic recycling facility and reduce plastic pollution - one of numerous partnerships, many public-private, arising from ADSW - as the UAE kicks of its 'Year of Sustainability' (as announced by the UAE President during ADSW) ahead of hosting COP28 with the messaging of collaboration loud and clear.
From advancement in EV infrastructure to production of sustainable aviation fuel, here's how the UAE is accelerating its sustainable agenda through partnerships.
Driving growth of AI, clean tech, and smart city technology
A new partnership between Masdar City, Mohamed bin Zayed University of Artificial Intelligence (MBZUAI), and The Catalyst, the region's first clean technology startup accelerator, aims to drive the growth of AI, clean tech, and smart city technology, including autonomous transportation, throughout the region.

The partnership will support exploration of several new initiatives, including an AI and clean energy centre, learning and business opportunities for students and graduates of MBZUAI, enhanced support for AI and clean energy startups, and using advanced data analytics and AI to improve the performance of buildings throughout Masdar City.

"From AI incubation to research capabilities in clean energy and a focus on mentorship for emerging businesses and AI professionals, this collaboration can significantly advance the UAE's status as a global destination for AI," said MBZUAI Vice President of Public Affairs and Alumni Relations, Sultan Al Hajji.

Accelerating regional plastic recycling
Following the ministerial decision by The Ministry of Industry and Advanced Technology (MoIAT) on regulating the trade of recycled plastic water bottles in line with top public health and food safety standards, and in line with the UAE's efforts to reduce plastic pollution and boost trade through the export of recycle materials, a number of partnerships to accelerate plastic recycling were inked at ADSW.
The UAE will soon be home to its first-ever food-grade plastic recycling planet thanks to a collaboration between Veolia Middle East subsidiary Repeet, UAE-based sustainability pioneer BEEAH Group and F&B conglomerate Agthia. The 40,000m2 plant in Abu Dhabi will recycle PET, a plastic material that is used in food packaging, such as plastic water bottles, which, at full operating capacity, could avoid emissions of 18,000 metric tonnes of CO2 annually.
The collaboration, facilitated by MoIAT, would see Repeet operating the recycling, plant, BEEAH Group supply a 7-year feedstock of plastics, and Agthia provide a seven-year offtake for products.
Aldar Properties, a leading real estate developer in the UAE, also announced a partnership focused on plastic recycling that is both in line with the UAE's efforts to reduce plastic and its own commitment to becoming a Net Zero carbon business by 2050.
The aim of the partnership with Rebound, Abu Dhabi-based B2B digital trading platform for recycled plastics, is to incentivise recycling within its communities and managed destinations. Aldar and Rebound will develop a scalable model for the collection of recyclable plastic waste from Aldar's developed communities and managed destinations with the pilot program initially focused on Saadiyat Island.
Expanding EV infrastructure as EV demand picks up pace
To accelerate EV infrastructure in the UAE, Abu Dhabi's state-owned oil giant, ADNOC, has partnered with Abu Dhabi National Energy Company (TAQA) to set up a joint mobility venture titled E2GO – to build and operate EV infrastructure in the emirates.
E2GO plans to become the main provider of EV charging points and associated infrastructure across Abu Dhabi and further afield.
This comes as demand for EVs in the UAE market continues to rise and is expected to see a CAGR of 30% from 2022 to 2028, with an expected 70,000 charging points needed in Abu Dhabi alone by 2030 to meet demand.
First steps to producing Sustainable Aviation Fuel in the UAE
Four major UAE companies – Masdar, ADNOC, Tadweer, Etihad Airways – have joined forces with bp on a feasibility study about the regional production of sustainable aviation fuel (SAF). The study will evaluate the technical and commercial viability of such a project, and if positive, the partners will work toward developing the region's first commercial-scale production capacity in Abu Dhabi.
Pilot to eliminate CO2 from the atmosphere
Abu Dhabi-based energy giant ADNOC is partnering with the Fujairah Natural Resources Corporation, Masdar and 44.01 to pilot technology that will turn CO2 into rock. The project will use 44.01's Earthshot prize-winning Carbon Capture and Mineralisation technology to pilot technology that permanently mineralises carbon dioxide within rock formations found in the Emirates of Fujairah.
This makes ADNOC the first energy company in the region to run a carbon-negative project of this kind and marks the latest step in its US$15 billion investment into projects that will reduce its carbon footprint and help it achieve its own 2050 Net Zero ambition. The project will be powered by solar energy supplied by Masdar. If the pilot is successful, it could open the possibility of mineralising billions of tons of captured CO2 across the region.
Speeding up Mangrove planting in Abu Dhabi
As part of Abu Dhabi National Oil Company's commitment to plant up to 10 million mangroves in Abu Dhabi by 2030, the energy company is partnering with UAE-based environmental tech company Distant Imagery to accelerate its planting activities. Using innovative drone planting technology adopted by the Environment Agency, Abu Dhabi (EAD), the plan is to plant 2.5 million mangrove seedlings across Abu Dhabi.