UK's HiiROC wins KPMG award for hydrogen clean energy tech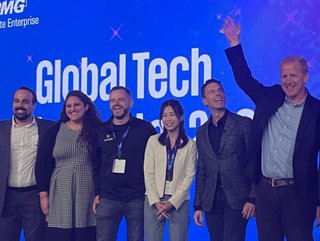 Pioneering the production of low-cost, zero-emission hydrogen at scale, HiiROC is powering the new green fuel of the future – and winning awards as they go
With hydrogen the new green fuel of the future, it's little surprise that a cleantech focused on hydrogen production has taken KPMG's innovation tech crown this year.
HiiROC beat off tough competition from more than 1,100 fast-growth businesses across the globe to be crowned KPMG Global's Tech Innovator 2022.
The UK-based technology scaleup is making waves worldwide (and winning awards) with its innovative process for producing low-cost zero-emission hydrogen from micro to industrial – also making it to the shortlist of FT's Tech Champions 2022 (winners are announced on November 21).
This comes as COP27, currently taking place in Egypt, casts a spotlight on hydrogen power and follows the gathering last month of more than 150 of the world's business leaders in the global hydrogen economy for the Hydrogen Council's regional CEO meeting.
Frans Timmermans, EVP of the European Green Deal for the European Commission told the CEOs that he had strongly felt for many years that hydrogen was "going to be the energy commodity of the future in the energy sector" and that "we must think global when we think about hydrogen… it is completely inevitable that we create global hydrogen markets".
Described by KPMG as a "modern success story of entrepreneurialism, innovation, and ambition", HiiROC was chosen as tech innovator of the year for its clear opportunity to solve a global challenge, strong management team, and opportunity to scale quickly.
HiiROC's technology could unleash hydrogen's potential
Working with the University of Hull, HiiROC has developed Thermal Plasma Electrolysis, a proprietary technology that converts biomethane, flare gas or natural gas into clean hydrogen and carbon black – a low-carbon, or potentially negative carbon, 'emerald hydrogen'.
The hope is that once deployed across industrial settings, it could help to fully unleash hydrogen's potential.
Not only does Thermal Plasma Electrolysis have lower CapEx and lower operational costs than other technologies, but it offers a more energy-efficient solution than other methods – producing more hydrogen per kW of electricity and with use of onsite production units, removal of transportation costs, and reduced storage and compression costs.
Founded in 2019 by Simon Davies (CEO), Simon Morris (CCO) and Ate Wiekamp (Chief Science Officer) – who bring with them decades of experience in high-tech industries, scientific expertise, and FTSE 250 MD experience, HiiTEC first secured Series A funding in late 2020, before receiving additional funding in a Series B round late last year – bringing the total to £30m.
Among its strategic and financial backers are car manufacturer Hyundai, investment firm HydrogenOne Capital and British energy firm Centrica, the latter recently acquiring a minority stake in HiiROC and partnering with them on a 12-month trial to better understand the role of hydrogen in power production.
The trial, which starts Q3 2023, will see Centrica inject hydrogen into its existing gas peaking plant marking the first step on the journey to enable the decarbonisation of those plants. Mixing hydrogen in with natural gas reduces the overall carbon intensity.
And during COP27, HiiROC signed a Memo of Understanding with Egyptian company EGAS on flaring and zero-emission hydrogen.
According to CEO and co-founder Tim Davies, HiiROC is "working to impact global net zero – which is everyone's issue".
KPMG Private Enterprise – Global Tech Innovator 2022
In its second year, KPMG's Global Tech Innovator 2022 competition highlighted 22 future tech titans who are stepping up to develop the practical technology solutions that can improve "our businesses, our planet and the lives of people across the world," says Conor Moore, Global Leader, KPMG Private Enterprise Emerging Giants.
Hailing from more than 20 different countries, from Qatar to Spain, Japan to Mexico, these tech innovators focused on finding solutions via technology to some of the world's biggest problems, from alleviating patient pain to solving the food waste crisis.
Clean tech featured prominently. Australia-based Goterra has developed a waste management infrastructure designed to solve the food waste crisis, while India-headquartered Maithri Aquatech is developing water systems designed to ease the dependence on scarce water resources.