World Environment Day: Five UAE agritech startups to watch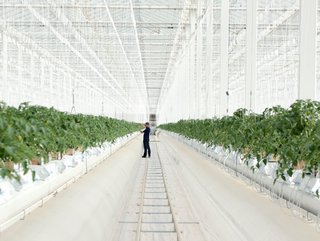 UAE-based Pure Harvest Farms uses Honeywell refrigerant technology to cool its new indoor farm in Al Ain, while reducing energy consumption and CO2 emissions
As the UAE looks to top the Global Food Security Index by 2051, we round up 5 leading agritech startups using tech to revolutionise food and farming
The United Arab Emirates is proving fertile territory for agritech startups.
Since embarking on the National food Security Strategy 2051, the UAE has been investing heavily to generate sustainable local food production to reduce imports and is adopting technologies such as AI and robotics to meet long-term demands, create a circular economy and cut carbon emissions.
The strategy aims to achieve zero hunger by ensuring access to safe, nutritious and sufficient food all year round, limit food waste, and place the country first in the Global Food Security Index (GFSI) by 2051.
Last year, the UAE topped the MENA region in the GFSI, ranking 23rd overall, up 12 places from 2021.
To advance food security solutions in the country, make farming more sustainable, and cut carbon emissions regionally, the UAE is positioning itself as a worldwide hub for agricultural technologies designed for desert conditions. As such, it has been pushing sizeable investments into food security and local sourcing opportunities to build ground-breaking technologies that will revolutionise the sector.
In 2020, the UAE announced a US$100m investment in indoor farming to tackle the fact that it imports 80% of the food that residents consumer.
Last year, Abu Dhabi's Masdar City, one of the world's most sustainable developments, announced it was hosting a 'beta-site' to test the prospects for early-stage agritech projects launched and piloted in the emirate. And just last month, Abu Dhabi Agriculture and food Safety Authority announced the signing of an agreement with investment accelerator Hub71 to promote the development and adoption of ground-breaking technologies in agriculture, food safety, food security and biosecurity.
Based on the country's commitment to growing the industry, agriculture in the UAE is likely to see a compound annual growth rate of 3.5% between 2022 and 2027, according to a recent report by Sharjah Technology and Innovation Park report.
On World Environment Day 2023, and in the Year of Sustainability for the UAE, we spotlight five emirates-based agritech startups that are taking measures to localise farming, cut carbon emissions and ensure food security.
1
As innovators of the Middle East's first commercial-scale, semi-automated high-tech hybrid growing system, Pure Harvest designs, builds and operates indoor farming systems, leveraging technology to enable production of affordable, sustainably grown produce.
Currently operating four farms in the UAE and one in Saudi, Pure Harvest has five more farms under construction, and with more than 300 farmers transforming deserts into greenhouse, the startup is growing produce all year-round, using methods that are 30x more efficient than traditional field farming.
The company, which was founded in 2017 by three Stanford graduates who met in the UAE, became the first sustainable initiative to use Honeywell's Solstice zd ultra-low-global-warming-potential refrigerant, which effectively increases energy efficiency when used in chillers, and assists the farm in reducing its carbon footprint.
In 2022, Pure Harvest raised US$180m in a round led by Saudi group Olayan, bringing its total funding to US$387.1 million, and making it among the most-funded startups regionally. With these funds, Pure Harvest is expanding across the GCC and opening new high-tech hybrid smart farms in Asia.
Known across the region for its fresh tomatoes and leafy green, Pure Harvest recently became the first controlled-environment-agriculture (CEA) business to win the Gulf region's Product of the Year Award from the regional arm of Nielsen IQ.
2

Palmear has saved 120,000 palm trees since its founding in 2019
Targeting date palm growers in the MENA region, agritech startup Palmear combines big data, AI and acoustics to mitigate agricultural challenges faced by the palm industry, namely the Red Palm Weevil (RPW) pest, which spends 80% of its life undetected, irreversibly destroying palm trees from the inside.
With its technology, a real-time acoustic sensor and AI-powered mobile app, Palmear has saved 120,000 palm trees, along with 8,400 tonnes of CO2, since its founding in 2019.
The technological genius behind Palmear's platform is in being able to determine the location of early pest infestations to enable growers to target the use of chemicals and pesticides. Armed with this tech, farmers can map and manage infestations in real-time while providing valuable crop data to improve productivity through sustainable initiatives.
BeyondCapital, a Jordanian seed-stage firm, invested in Palmear, and in 2021, Palmear joined Nvidia Inception, an accelerator platform which provides deep learning credits and technological assistance to AI start-ups. Last year, the Jordanian Ministry of Agriculture began partnering with Palmear to monitor, prevent and treat weevil infestations and is gearing up to cover the entire country.
3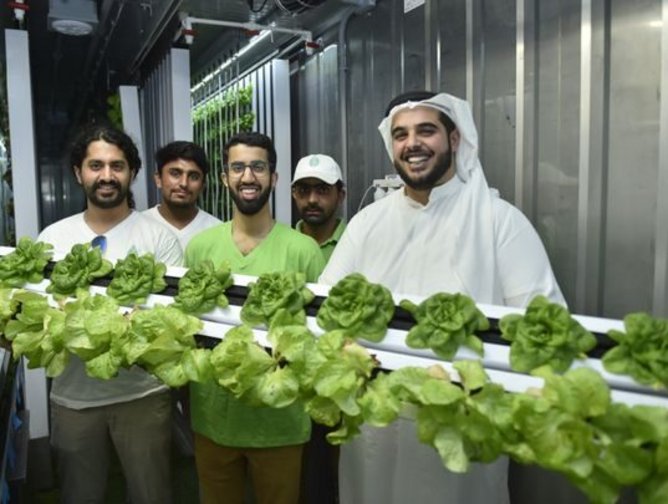 Madar Farms' CEO Abdulaziz AlMulla partnered with IGS on its vertical farming platform
With a mission to provide continuous and predictable food supply, and promote local food production and consumption, vertical farming startup Madar Farms was among four startups included in the UAE's US$100m investment project in indoor farming in 2020.
Using a two-pronged approach, combining hydroponics and vertical farming methods, the Abu Dhabi-based startup is building a network of farms that facilitate the optimal growing conditions to protect plants from bad weather and allow for growth all-year-round.
To address local water scarcity, Madar has partnered with UK vertical farming tech provider Intelligent Growth Solutions (IGS) to use its plug-and-play vertical farming platform.
As well as containerised farms in Abu Dhabi, Madar is building the world's first commercial-scale indoor tomato farm using only LED lighting courtesy of KEZAD Group to grow the plants. This will enable the growing of up to a tonne of tomatoes a day and triple the quantity of microgreens.
Led by co-founder and CEO Abdulaziz AlMulla, Madar also manages the Sustainable Future programme, which was designed to provide current and next generations with the awareness, knowledge and skills they need to build a sustainable future.
4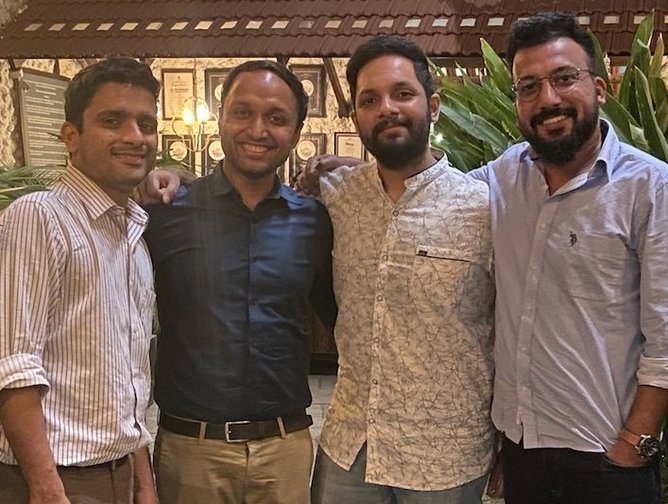 The team behind Dubai-based Produze including two former executives of India's largest agritech startup Ninjacart
Founded in 2022 by two former executives at Ninjacart, India's largest agritech startup, Dubai-based Produze is a first of its kind platform that enables retailers to procure directly from source.
Headquartered in the UAE, and backed by Accel, the B2B marketplace startup uses technology to address the challenges of the agricultural supply chain by connecting farmers direct with international retailers.
Produze, which digitises procurement operations via a wide network of source producers, digitsed exporting operations, importing operations and last-mile logistics, serves clients across multiple countries in the Middle East, north America and Europe.
According to co-founder and CEO Ben Mathew, cross-border supply chain for agri produce is fragmented with several intermediaries and poorly managed processes – something that creates inconsistency in quality, inefficient prices and wastage.
"At Produze, we're enabling seamless commerce between the retailers and agri producers to return this wasted value back to them," says Ben.
Last year, the startup secured US$2.6 million funding in a seed round led by Accel, with participation from All in Capital, and founders of numerous firms including Ninjacart.
5
Right Farm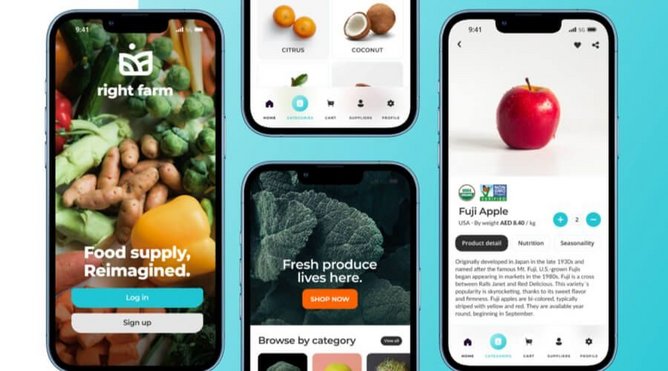 On a mission to eliminate food waste, Right Farm is expanding regionally following a funding round last year
Founded in 2021, Abu Dhabi-based Right Farm is focused on reducing food waste, an issue that not only impacts food security but also climate change, given that food waste accounts for 8% of global greenhouse gases.
The agritech, which ranked fifth in LinkedIn's top 10 UAE-based startups in 2022, uses technology to optimise the sourcing and procurement of fresh produce for the food and retail sector. Operating from a cold-storage facility in the UAE's fruit and vegetable market, Right Farm provides access to more than 1,000 fruits, vegetables and microgreens, allowing businesses to place orders and receive delivery within 12 hours.
This not only cuts out the middlemen and therefore delays but establishes a closer connection between buyers and farmers.
The startup, which has hundreds of clients, including SoftBank-backed unicorn Kitopi, secured US$2.8m last year in a seed funding round led by DisruptAD, the VC platform of Abu Dhabi's holding company ADQ. With this investment, Right Farm is expanding its customer base and network of farms, as well as expanding to Saudi and Egypt.
For an even greater push towards minimising and repurposing food wastage, Right Farm has partnered with Circa Biotech, the region's first waste-to-feed project, and with The Waste Lab, an impact-driven startup that helps divert food and organic waste from landfills and uses them to create healthy compost and other byproducts.