Top 10 tech events and conferences coming to Europe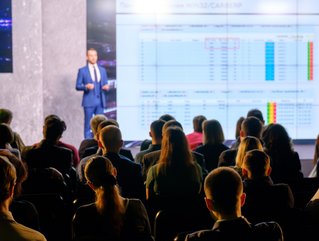 Ten not-to-miss events for tech leaders in 2022 – from the Women in Tech conference and TECH LIVE LONDON to Dublin Tech Summit and Infosecurity Europe
These in-person technology events and conferences in Europe bring together great minds in tech to present new innovations and exchange ideas.

We curate a list of tech events in Europe in 2022.

10. Gartner IT Symposium/Xpo 2022
November 7-10
Barcelona
The Gartner IT Symposium/Xpo 2022 is the place where leadership, technology innovation and business strategy converge. Connect with CIOs across regions and industries in both planned and unplanned peer networking and experience inspiring keynotes and engaging sessions delivered by Gartner experts and visionary leaders. This year's agenda delivers the latest technology, strategy and leadership insights across 14 key topics, including accelerating digital business, the future of work, data, analytics and AI, cybersecurity, executive leadership, and talent, culture and DEI. They will walk away with insights and expert guidance on the future direction of technology, best practices to define and validate their IT strategies and real-world examples on how to execute on key initiatives.
Speakers Both keynotes and sessions, including clinics, workshops and roundtables, will be held both by Gartner experts and visionary leaders, including distinguished VP analysts from Gartner – Paul Proctor, Tina Nunno, Graham Waller, and Kristin Moyer.
9. Digital Transformation Week
20-21 October
Amsterdam
Digital Transformation Week is a hybrid event, both in Amsterdam and Europe, and a co-located event (alongside various tech Expos) that acts as a senior-level forum for enterprise-level decision-makers to explore and evaluate new technologies and strategic approaches to drive innovation in their business. Designed for digital and IT leaders who are driving change and innovation within their organisations, attendees can discover critical technologies and the approaches needed to make better, more informed business decisions. Presentations and panel discussions will focus on topics including the future of work, RPA, hybrid cloud, digital twin, Web3, supply chain management. The beauty of this event too is that it is co-located with a number of relevant shows, including IoT Tech Expo, AI & Big Data Expo, Blockchain Expo and Cybersecurity & Cloud Expo, so attendees get to learn a variety of key enterprise technology solutions all in one place, under one roof. A similar co-located event also takes place in London (21-22 December).
Speakers More than 40 co-located speakers will share their unparalleled industry knowledge and real-life experiences, as presentations, expert panel discussions and in-depth fireside chats, including: Gladis Araujo, VP – Global Quality Systems at Mattel; David Palmer, Blockchain Lead at Vodafone; Lu Zheng, Transformation Lead at Phillips; Jan Gilg, CPO at SAP; and Mattia Menegatto Amadori, Cyber Security Architect at GSK.
8. Industry of Things World
September 19-20
Berlin
The leading industrial IoT event in Europe, Industry of Things World is this year delivered both in-person in Berlin and virtually. More than 450 experts, decision-makers and providers from industry convene to discuss use and business cases relating to industry 4.0. Discover the latest technological trends, opportunities and risks as well as direct practical examples from the manufacturing industry, with 30-plus industry case studies, 20-plus innovative and interactive sessions and two evening networking sessions.
Speakers Among the high-profile speakers and moderators: Dr Nick Miesen, Global Head of Digital Strategy at Henkel; Marcos Paganini, VP of Global Manufacturing at Johnson & Johnson; Juraj Dollinger-Lewnharcik, Head of IT IoT Strategic Initiatives at Siemens; Tema Benhalima-Bouville, Innovation Incubation Director at Engie; Gordana Ozegovic, End User Segment Marketing Program Manager at Schneider Electric; and Steffen Heyer, Business Developer at Hitachi.
7. TECH LIVE LONDON
June 23-24
London, virtual
Hybrid event TECH LIVE LONDON is set to take place in-person, at Tobacco Dock in London, and virtually. Incorporating four zones – Technology & AI LIVE, Cloud & 5G LIVE, Cyber LIVE and March8 LIVE – the event convenes the world's leading CTOs, CISOs and VPs of Technology to discuss their strategies and the future of technology. Across six stages, the show will deliver inspiring keynotes and lively roundtables as well as fireside discussions and Q&A sessions from some of the world's largest companies and innovative startups.
Speakers Among the more than 80 high-profile tech minds speaking at this not-to-miss hybrid event: Aishwarya Srinivasan, Data Scientist at Google; Inderpal Bhandari, Global Chief Data Officer at IBM; Anand Rao, the global AI lead at PwC; Frank Wilde from Oracle, and Lesley Kipling from Microsoft.
6. Infosecurity Europe
June 21-23
London
Infosecurity Europe is up there with the largest and most well-regarded cybersecurity conferences in the calendar. More than 300 exhibitors will showcase the latest products, solutions and services to help you enhance your security posture, while the comprehensive conference programme sessions, seminars, workshops and hands-on experiences – more than 200 sessions – will educate and inspire. Security workshops sit alongside technology showcases, keynote presentations, roundtables, strategy talks and case studies, with themes including: transformational threat hunting on a budget; the CISO's role in ESG; the ransomware paradigm change; latest trends in investigating and disrupting cybercrime.
Speakers Hear from hundreds of speakers, including Wendy Nather, Head of Advisory CISOs at Cisco; Ben Jenkins, Director of Cybersecurity at ThreatLocker; Dr David King, CISO at Legal & General; Kevin Jones, Group CISO at Airbus; Marja Laitinen, EMEA Head of Digital Crimes at Microsoft; and Nick Jones, CISO at TUI Group.

5. TNW Conference
June 16-17
Amsterdam
Described by CNBC as "the most intimate B2B technology festival on the planet", the Next Web Conference (TNW) is where founders, investors, tech executives and policymakers unite to discover the future of technology. Get insights from industry pioneers speaking across eight key themes – the Boost theme is designed to help companies leverage tech and data to fuel the customer experience; the Growth Quarters theme is about exploring all things founders and funding; the Futureproof theme explores ways the tech of the future will transform society and businesses; and the Impact theme centres on how the tech industry can influence change for the better in terms of sustainability, diversity and inclusivity.
Speakers As well as hearing from the CTOs of VMWare, PayPal, and Greenpeace International, speakers include: Edward Snowden, Whistleblower; Tim Berners-Lee, Inventor of the Web and CTO of Inrupt; Maxine Williams, Chief Diversity Officer at Meta; Joanny Lijbers, Head of Digital Transformation at Unilever Benelux; Faryar Shirzad, Chief Policy Officer at Coinbase; Sahana Hussain, Global Head of Open Banking Technology at HSBC; Seth Dobrin, Chief AI Officer at IBM; Amal Dokhan, Partner at 500 Global; and Gil Perez, CIO of Deutsche Bank.

4. Dublin Tech Summit
June 15-16
Dublin
Dublin Tech Summit (DTS) is a two-day conference that sits at the heart of the international tech scene. As one of the world's most active technology hubs, Dublin has become the EMEA base for some of the biggest global tech companies, and over the past five years, DTS has emerged as one of Europe's fastest-growing B2B tech events. With more than 8,000 attendees, you have unique opportunities to meet with C-suite guests and investors to exchange knowledge and strategies and share ideas with the best influencers in their fields as well as participate in thought-provoking panel sessions. 150 startups and 200-plus speakers.
Speakers Cassie Kozyrkov, Chief Decision Scientist, Google; Harry Moseley, Global CIO, Zoom; Christopher Wylie, Whistleblower, Cambridge Analytics; David Singleton, CTO, Stripe; Bryan Che, CSO, Huawei; Elisabeth Bramson-Boudreau, CEO, MIT Technology Review; Eric Demuth, CEO, BitPanda; Tyson Singer, VP of Technology, Spotify.
3. Digital Enterprise Show
June 14-16
Malaga, Spain
Dubbed as the "world's leading event dedicated to digital transformation", the Digital Enterprise Show enables digital business transformation to happen, gathering cutting-edge technologies, from AI to data analytics to 5G to blockchain, and top-notch speakers to meet delegates' objectives, challenges and needs. As well as a global expo delivering 300 of the world's top tech companies, hear from 500 international speakers, who will present success stories and new business models, and discuss leadership issues and digital strategies implementation. Guests can participate in an exclusive agenda for their professional role, from CEO to CIO to CMO to HR, helping them to adopt the best strategies to achieve a successful transformation.
Speakers Among the 500 speakers: Albert Triola, Director General, Oracle Espana; Alejandro Banegas, Business Development Director at Mastercard Spain; Alvaro de Gracia, CEO of Abacus Consulting; Enrique Martin, Head of Business Development at Samsung Electronics; Isabel Tristan del Pino, Security Software Leader at IBM; and Maja Stojanovic, Change & Communication Partner at Siemens; among others.
2. London Tech Week
June 13-17
London
The UK's tech flagship event returns bringing 20,000 global government and corporate leaders, inspirational startup founders, senior investors and tech rising starts to discuss the power of technologies for societies. The week-long festival will focus on exploring the next-gen of tech innovation; impactful innovation at scale; and building a thriving tech industry. The festival's purpose is to showcase how tech is transforming both business and society by driving important conversations around transformation, diversity, and innovation.
Speakers Jacqueline de Rojas CBE, President of techUK; Jonathan Westley, Chief Data Officer, Experian; Michael Acton Smith, Founder of Calm; Poppy Gustafsson OBE, CEO, Darktrace; Jeanette Quinlan, Senior Program Manager, NASA & Civil Space; Alejandro Agag, Chairman, Formula E; Magnus Falk, CIO, Zoom; and Ryan Shanks, Head of Innovation, Europe, Accenture, among many others.

1. Women in Tech Global Conference
June 7-10
Virtual-hybrid
The largest conference for women in tech, the Women in Tech Global Conference is a hybrid event convening women in tech, minorities and allies from all over the world through an interactive platform featuring live educational and training content, inspiring keynotes, engaging panels, breakout rooms, technical workshops, and networking with virtual and in-person sessions. Learn from tech leaders about tech topics like the future of work, mental health, marketing & analytics, entrepreneurship, emerging technologies and scaling tech. Engage in panel and roundtable discussions and join online networking sessions. From June 7-10, the conference is virtual taking place in a number of time zones, including Europe, and on June 10, the Global Impact Summit takes place physically in various locations worldwide.
Speakers Expect more than 500 speakers, from data science managers and software engineers, to product managers and CIOS, including: Anvita Jain, Senior Software Engineer at Netflix; Saba Rubaei, VP Information Security Management at JPMorgan; Preethi Natajaran, Product Leader CSE at Microsoft.