Anna Brailsford: Companies must 'take a risk' on diversity
Anna Brailsford, CEO of Code First Girls. Picture: Code First Girls
Business Chief caught up with Anna Brailsford, CEO of Code First Girls, at Insurtech Insights to discuss the need for greater diversity in the industry
Code First Girls (CFG) and the inspiring movement it has created are showing no sign of slowing down.

The social enterprise, which provides free coding courses to women across the UK, recently celebrated the incredible milestone of teaching 100,000 women how to code.

Anna Brailsford, the trailblazing CEO who co-founded CFG back in 2012, bears much of the responsibility for creating what is the largest community of female coders in the world.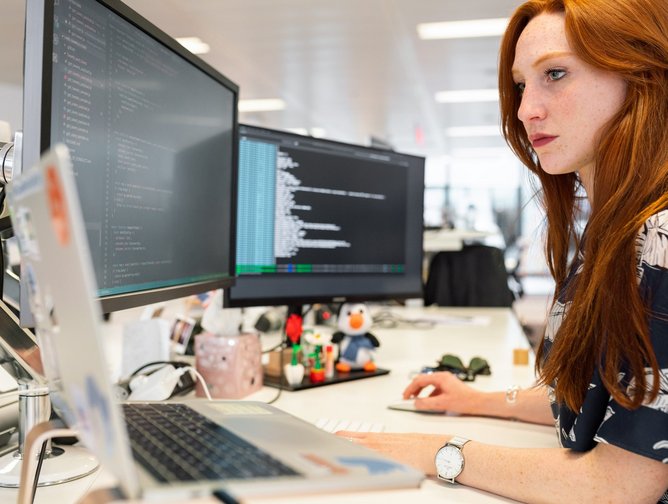 Code First Goals encourages women into careers in coding and technology
Speaking to Business Chief at the recent Insurtech Insights conference in London, she emphasised the crucial role her team had in supporting women and girls into skilled jobs.
"Our main KPIs are actually around getting women into jobs," said Brailsford. "It's not just an education programme. We are pre-matching women to critical roles within, for example, the insurance sector, the financial services sector.
"We are helping women to become things like software engineers, data scientists, business analysts, cyber security experts – all the critical roles that the UK economy needs to build its infrastructure for the future."
Code First Girls in increasing demand
Demand for CFG's services from the insurance and insurtech sectors is on the rise.
One of the group's biggest clients is Admiral who, according to Brailsford, are running a number of localised initiatives to launch skills groups and place women into jobs.
Work alongside Legal and General in London and Brighton is ongoing, too.
"Insurance is one vertical we have identified where the need is quite stark," Brailsford added.
Anna Brailsford is CEO and co-founder of Code First Girls
"There was a recent statistic from Deloitte where, if you look at the top 30 industries that graduates are likely to join, insurance is somewhere in the middle.
"A lot of this is about inspiring women around the vertical – not just around technology. We have to do both simultaneously. With insurance companies we know they might find it hard to attract women but, by working with us, they can get the talent pool they need."
Expanding on CFG's way of working, she continued: "The way you've got to think about Code First Girls is that it's a massive ecosystem of skills and we build skills every single day. If you build the skills, you are going to start building candidates that can come through the funnel and be job-ready to go into something like software engineering. Because we have created this flywheel, we can fill immediate needs and embed ourselves into an organisation's strategy.
"If an insurance company tells us their skills gap and strategic locations, we can build up a local strategic talent pool, and make sure we're building the right skills in the right regions to be able to meet their needs.
"Speak to most organisations and they will say 'we need woman developers yesterday'. We say 'we can fulfil that need', but we ask them to invest in our programme to ensure you have the skills for the future so you won't face that problem again."

Companies still falling short on diversity
All this begs the question: are companies actually doing enough to improve diversity in the workplace?
If recent research carried out by Wiley Edge is anything to go by, there is still plenty of work to be done.
Asked whether their companies were making a concerted effort to increase diversity in their tech teams, just 27% of tech workers aged 18-24 said diversity was a big focus during the recruitment process.
"Companies are moving in the right direction, but I'd like to see more being done," concludes Brailsford.
"The Code First Girls programme is massively over-subscribed; at every stage of our educational process we have waiting lists of women.
"My message to the majority of companies would be: take a risk. Don't look at things like quotas. Instead, ask yourself 'are the products and services we are creating representative of our customers?'.
"The only way these technology solutions can be representative is if tech teams have greater levels of diversity. So, invest in representation now and it's going to benefit your customers."