How Emirates is taking employee experience to new heights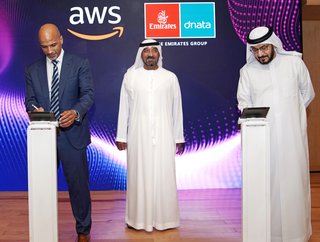 Emirates Group is partnering with AWS to develop an immersive Extended Reality (iXR) platform to transform its employee experiences
After enjoying a share of Emirates Group's record-breaking US$2.9bn annual profit, employees are now being taken on an engaging, immersive digital journey
When it comes to employee wellbeing, Emirates Group is first class.
Not only are staff at the airline set to enjoy a share of the Group's record-breaking US$2.9 billion annual profit, but their employee experience is about to become more "engaging, practical, and satisfying".
So says the Dubai-based airline, which is partnering with Amazon Web Services (AWS) to transform the world's largest airline's employee experience into a futuristic, immersive, and gamified digital journey.
The state-owned Group, whose interests span the aviation, travel, tourism and leisure sectors, is working with AWS to develop an immersive Extended Reality (iXR) platform for the airline's 18,000-strong cabin crew, new joiners, and the wider industry partner community.
Extended reality, or XR, is a collective term that refers to immersive technologies, including virtual reality (VR), augmented reality (AR) and mixed reality (MR).
According to Adel Al Redha, Emirates' COO, the vision is to build a "meaningful, practical and rewarding XR capability" that takes advantage of AI's evolution. The platform will feature advanced technologies including Epic Games' Unreal Engine, the world's most open and advanced real-time 3D tool, offering developers flexible, scalable, secure, and reliable real-time capabilities on AWS' cloud.
As well as providing cabin crew training and employee onboarding, the platform will deliver a collaborative 3D hub and social space which employees will be able to experience across next-gen wearables and hand-held devices, including tablets and mobiles.
The hyperreal and interactive virtual world will enable the Group's new recruits to quickly and visually learn more about the organisation, its people and culture, their role, and living in Dubai, leading to "greater knowledge transfer and employee satisfaction".
Emirates committed to spearheading technologies in aviation
Set to launch later this year, this new platform puts Emirates on a pioneering pedestal once more, becoming the first and only airline with an embedded extended reality platform connecting its operations.
Emirates pioneered web virtual reality (VR) technology on emirates.com and its app more than six years ago, offering an an immersive 3D, 360-degree view of its aircraft cabin interiors. Emirates also has its own VR app on the Oculus store, offering users accurate, life-size and interactive cabin interior experiences onboard Emirates' flagship A380s and Boeing 777-300ER Gamechanger aircraft.
"This reflects our commitment to spearhead and entrench innovation and cutting-edge technologies in aviation for the benefit of our customers, communities and the industry," adds Al Redha.
This isn't the only immersive experience Emirates' employees are getting. The airline, which flies to 157 destinations in 83 countries, is also offering cabin crew an immersive beauty experience at its Dubai HQ.
Unveiled last month, in collaboration with luxury beauty brand Dior, the Emirates Beauty Hub offers staff members personalised appointments with consultants to get expert recommendations on makeup application tips, nutrition, fitness, skincare, grooming and haircare.
This comes as the world's largest airline continues its ambitious recruitment drive. The Dubai flag carrier has been massively expanding its workforce since mid-2021 as the aviation sector recovered from the pandemic.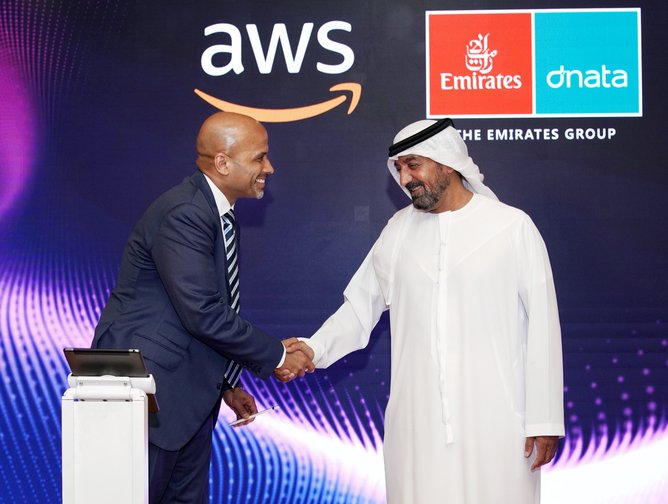 Al Opher, VP of Professional Services at AWS seals the deal with HH Sheikh Ahmed bin Saeed Al Maktoum, CEO, Emirates Group
Extended Reality – emerging technology set to change the aviation industry
According to Al Opher, VP of Professional Services at AWS, Extended Reality (XR) is a rapidly emerging technology that is set to propel the aviation industry into the future.
"It will have a profound impact on training, design, and innovative service propositions in safe environments that are immersive, performance-oriented, and efficient."
While airlines will be able to train the next generation of pilots with cutting-edge flight simulation solutions for rapid upskilling, customers will be able to view tourist destinations with mixed reality (MR) headsets to plan their next getaway.
Airports are already tapping the latest immersive technologies to engage with passengers, with Accenture and Singapore's Changi Airport Groups (CAG) recently forming a partnership to provide immersive experiences for passengers with XR, the internet of things (IoT), cloud computing, across touchpoints at the world-class airport. Last month, Changi unveiled ChangiVerse, the first virtual experience being developed by an airport on Roblox, a global shared experience platform with millions of daily users.
British Airways recently trialled SkyLights, an in-flight VR entertainment firm, to offer VR headsets for Airbus A340 passengers, allowing those that fear flying to access therapeutic programmes for meditation and sound therapy.