Aviation industry flying high in Saudi Arabia, UAE, Qatar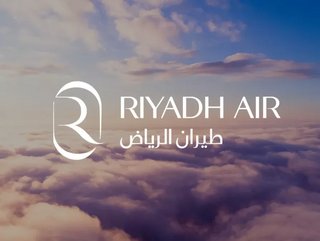 Riyadh Air will be Saudi Arabia's second national airline
Middle East-based airlines Emirates, Etihad and Qatar face competition from Saudi Arabia's Riyadh Air as tourism push takes off with Kingdom's Vision 2030
The Middle East has become an aviation hub in the past 20 years, driven by the global operations of Emirates, Etihad and Qatar Airways. Joining these UAE and Qatar-based giants is Riyadh Air – a new national airline for Saudi Arabia as it looks to diversify its economy and place a greater emphasis on tourism.
The carrier joins Saudia, the established national airline which began scheduled services in 1947, and aims to connect Riyadh with more than 100 global destinations by 2030.
Riyadh Air is backed by Saudi Arabia's Public Investment Fund (PIF) which has deep pockets – an estimated US$600bn in assets which are being invested to transform the country's economy. Other PIF-funded companies include NEOM, Red Sea Global (featured on our latest cover of Business Chief) and Ceer.
As reported in Business Chief, Riyadh Air is expected to create 200,000 jobs, the top one going to former Etihad Airways chief Tony Douglas.
A US$37bn deal has been signed with US giant Boeing to provide 78 Dreamliner jets, with an option for a further 43 aircraft. Half of that initial order will be for Riyadh Air, the other half for Saudia. First deliveries are expected in 2025.
"This is a significant order that will support Riyadh Air's commitment to deliver a world-class travel experience, while supporting American aerospace manufacturing jobs at Boeing and across our supply chain," said Stan Deal, president and CEO of Boeing Commercial Airplanes.
"We are incredibly proud of our nearly eight decades of partnership to drive innovation and sustainable growth in Saudi Arabia's aviation sector. Our agreement builds on that longstanding partnership and will further expand access to safe and sustainable commercial air travel for decades more."
The order is said to be the fifth largest in Boeing's history.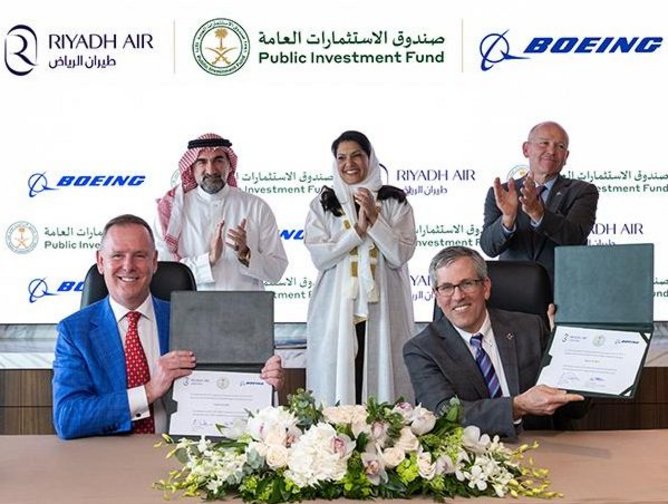 Riyadh Air CEO Tony Douglas (left) and Boeing SVP Commercial Sales and Marketing Brad McMullen (second right) with signed contracts. PIF governor Yasir AlRumayyan (second left), Saudi Arabia's US Ambassador Princess Reema Al Saud (centre) and Boeing CEO Dave Calhoun (right). Credit: Riyadh Air
The deal also follows recent news (February) that Air India had placed an order with Boeing (220 jets) and European competitor Airbus (250) for a staggering 470 aircraft – plus an option on 370 more. Details of the eye-watering sums involved, and potential delivery dates, were not disclosed.
Back in the Middle East, Kuwait's Jazeera Airways is launching a budget airline in Saudi Arabia. The low-cost airline will be based in Dammam and is part of the Saudi Arabia Vision 2030 transformation programme. Jazeera Airways currently flies 19 aircraft to 59 destinations.
This all means that competition in the skies over the region is hotting up.
Emirates, the region's largest airline, updates livery and fleet
Emirates is the largest of the Middle East carriers with 269 aircraft, followed by Qatar with 210, and Etihad with 74. Put into a global context, American Airlines operates the world's largest fleet, with 1,494 aircraft.
Like most established airlines, Emirates is still recovering from the impact of the COVID-19 pandemic, but there is positive news as demand and passenger numbers bounce back. The Dubai-based airline expects traffic to surpass pre-pandemic levels by 2024.
"Emirates continues to expand its global network and deploy its capacity to meet travel demand across the world," said Adnan Kazim, Emirates' Chief Commercial Officer in a statement on 14 March.
"Customer demand has been very strong, and our forward bookings are also robust. Emirates is working hard on several fronts - to bring back operating capacity as quickly as the ecosystem can manage, while also upgrading our fleet and product to ensure our customers always enjoy the best possible Emirates experience."
Established in 1985, Emirates has also just unveiled a new livery – only the third in its history. The new livery enjoyed a maiden flight to Munich on 17 March and will be rolled out across the fleet, and featured on all new aircraft from 2024.
Budget airlines booming as passenger numbers bounce back
The budget airline sister to Emirates, Flydubai, had a record year in 2022 – helped in part by Dubai Expo 2020 and the FIFA World Cup in Qatar – to register profits of US$327 million.
Flydubai also launched 16 new routes and took delivery of 17 new aircraft, to now boast a fleet of 74 jets serving 114 destinations.
Air Arabia, the region's only publicly listed airline based in Sharjah, UAE, also posted record profits as passenger numbers actually exceeded pre-pandemic levels, reaching 12.8 million. In 2022, Air Arabia added 24 new routes and a further 10 aircraft, for a fleet of 68.
Not to be outdone by its fellow emirates, Ras Al Khaimah is also in the news when it comes to aviation, securing new inbound routes from key markets as it looks to double tourism numbers.
Announced at the Arab Aviation Summit, held in the northern emirate 14-16 March, Ras Al Khaimah Tourism Development Authority (RAKTDA) and Europe's FTI Group, struck a deal for twice-weekly flights from Munich to Ras Al Khaimah International Airport top begin later this year.
Qatar Airways also announced direct daily flights to Ras Al Khaimah from 1 November.
"Our partnership with Qatar Airways and Ras Al Khaimah International Airport is an important step in driving Ras Al Khaimah's continued growth as a destination of the future," said Raki Phillips, Chief Executive Officer of Ras Al Khaimah Tourism Development Authority.
"We look forward to working together to drive sustainable growth, in line with our ambition to attract 3 million visitors annually by 2030 and increase tourism's contribution to Ras Al Khaimah's GDP."
Speaking at ITB Berlin earlier this month, Qatar Airways announced 11 new destinations as it looks to build on the pandemic rebound and success of the FIFA World Cup held in Qatar late last year.
Qatar Airways is currently the World's Best Airline, according to Skytrax, with Singapore Airlines in second place and Emirates third.