Saudi to rival Silicon Valley with US$9bn tech investments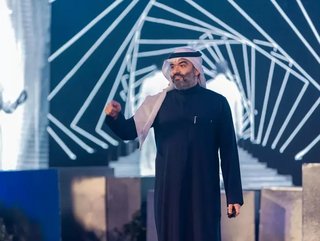 Saudi Arabia announces US$9bn investments in future tech amid unprecedented growth in digital economy – Microsoft, Oracle, Huawei, Zoom all big spenders
Saudi Arabia's position as the largest digital market in the MENA region has been strengthened with the earmarking of US$9 billion in investments in future technology.
Announcing the billion-dollar investments during global tech event LEAP23, taking place in Riyadh this week, His Excellency Eng. Abdullah bin Amer Alswaha, the Minister of Communications and IT, said the investments from big tech players like Microsoft, Oracle, Huawei and Zoom would support future technologies, digital entrepreneurship and tech startups.
The US$9bn investments in the Kingdom include:
An additional US$4.5 billion has been invested in global and local assets across multiple sectors at LEAP23.
Such heavyweight investments announced at Saudi-hosted LEAP23 follows the event's inaugural success in 2022, when more than US$6 billion worth of business deals were signed – LEAP23 is gathering momentum as a major rival to Silicon Valley as a global tech hub.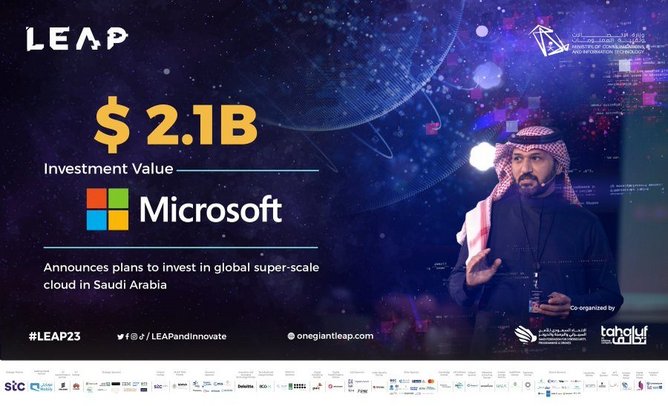 Investments to accelerate Kingdom's digital economy – to rival Silicon Valley
The investments will further strengthen Saudi Arabia's reign as the MENA region's largest digital market, with more than US$42bn in active investments.
Across Saudi Arabia, more than 340,000 people currently work in the digital, telecommunications and information technology sectors, with female participation now standing at 32.5% – a higher rate than both the EU and Silicon Valley.
The investments are part of HRH the Crown Prince's commitment to accelerating development that will help Saudi achieve the objectives of Vision 2030 by leveraging technologies of the future in promising sectors.
As Saudi looks to shift away from oil as the main economic resource, it is putting itself at the forefront of emerging tech through large-scale adoption and ambitious pilot projects.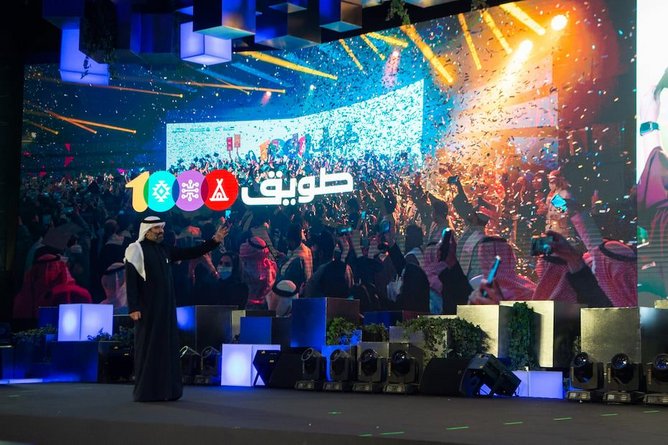 LEAP23 to fast-track the country's digital transformation
LEAP23 is part of the Kingdom's plan to fast-track its digital transformation.
Following its 2022 launch, when more than US$6bn worth of business deals were signed, global tech event LEAP23 is expected to bring together more than 100,000 tech innovators and leading experts from around the world to discover new ideas, build new partnerships, and connect with inspiring mentors and investors.
Running until February 9, LEAP23 is bringing together the world's most important tech experts and big tech CEOs, from billionaire venture capitalist Tim Draper to Hong Kong SAR chief executive john Lee, as well as C-suite executives from some of the biggest names in the industry – Aramco, Zoom, Google, Oracle, SAP, and NEOM.
As well as showcasing a lineup of advanced tech solutions from companies such as Snap Inc (think Augmented Reality), MasterCard Venture, Huawei and Ericsson, the show will feature more than 90 global startups pitching for a share of a US$1m prize fund, and more than 720 speakers, including Thierry Henry, football legend and tech investor; Sebastien Borget, Co-founder of The Sandbox; Guy Parsonage, Global Metaverse Leader at PwC; as well as CTOs from Wipro and Intuit, among others; and CEOs from Aramco, Ecrisson, IBM, Nokia, Ooredoo Group Qatar, e& enterprise, TechStars and Tech Mahindra.
Taking place alongside LEAP, the inaugural DeepFest (themed AI Beyond Imagination) will see thought-leaders, change-makers, big tech, data scientists, innovators, enterprises, academia, startups, and innovative business entrepreneurs unveil government AI initiatives and multi-sector innovations through a thought-leadership conference and sector-specific tracks, trainings, live-demos, and innovation sessions.