World Retail Banking Report 2022: Banks must embrace data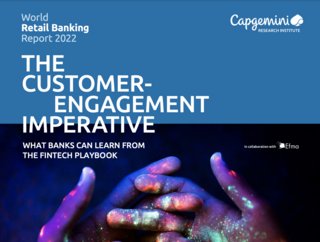 Incumbent banks must embrace data-centric capabilities to drive personalised customer experiences, says World Retail Banking Report from Capgemini and Efma
Customers are pivoting to competitors that offer more personalised, bespoke experiences, leaving retail banks lagging behind. That's according to the World Retail Banking Report 2022 (WRBR) published by Capgemini and Efma.
The survey showed that 75% of customers are attracted to the cost-effective, seamless services offered by fintechs and traditional banks simply cannot keep up.
Some 70% of banking executives are worried about their data analysis capabilities and banks have to leverage data and artificial intelligence to retain and attract customers.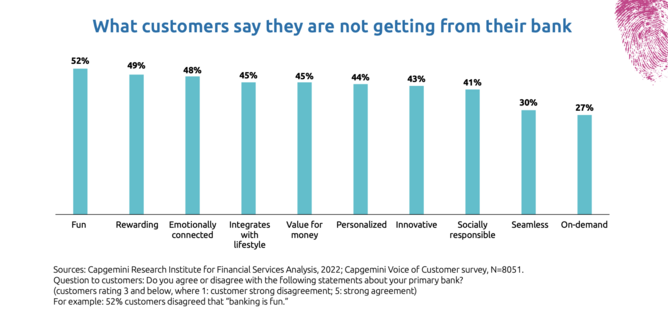 Digital transformation has boosted fintechs
In the report's 'Voice of the Customer' survey, three quarters of respondents said they are attracted to agile fintech competitors as they offer fast, easy-to-use products and superior customer experiences. Conversely, around half said their current banking relationships were neither rewarding nor emotionally connected, and 52% said banking was not 'fun'.
Banks can collect customer insights to improve the competitiveness of their digital marketing capabilities, especially when combined with artificial intelligence and machine learning.
"The formula for growth sounds simple. Customers want to be provided with personalised experiences, regardless of wherever they may be on their own digital journey. The challenge, however, remains in execution," says Nilesh Vaidya, Global Industry Head, Retail Banking and Wealth Management, Capgemini's Financial Services Strategic Business Unit.
"Retail banks must rethink their wider business models, restructuring to focus on providing the same personalised, lifestyle-enabled ecosystem journeys that customers have come to expect from their digital interactions. Without addressing the disparity and striking inconsistency between a customer's digital and physical banking experiences, traditional banks risk losing customer value to their more agile FinTech counterparts."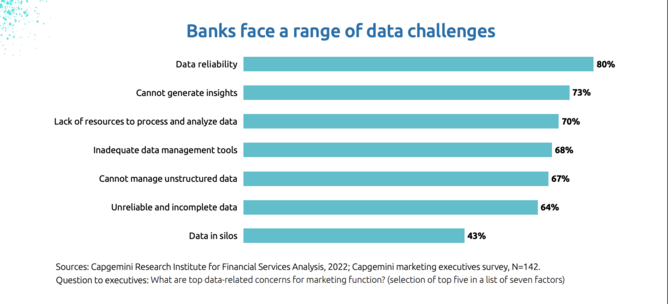 Banks must leverage platform-based models to optimise growth
According to the survey, more than 70% of banking executives said traditional banks lack data and analytics capabilities. As incumbent banks race to keep pace, many providers are combining traditional offerings with lifestyle products. Others are offering Banking as a Service (BaaS) and embedded banking solutions. Platform models can help collect data for personalisation, making them well-positioned to mine data ecosystems and derive real-time insights.
"To thrive in this fiercely competitive environment, with digitally native fintechs continuing to capture a rising amount of market value, we're seeing retail banks finally embracing innovative technologies and platform-based models to optimise this data-driven growth," says John Berry, CEO of Efma.
"While this has evolved within many of these incumbents' digital channels, customers still expect branches to be experience centres, filled with self-service options and financial advice. By strengthening their ability to collect and analyse data, providers can identify what customers want, which ultimately is consistent omnichannel banking experiences."
The World Retail Banking Report 2022 draws on the Global Voice of the Customer survey 2022 and the Executive surveys and interviews 2022. Together, they cover 29 markets including Australia, Brazil, Canada, China, France, Germany, Hong Kong, India, Japan, Qatar, Singapore, UAE, UK, and US.
For more information, please visit www.worldretailbankingreport.com