World Sustainable Development Summit highlights cooperation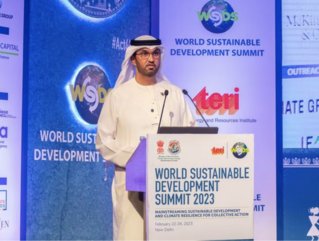 Dr Sultan Al Jaber, President designate of the upcoming COP28, speaking at WSDS in New Delhi
The 22nd annual World Sustainable Development Summit (WSDS) in New Delhi calls for climate resilience and collective action
Held in New Delhi from 22-24 February, the 22nd edition of the World Sustainable Development Summit (WSDS) focused on the theme Mainstreaming Sustainable Development and Climate Resilience for Collective Action.
Indian Prime Minister Narendra Modi delivered the inaugural address, highlighting the fact that environmental concerns are not just a global effort but also the responsibility of every individual.
"Environment conservation is a commitment and not compulsion for India," he said, while highlighting the country's move toward renewable energy and adoption of technology to tackle urban challenges.
"We have adopted a multi-dimensional approach to chart a long-term roadmap for sustainable and environment-friendly lifestyle," he added.
Dr Bharrat Jagdeo, Vice President of Guyana, also made a passionate speech focused on the struggles that developing nations face when trying to achieve Sustainable Development Goals without financial assistance, and inequalities emerging from global forums such as the G20 and COP.
"The small countries not only need climate finance, they need a reform of the global financial system to achieve sustainable development," said Dr Jagdeo. "We need to reduce the production of fossil fuels, we need carbon capture, utilisation and storage, and we need a mass transit into renewable energy. It is the combined action on all three fronts that will deliver lasting solutions. But often the debate is between the extremes, and sometimes it clouds the search for solutions. Balance is crucial."
COP28 President designate Al Jaber calls for paradigm shift
One attendee paying close attention to the discussion would have been Dr Sultan Al Jaber, President designate of the upcoming COP28 being held in Dubai in November this year.
Al Jaber's appointment marks the first time a CEO has served as COP President – emphasising perhaps the increasing importance of the business world in tackling climate change and underscoring the UAE's approach to COP28, which the government describes as a "pragmatic, inclusive, 'leave no one behind' approach".
Speaking at WSDS, Al Jaber said the event's theme was a "call to action" that would be echoed in Dubai.
"We will aim to unite all parties around inclusive and transformational progress," said Al Jaber. "The goal of keeping 1.5 degree Celsius alive is just non-negotiable. It is also clear we cannot continue business-as-usual. We need a true, comprehensive paradigm shift in our approach to mitigation, adaptation, finance, and loss and damage.
"As India takes forward the presidency of G20, the UAE supports India's focus on transformative actions for a cleaner, greener and bluer future with just and sustainable development for all."
Developing nations have vital role to play in climate change solutions
The importance of the developing world when it comes to achieving these ambitious targets cannot be overstated. Climate change is a global issue and requires a global solution.
This was emphasised by Professor Jeffrey D Sachs of The Earth Institute at Columbia University.
"We need the whole world in the lead. We need India to be in the lead, we need China to be in the lead, we need Brazil to be in the lead," he said.
"What is remarkable about global politics right now is that we are in the midst of fundamental change. We are at the end of a North Atlantic world, we are at the beginning of a true multilateral world."
Lifestyles need to change to tackle climate emergency
Reflecting PM Modi's statement on the need for individual responsibility, one of the expert panels at WSDS – organised by The Energy and Resources Institute (TERI) – looked at changes required for consumption and lifestyles.
Mariam Almheiri, UAE Minister of Climate Change and Environment, illustrated the initiatives taken by the country to address lifestyle changes, such as reducing food waste by 50% by 2030.
Dr Ali Abou Senna, CEO of the Egyptian Environmental Affairs Agency and Assistant Minister, said his country has always devised strategies to integrate environmental decisions and climate action in economic and development sectors.
Professor Sachs said: "We would solve three-quarters of emissions not with lifestyle changes but through technological transformation, but our lives will change considerably in the future, and by and large, for the better if we adhere to sustainable development norms."
Last word goes to Jean-Pascal van Ypersele, former IPCC Vice-Chair, who emphasised the link between lifestyles and climate change, blaming us all for "using the atmosphere as a dustbin".