Top 10 UAE female CEOs leading change – Emirati Women's Day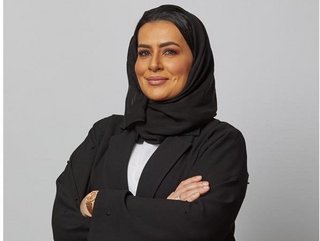 As CEO of ADNOC Sour Gas since 2020, Tayba Al Hashemi is one of few female executives in the male-dominated oil and gas industry
In celebration of Emirati Women's Day, Business Chief highlights ten female CEOs blazing a trail across the UAE and region – from banking to oil and gas
A recent report by Bain shows that 6.7% of CEO positions in the UAE are held by women, higher than the global average of 5%.
Not only that, but the country has the highest percentage of women holding board seats in the six-member GCC economic block.
The UAE, which became the first country in the Menat region to mandate a quota for women in corporate boardrooms, has more than doubled the number of women on listed company boards since 2020.
Women account for 9.9% of the 868 board seats of the 115 companies listed on the Abu Dhabi and Dubai stock exchanges, as of June 2022.
This year has seen so far see a number of UAE women climb the executive ranks to chief executive, including Shamsa Al-Falasi who became CEO of Citi's UAE onshore branch and Raja Al Mazrouei, who landed the top job at Etihad Credit Insurance.
In celebration of 'Emirati Women's Day' on August 28, 2023 – eight years since its established by Sheikha Fatima bint Mubarak, President of the Supreme Council for Mother and Childhood – we pay tribute to ten women leading companies in Dubai and Abu Dhabi.
1
Group CEO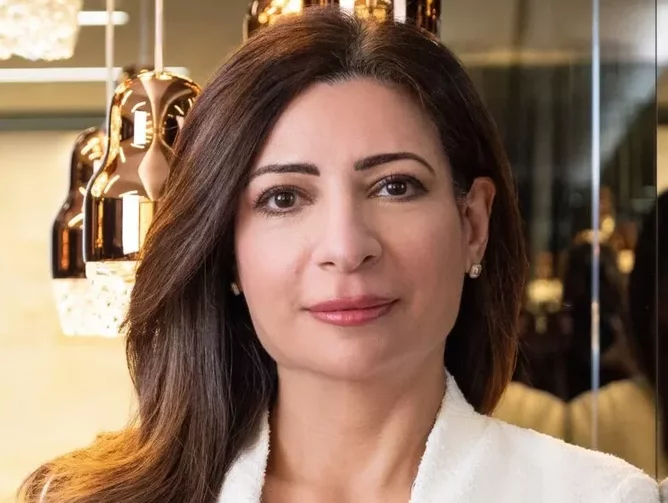 Hana Al Rostamani is the first female CEO of First Abu Dhabi Bank
As the first female CEO in the history of First Abu Dhabi Bank, Emirati Hana Al Rostamani leads the UAE's largest bank with a market cap of US$39.35bn and more than US$300bn in total assets.
Under her leadership, FAB has achieved record profits, with group net profit reaching a historic in 2022 to AED 13.4 billion, an improvement of 7% YoY, and become the leading bank in sustainable finance in the region.
Since taking the helm of the UAE's largest bank in 2021, Hana has become recognised for being a change leader, focused on embedding a culture driven by innovation, DEI.
Credited with first-place ranking in Forbes Middle East's list of the region's most powerful businesswomen, Hana has more than 25 years of experience in banking and financial services.
Prior to becoming FAB CEO in 2021, she held numerous senior leadership roles at FAB, including most recently as Deputy Group CEO, and before that, Group Head of Personal Banking, responsible for leading the transformation of FAB's consumer bank, instilling a customer and digital-first mindset.
And prior to FAB, Hana held various roles at First Gulf Bank, Citibank, and AW Rostamani Group. She is Chair of the Global Council on the Sustainable Development Goals and is a board member of the Institute of International finance, the International Institute for management Development.
2
Chairperson and Managing Director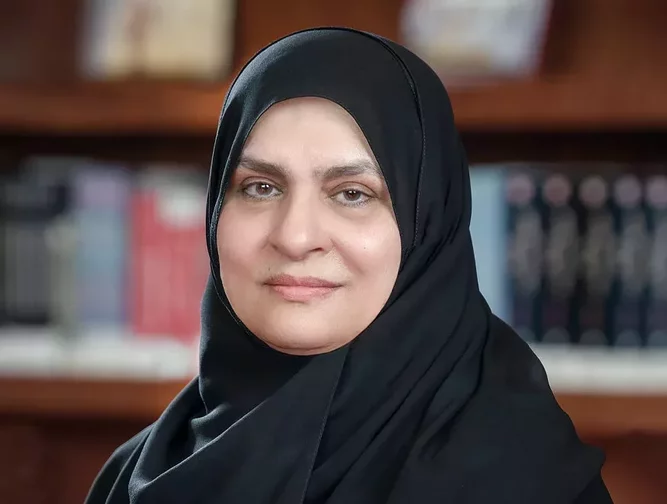 Legendary UAE leader Dr Raja Easa Al Gurg is a passionate advocate for female leadership
One of the Arab world's most influential businesswomen, Dr Raja Al Gurg has not only risen to the top but passionately advocates for other women to follow suit.
With four decades of experience in sectors spanning education and manufacturing, she has been MD of the Dubai-based business conglomerate Easa Al Gurg Group – whose businesses range from retail to real estate to construction – for over 30 years and assumed the position of Chairperson last year.
She chairs various other boards, among them the National Bank of Fujairah, the University of Dubai, Al Jalila Foundation, and more recently, as Pro-Chancellor of Heriot-Watt University Dubai; and is focused on various philanthropic missions.
But it is her work in female advocacy that really sets her apart and has earned her an impressive list of accolades.
As well as serving as President of Dubai Chambers of Commerce & Industry Business Women Committee, and as a member of the Arab International Women's Forum, she is the founder and President of 20-year-old non-profit Dubai Business Women Council (DBWC), which aims to empower women by providing strategic education, training and networking opportunities.
She recently unveiled her second book, The Power of Authenticity, where she takes her leadership lessons public.
3
CEO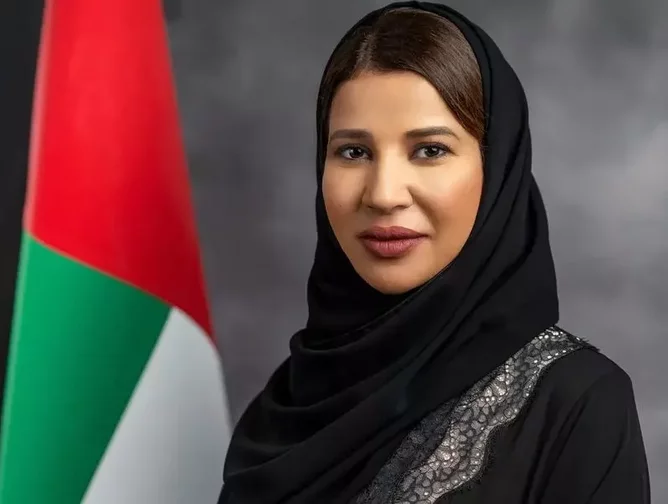 Raja Al Mazrouei is a multi-award-winning digital transformation leader
Listed as one of the top 50 most influential women in Middle East finance, according to Dow Jones, Raja Al Mazrouei has landed the top job at Etihad Credit Insurance (ECI), the UAE's national export credit insurance company.
Raja, who served as the insurer's Managing Director for seven months prior to becoming CEO in May, is leading the organisation into its next transformational phase – leveraging advanced technology and accelerating the digitisation of trade credit insurance.
A multi-award-winning digital transformation leader with more than two decades of experience driving the next generation of digital innovation in the financial and tech sectors, Raja has a proven track record of cross-functional leadership, financial expertise, and successfully turning around businesses.
She has held senior roles at some of the UAE's leading companies, including Dubai Holding, National Bonds Corporation and the Dubai International Financial Centre (DIFC) Authority, where she spent nearly seven years.
As EVP of DIFC FinTech Hive, one of the world's top financial innovation labs, Raja played a pivotal role in advancing the UAE's national innovation agenda. Her proactive collaboration with diverse stakeholders has contributed to the UAE's thriving digital economy, fostering the growth of more than 500 fintech, regtech and insurtech startups.
Renowned as a forward-thinking and compassionate leader, Raja focuses on bridging the gap between people and processes and is passionate about mentoring future leaders. As a Senior Advisor at Deloitte, Raja has mentored younger talent.
She is also a board member of numerous boards in the region, including Harvard Business School MENA.
4
CEO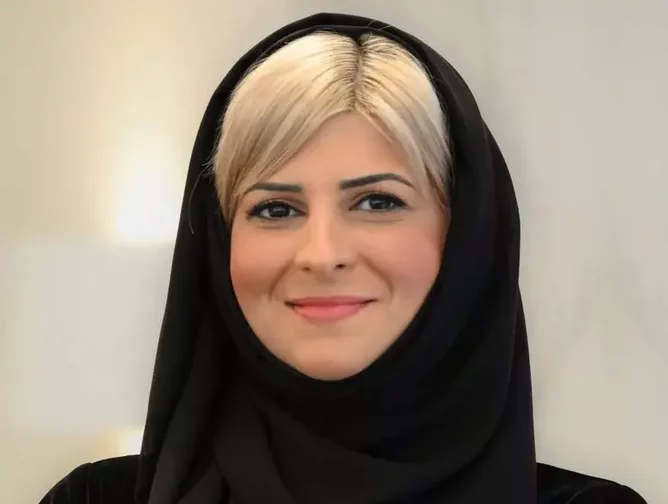 Shamsa Al Falasi is the first Emirati woman to lead Citi's UAE onshore businesses and operations
Seasoned banker Shamsa Al Falasi took the helm of Citibank, N.A. UAE Onshore Branch, in the UAE earlier this year – making her the first Emirati woman to lead Citi's UAE onshore businesses and operations.
Alongside the CEO role, Shamsa serves as Chief Administration Officer UAE across all Citi entities operating onshore and offshore in the country.
An experienced corporate banker, Shamsa comes to the top job with almost 20 years of experience at Citi under her belt, including more than a decade in the UAE, where in 2013, she landed the Best UAE National Female Banker award.
Joining the banking giant as a graduate in 2004, she has worked her way across geographies, including Dublin, London, Sao Paulo and the UAE, and up the leadership ranks, holding increasingly senior positions.
Among her previous Middle East-based roles, Shamsa served as Senior Business and Relationship Manager for the MENA and Turkey region, and from 2015 to the end of 2022, she helmed the Global Subsidiaries Group for the GCC and Iraq.
Prior to her latest appointment, Shamsa served as Interim Citi Country Officer and Interim CEO of Citibank, N.A. UAE Onshore Branch.
Passionate about the elevation of women to senior leadership roles in finance, Shamsa is Co-Head of Citi Women's Network UAE and frequently participates in regional panels on the topic. She is also a board member at the American Business Council and is fluent in Arabic and English.
5
CEO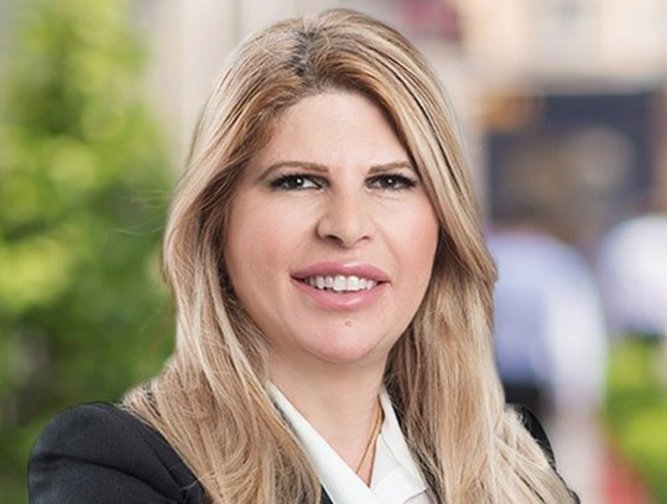 Rola Abu Manneh is the first Emirati woman to head a bank in the UAE
As the first Emirati woman to head a bank in the UAE, in 2018, Emirati Rola Abu Manneh is blazing a trail across the emirates and the region.
Abu Manneh is credited with leading the transformation of the UAE's business into one of the biggest five markets for the UK-headquartered Standard Chartered Group.
Under her leadership, profits have soared, jumping 41.3% in 2022, and the UAE bank launched an Isalmic sustainable account, used to fund sustainable projects.
She is passionate about advocating for women in senior roles and entrepreneurship and is credited with spearheading the UAE bank's Women in Tech programme, accelerating 12 startups, that collectively raised over $5 million from venture capitalists, as of November 2021.
Her efforts have secured her numerous accolades, including being awarded Banking Leader of the Yeart at the4 Gulf Business Awards for three consecutive years and named among the Middle East's Power Businesswomen by Forbes.
She is a member of the Board of Directors of the Dubai International Chamber.
Prior to Standard Chartered, Rola was Head of Corporate & Investment Banking at Abu Dhabi Bank and before that, she spent two decades with National Bank of Abu Dhabi. She has a degree in mathematical engineering from Royal Holloway, London.
6
CEO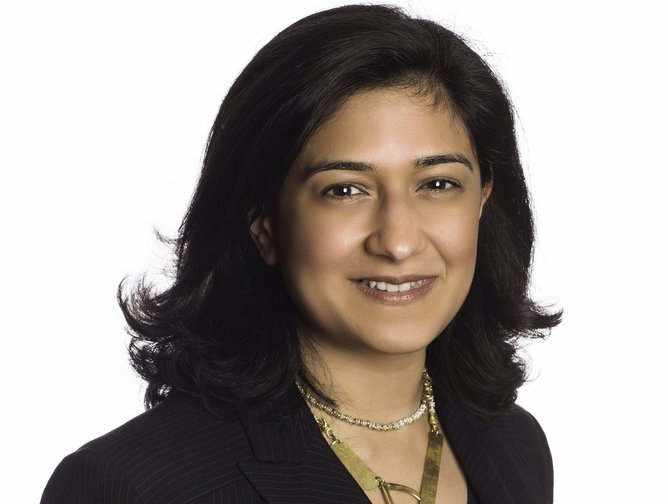 Najla Al Midfa is credited with putting Sharjah on the global startup map.
McKinsey alum Najla Al Midfa has led Sharjah Entrepreneurship Center (Sheraa) for the last five years, growing the government entity to new heights and putting Sharjah on the global startup map.
Under her leadership, and since its inception in 2016, the centre has supported more than 150 startups collectively raising US$128 million, generating US$187 million in revenue, and creating 1,400 jobs. Her plans are to increase this to 100 companies a year with a focus on three industries: edtech, cleantech and creative.
And in the 2020, the emirate ranked first in a list of high-growth, activation-phas3e startup ecosystems globally.
Passionate about entrepreneurship and education, Najla also founded Khayarat, a platform that enables young Emiratis to make informed career choices.
Before joining Sheraa, Najla served as a senior manager at the Khalifa Fund for Enterprise Development, where she led a team of business counsellors through the due diligence process, helping to identify and select ventures for financing. She also designed and led various youth-related initiatives.
Her career has also seen her served in key positions at PwC, Shell, and McKinsey, where she worked on various strategy-related projects with a focus on the financial services sector.
7
Dr. Maryam Buti Al Suwaidi
CEO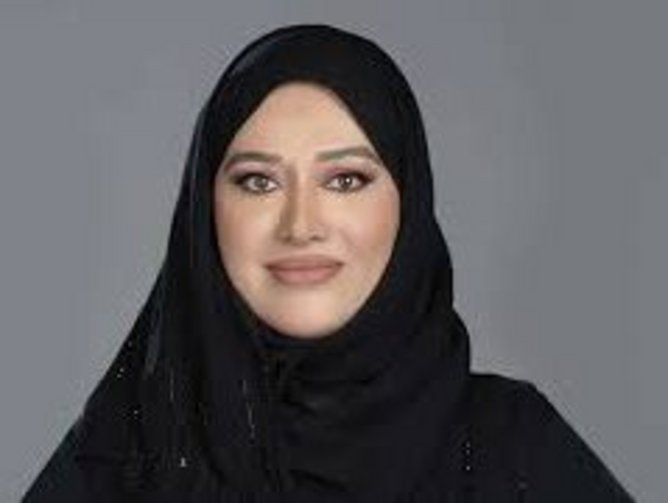 Dr. Maryam Buti Al Suwaid is the first female CEO of Securities and Commodities Authority (SCA)
As the first female CEO of Securities and Commodities Authority (SCA), Dr. Maryam Buti Al Suwaidi has been leading the nation's markets regulator since October 2021.
Shattering the glass ceiling is nothing new for Al Suwaidi who is the first Emirati female assessor expert in the field of combating money laundering and terrorism financing, according to Financial Action Task Force (FATF).
Under her leadership, the SCA participated in GITEX, presenting innovative electronic systems, including its Tafaul platform
Al Suwaidi has extensive experience in the field of capitals markets
She holds a Doctorate in law from the University of Leeds, UK.
8
CEO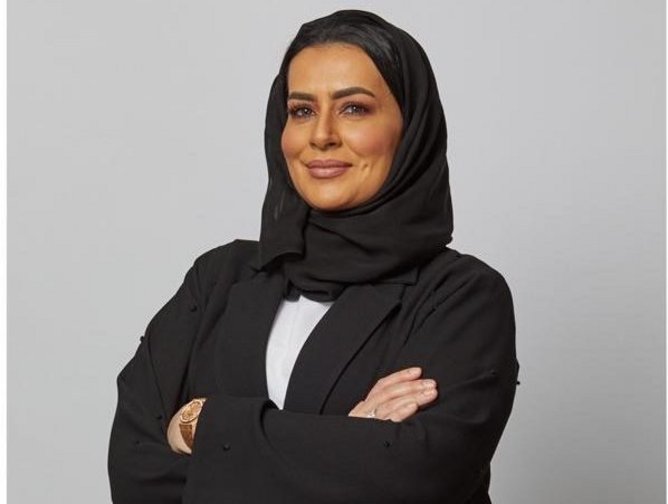 Tayba Al Hashemi has a career spanning more than two decades at ADNOC
As CEO of ADNOC Offshore, Tayba Al Hashemi is one of the few women in a leading executive role in the male-dominated oil and gas industry. ADNOC Offshore is responsible for the development and delivery of oil and gas resources in Abu Dhabi waters.
Prior to this, Tayba was CEO of ADNOC Sour Gas, one of the world's largest sou gas producers and the world's largest producer of granulated sulfur from a single facility.
With a career spanning more than two decades at ADNOC, Tayba is the first of the initial two female CEOs appointed to lead ADNOC's operating companies. Before taking her current role, she held a number of senior positions, including serving as CEO of Al Yasat Petroleum Operations Company.
During her time at ADNOC, Al Hashemi has contributed to the restructure of the company's exploration and development strategies.
A strong advocate for women in leadership, she is a member of the ADNOC Gender Balance Committee. She has a degree in chemical engineering from the UAE University.
9
CEO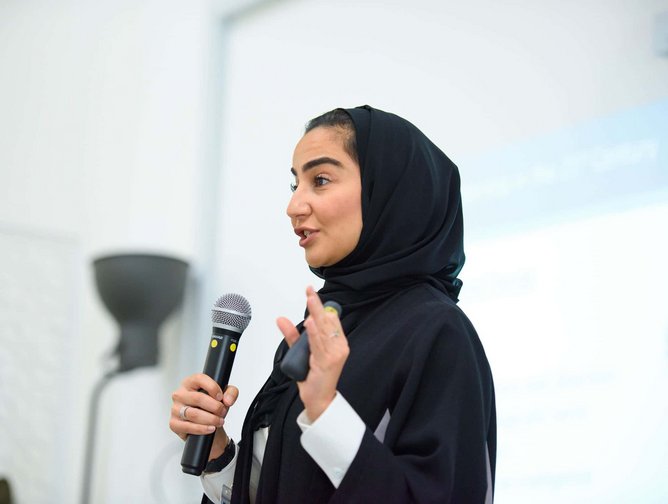 Hind bin Khirbash speaking at the Tharawat Family Business Forum
When it comes to academic credentials, Hind bin Khirbash is quite the regional star. Armed with an Executive MBA from London Business School, Hind secured first place in the Shaping Future Government Global University's Challenge at the 2018 World Government Summit.
For the last seven and a half years, Emirati Hind bin Khirbash has led the Emirates National Investment (ENI), a regional development group with a diversified portfolio covering real estate, construction agriculture and FMCG.
Under her leadership, ENI has completed various high-profile residential and commercial projects across the emirates including Burj Al Shams, ENI Coral Tower, and Churchill Towers Dubai. Recently, she spearheaded a partnership with ADNOC.
An entrepreneur at heart, Hind is also co-founder of two startups – Twenty Eight Interiors, an interior design studio based in Dubai, and Bullets and Butterflies, a fashion and accessories' boutique.
She is also a member of the board for the Dubai Chamber of Commerce and a member of the board of trustees for the UAE's International Charity Organisation. In 2022, she was appointed as a board members at xCub.
10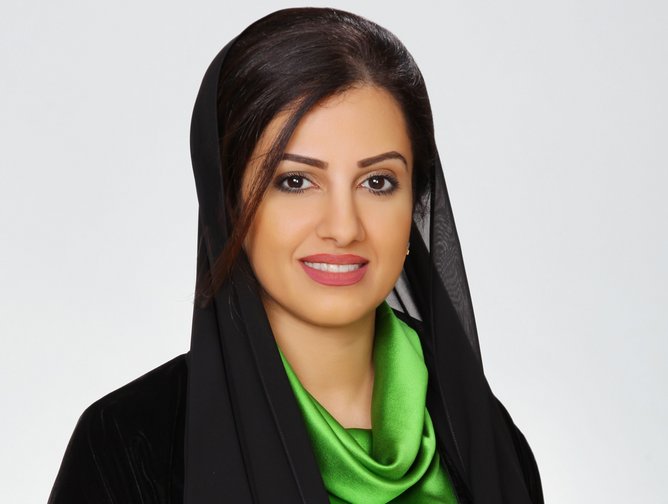 Dr. Dalya Al Muthanna is UAE President of General Electric, one of the largest companies in the US
In her role as UAE President of General Electric, one of the largest companies in the the US, Dr. Dalya Al Muthanna partners with the GE businesses in the industrial verticals of energy, aviation and healthcare to develop and facilitate business strategy in the UAE.
Among such partnerships, GE Aerospace recently partnered with Dubai national airline Emirates on a Middle East breakthrough – operating the first flight in the region using 100% SAF to power one engine.
Her global role sees her lead the strategic direction of the GE International Markets organisation, where she builds strong stakeholder relationships and leads lean transformation across the operational management system.
Dalya joined GE in 2008 as part of the firm's Experienced Commercial Leadership Program and she has held multiple senior roles, including leading growth strategy for the MENAT region – becoming UAE President in January 2021.
She is passionate both about promoting diversity and developing local talent and also driving innovation to advance technological growth in the region. GE technologies contribute to almost half of the power supplied ion the UAE.
Prior to GE, Dalya founded and led for five years, Haya Enterprises, a retail organisation comprising a group of multi-brands and exclusive franchises in the UAE.