Mental health in the GCC workplace – time for change?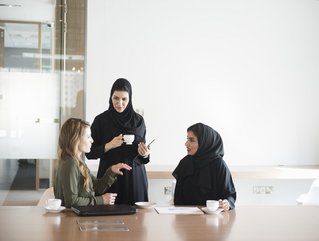 As employee mental health hits an all-time low, employers in Saudi and the GCC are urged to take steps to improve workplace wellbeing and retain talent
While nobody would argue the Covid-19 pandemic was anything but terrible, we can say some things changed for the better when it comes to work.
The recognition of mental health as a workplace issue, for example. For the first time, organisations all over the world recognised how the pandemic and shift to hybrid impacted employee wellbeing pushing mental health into focus.
"A pandemic is going to bring a lot of negatives, of course, but I think one of the most positive things to come out of it is, for the first time, you're starting to see employers and employees on the same page," says Trish McFarlane, CEO and principal analyst at H3 HR Advisors, and a Top 100 HR Technology Influencer.
And while some employers are stepping up to the challenge, launching policies and programs that support struggling employees and evolve the conversation around mental health at work – employers like EY, Microsoft, Johnson & Johnson and Samsung Electronics – many are lagging on this front, with mental health support yet to be recognised as a cultural priority.
Saudi Arabia firms failing to prioritise mental health
Take Saudi Arabia. New research on workplace wellness has revealed that most workplaces in Saudi Arabia are failing to prioritise the mental health of employees.
The study of 4,000 employees and the HR teams of 50 organisations across the Kingdom's public and private sectors, carried out by the National Center for Mental Health, palm.hr and Tuhoon, a leading mental wellness platform in the region, found that 8 in 10 Saudi workplaces have no budget to support the mental health of their employees.
The majority (78%) of organisations do not measure their workers' mental health; 82% have no dedicated resources for mental health services and 52% do not provide health insurance cover for mental health.
This comes as employee mental health is at an all-time low, with the number of workers reporting a decline in their wellbeing rising, both globally and regionally. In 2021, nearly one-third of workers said their mental health had declined over the past year, up from 24% at the end of 2020, according to Lyra Health's 2022 State of Workforce Mental Health report.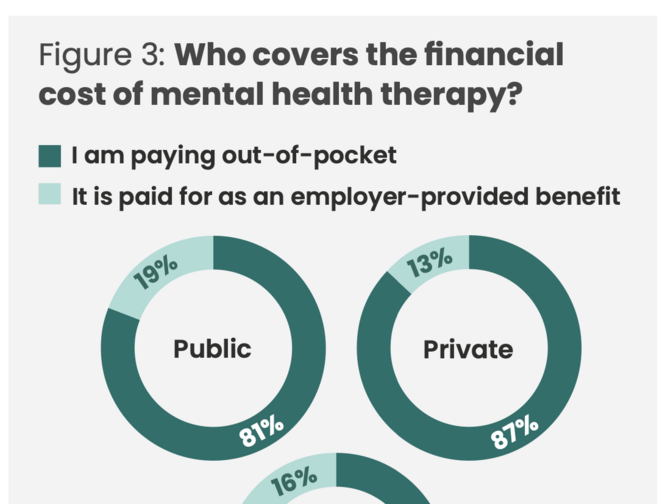 Mental health decline on rise in Saudi and wider GCC
The picture is more concerning across the Gulf countries, with two-thirds of GCC residents experiencing symptoms of poor mental health and wellbeing, a new survey by the McKinsey Health Institute reveals.
Residents of Saudi Arabia had the highest instances of distress compared with the three other countries surveyed – UAE, Qatar and Kuwait – as well as the highest number of people reporting depression, anxiety and burnout.
The level of residents experiencing distress, which can be a precursor to burnout, was also higher in the GCC than globally, with 55% reporting it compared to 32% globally. Regional residents are also more than twice as likely as global respondents to leave their jobs, 36% compared to 16%.
Burnout is real and can contribute to stress, anxiety, 'quiet quitting', a more recent workplace phenomenon where employees silently protest toxic company cultures by doing the bare minimum of one's job requirements; or they may just look for another job.
No surprise then that an increasing number of employees across the GCC countries, including Saudi Arabia, are on the hunt for a new job, according to PwC's 2022 Middle East Workforce Hopes and Fears Survey, with one-third (30%) of workers in the GCC 'extremely or very likely' to look for a job in the next year, considerably higher than the global average of 19%.
"In the age of the 'great resignation', it is imperative for employers to keep pace with the demands and wishes of talent or they will look elsewhere to get what they desire from their workplace." Randa Bahsoun, a partner at PwC, said.
What actions can businesses take to ensure workplace wellness
To help improve employee health and wellbeing in the GCC region, employers must take action, both preventive and reactive, at three levels – organisational, team and individual, McKinsey advises in its report.
Companies are urged to make mental health a strategic priority, offer employees better access to resources, eliminate toxic behaviour in the workplace and destigmatise mental health issues. Furthermore, leaders must look to "foster a culture of inclusivity, hold managers accountable and create a supportive environment for employees to thrive".
Tuhoon, which is using cutting-edge behavioural health tools, programs, and experiences to help organisations in the MENA region become happier and healthier places to work, also recommends steps organisations can take to improve workplace mental health.
Among these are workshops to raise awareness of the issue; and webinars on topics such as stress management, dealing with burnout, and increasing connectivity between workers.
"Showcasing the hidden costs of poor mental health like occupational errors, productivity loss, and absenteeism is a sure way to increase interest in the subject," Fares Ghandour, Tuhoon CEO says.
As the Arab world's first tech-enabled, multi-modal ecosystem of mental wellness products and services, Tuhoon is partnering with organisations, like telecoms company Zain Group, where they are focused on employee "mental wellness as a priority through several different approaches, which include awareness and therapy sessions".
Tuhoon suggests wellbeing days – something an increasing number of organisations globally have introduced in the post-pandemic era and something Tuhoon insists is a "tried and tested strategy that will improve morale and ultimately increase productivity and workforce retention."
Training of managers and leaders is also advised, empowering them to not only identify problems or concerning conditions, but also to understand the wide range of mental health resources and how to access them, and to establish a nurturing and safe work environment "that builds trust among leaders and employees".
And put in place a team of mental health ambassadors, Tuhoon suggests, to support leaders in spreading mental health awareness in the workplace and engaging and guiding employees toward proper support. And by utilising assessment tools to measure workplace health, organisations can take the guesswork out of what teams and leaders need, they say.
Prioritise women's wellbeing at work
While wellbeing support and resources is essential across the board, Tuhoon recommends prioritising women's wellbeing, as women are impacted more
"The level of burnout, anxiety, and stress women are experiencing has become the primary issue affecting productivity in the workplace," the report states, with women in the workplace 44% and 32% more likely than men to suffer from burnout and anxiety, respectively.
And certainly, women have higher expectations from organisations when it comes to support and mental coverage and are twice as likely as men to pay for treatment out of their own pocket if they don't receive it at work.
To cater to women, who are playing an increasing role in the workplace across the GCC and especially in Saudi, Tuhoon recommends adjusting policies to better support working women; and encouraging women to speak up and share thoughts by providing a safe and accessible platform to do so.
They also urge organisations to ensure salaries and raises are equitably determined regardless of gender and further provide accessible resources for women to report harassment or sexual assaults and ensure the process is easy and clear.