Leadership Legend: Sir Jim Ratcliffe, CEO of Ineos Group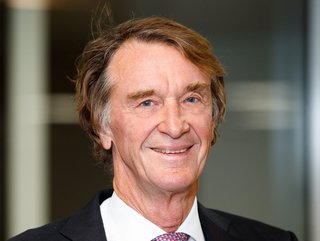 Sir Jim Ratcliffe, CEO of Ineos Group. Picture: Ineos Group
Once Britain's richest man, Sir Jim Ratcliffe has made Ineos Group one of the biggest companies in the world and is attempting to buy Manchester United
In recent months, Sir Jim Ratcliffe has been making headlines for his interest in buying Manchester United, the team he supported as a boy.
Whether or not his Ineos Group can see off hard-fought competition from Qatar banker Sheikh Jassim, the multi-billion dollar deal to buy United will – if completed – be the biggest in football history.
Such a feat would seem appropriate for a man who is well accustomed to breaking records and topping tables. He has previously been named as the UK's richest person and is worth more than US$23 billion, according to Forbes, while Ineos has regularly placed in the Fortune Global 500.
Now 70 years old, Sir Jim is showing little sign of slowing down and only seems intent on broadening his business empire, which is steadily becoming more and more intertwined with the world of sport.

Sir Jim Ratcliffe's modest upbringing
It's fair to say Sir Jim did not have your typical billionaire's childhood, living in a council house in Failsworth, Greater Manchester, until he was 10.
His mother worked in an accounts office and his father as a joiner, before the latter went on to run a furniture factory.
Despite his modest upbringing, a young James Radcliffe was fast developing an interest in business and industry, and exhibited a passion for engineering at Beverley Grammar School following his family's move to Yorkshire.
His obvious intelligence earned him a place at the University of Birmingham, where he studied chemical engineering, before moving into the world of work with Esso.
Sensing, however, that his journey in education was incomplete, Sir Jim then attended London Business School to obtain his MBA in finance.
Learning the ropes
Considering himself well-equipped to succeed in business, Sir Jim worked for a time at fabric, clothing and chemicals manufacturer, Courtaulds, prior to boldly joining US private enquiry firm Advent International.
It was at Advent that he learned the ins and outs of making big-money investments and, in 1992, he teamed up with chemist Dr John Hollowood to purchase a chemicals division from BP in a US$50m deal – putting his family's finances on the line.
But it proved a smart move; when the newly-formed Inspec floated on the London Stock Exchange in 1994, it was valued at US$125m. The company subsequently acquired BP's equivalent site in Antwerp, Belgium.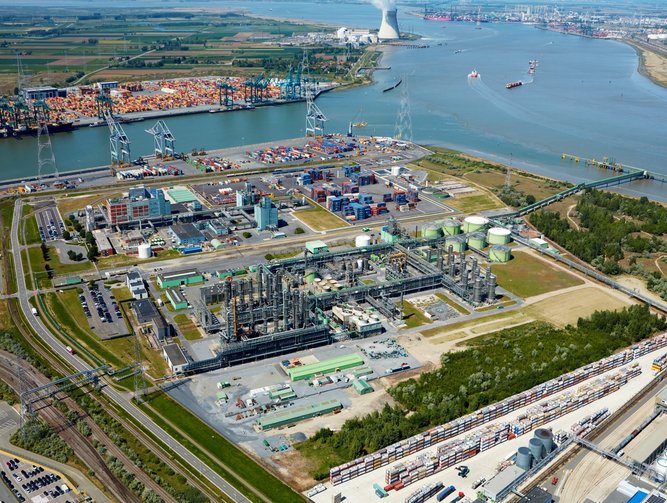 One of Ineos' sites in Antwerp, Belgium. Picture: Ineos Group
Building the Ineos empire
Now in his mid-40s, Sir Jim left Inspec and founded Ineos in 1998, signalling the dawn of a new era. It would prove to be his smartest move and one that would make him a billionaire businessman.
In what was another ambitious financial manoeuvre, Ineos was launched in order to buy the Antwerp chemicals site from Inspec for more than US$100m.
Over the ensuing years, the firm completed a raft of deals to acquire unwanted subsidiaries from big companies, ultimately making Ineos a heavyweight in itself. When considering these acquisitions, executives were asking one, simple question: can we double its earnings over five years?
The most notable such deal came in 2005, when Ineos took over Innovene from BP for a sum of around US$6.25bn. Ineos' sales volume was immediately multiplied and its workforce doubled.
As was the case for countless businesses in manufacturing and beyond, the global financial crash resulted in a substantial decline in revenue and profitability, but Ineos emerged relatively unscathed.
Speaking in 2011, Sir Jim said: "We came out of that [the downturn] quite well. We made changes and reduced costs, and I think we came out of it better than many companies, certainly in our industry.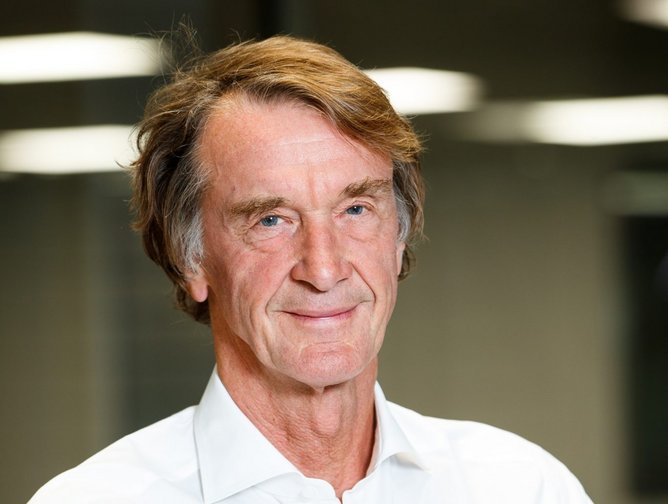 Sir Jim Ratcliffe is attempting to buy Manchester United through his Ineos Group. Picture: Ineos Group
"Many people did not survive that downturn – the worst, certainly, that we have seen in our lifetimes. Today, the company is in much, much better shape."
In a bid to avoid paying extortionate taxes, Ratcliffe moved Ineos' headquarters from the UK to Switzerland, although a move back to British shores followed in 2016.
Today, Ineos is a true giant of the chemical industry. While a lack of consumer products sold directly to the public means the name Ineos is not particularly well known, the firm plays a part in producing all manner of everyday items including medicines, household goods and even computer systems.
Sir Jim's love for sport
In the event of a successful deal, Manchester United would not be alone in benefitting from Sir Jim's riches.
Over the past few years, Sir Jim's business ventures have seen him spread his wings in the world of sport.
First came the takeover of Swiss club FC Lausanne-Sport in 2017, before a move into sailing through the formation of Ineos Team UK alongside Ben Ainslie.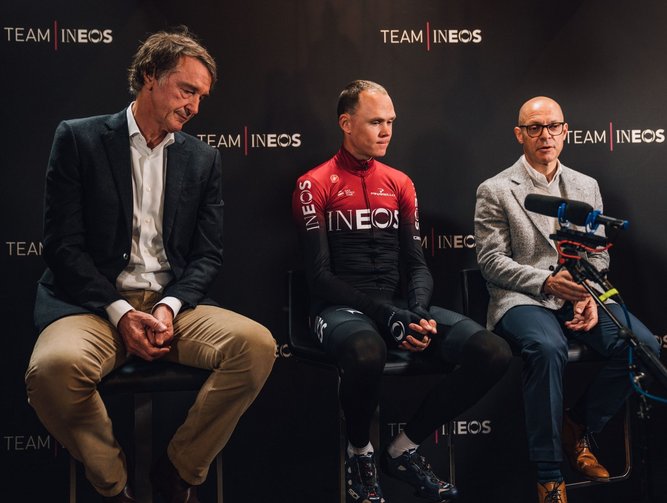 Sir Jim Ratcliffe with Chris Froome and Sir Dave Brailsford. Picture: Ineos Group
Then, in 2019, Sir Jim bought the Team Sky cycling franchise made famous by riders including Bradley Wiggins and Chris Froome, renaming it Team Ineos (now Ineos Grenadiers). Another ambitious foray into football came that same year with the takeover of French Ligue 1 outfit, Nice.
Sir Jim has been linked with various big-name English sides and was last year unsuccessful in his attempts to buy Chelsea, losing out to a consortium led by American businessman Todd Boehly.
The Ineos Group's ongoing bid to buy Man United has reportedly placed a higher value on the club than that of Sheikh Jassim, relative to the size of the stake it intends to acquire.