Top 10 business events for CEOS in the Middle East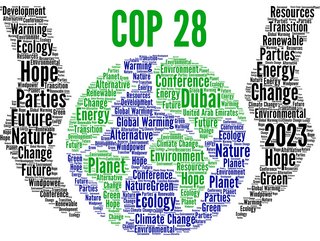 COP28 UAE is set to be a milestone moment
Ten essential business events for Middle East C-suite leaders in the last four months of 2023 – from Gitex to COP28 to Fortune Global Forum
1
September 5-6 2023
Conrad Dubai, UAE
With the Middle East banking undergoing huge digital transition, driven by tech-savvy consumers and fast-developing technology hubs, the 20th Global Edition Finnovex Middle East summit is an opportunity for the industry to reimagine business models and launch customer-centric products.
Part of a series of global summits that take place regionally, this two-day event in Dubai will convene industry leaders and experts to discuss and debate the challenges, risks, and opportunities brought by the fintech revolution – from crypto currencies to data to peer-to-peer lending.
Designed to equip leaders, including CEOs in banks and other financial institutions, with insights in redefining business strategies, the conference will deliver everything from keynote speakers and Q&A sessions to personalised one-to-one meetings.
Among regional big-name speakers: Ihab Ismail, Chief Analytics Officer at Abu Dhabi Islamic Bank, Dr Zerak Saleh, COO Finance at Saudi British Bank, Thapelo Tsheole, CEO, Botswana Stock Exchange, and Sanjay Rughani, CEO of Standard Chartered Bank Tanzania.
If you miss this one, the next summit in the global series, Finnovex West Africa 2023, will take place in October 26 in Lagos, Nigeria.
2
October 11-12

Museum of the Future, Dubai​​​​​​​

Want to be part of the conversation on the future application of genAI in the UAE?
Following on from last year's Dubai Metaverse Assembly, this event in October is providing the opportunity for leaders to engage, network, and explore cutting-edge developments in the generative AI landscape.
With the aim to develop an inclusive vision for the future, this two-day assembly will bring together ministers, CEOs, big tech experts, entrepreneurs, policymakers, investors, academics and tech startups – for discussions, debate and discovery on how to shape the future of genAI. technology.
Organised by the Dubai Future Foundation, and held under the directive of Sheikh Hamdan bin Mohammed bin Rashid Al Maktoum, the main focus is to explore tremendous potential genAI tools can bring to both the public and private sectors and the ways it can disrupt existing business models.
From keynote speeches to panel discussions and interactive forums, led by regional and global speakers, sessions will delve into the latest uses of generative AI, highlight key tech trends, engage in sector deep-dives and showcase successful experiences. It will also examine the challenges resulting from the use of the technology.
3
October 15-18
Dubai Harbour, UAE
Where better for the Future Blockchain Summit to take place than in Dubai, the world's second largest crypto hub with more than 700 crypto companies.
Renowned for being the MENA region's most immersive large-scale blockchain event, this year's summit is being held in a new location (Dubai Harbour) and being rolled out with a brand-new concept – one designed to empower the change-makers and inspire the disruptors of the Web 3.0, blockchain, crypto, NFT, metaverse and gaming community.
Over four days, industry leaders will be able to leverage an array of networking opportunities, gain insights from a power-packed agenda, pitch for growth funding in the Supernova Challenge, and become experts in different areas thanks to a lineup of Academic Masterclasses.
Among topics of discussion: the rise of digital fashion in the metaverse, policymaking, redefining the rules of marketing, and NFTs as the optimal currency. These, and others, will be delivered by a prestigious lineup of more than 200 international speakers, including Abdulla Al Ashram, Group CEO, Emirates Post Group; Sebastien Borget, COO, The Sandbox; Alex Chehade, GM UAE, Binance MENA; Afzal Ibrahim, Head of Fintech, Emirates NBD; and Yat Siu, Co-founder, Animoca Brands.
Taking place alongside the main event are three co-located events – Marketing Mania, designed for marketing professionals who want to discover the latest tech and strategies to up their marketing game; and Fintech Surge, an event for global fintech leaders to discover the industry's biggest tech revolutions and hear from the leaders in fintech strategies in the region.
4
October 16-20
Dubai World Trade Centre
As the world's biggest and most inclusive technology and startup event, GITEX Global needs little introduction.
Following a record-breaking edition in 2022 – which attracted more than 170,000 visitors and generated AED 2.6 billion in economic output – the show is back this year for its 43rd edition. And it is even larger than before with 10 co-located events, and each with a targeted audience focus – from AI to cybersecurity, mobility to telecoms.
Artificial intelligence will take centre stage this year – think 10 halls of dedicated AI floor space and leading AI experts from across the world sharing the latest thought leadership and developments.
Alongside this, new co-located shows include Gitex Impact, a sourcing event for advancing decarbonisation through digitalisation, and the two-day SuperBridge Summit, designed to drive strategic partnerships between investors, business leaders, family offices and major institutions.
Along with more 250 regional government entities, the world's leading tech companies will exhibit here, from Honeywell, Cisco, Tencent and Huawei, to Kaspersky, Snowflake, e& and Hp – while a whopping 1,400 speakers from business, government and academia will present case studies, showcase ideas, and discuss the latest trends.
Among panel sessions and workshops, the most topical of tech themes are covered – from harnessing the power of AI in marketing to sustainability goal setting and reporting to understanding what the rise of genAI means for cybersecurity.
Among the more than 1,400 high-profile speakers, hear from digital leaders in organisations such as Estee Lauder, Greenpeace, Emirates Group, Citi, Roche, Orange, Mastercard, Nestle and Renault Group, as well as the top tech minds from TCS, IBM, AWS and Huawei and national cybersecurity agency directors, including from Qatar and the UAE.
5
October 16-20
Abu Dhabi
Recognised by governments and business leaders as the pre-eminent global gathering for investment partnership and policymaking, the UN Conference on Trade and Development's World Investment Forum provides a platform for dialogue among CEOs of global companies, family businesses, impact investors, sovereign wealth fund managers, policymakers, and entrepreneurs on emerging and key issues related to investing for sustainable development.
This – the 8th forum – taking place immediately ahead of global talks on climate change at UAE-hosted COP28, promises to be jam-packed with insightful events, impactful initiatives, and innovative solutions to today's investment challenges and will include a focused track on promoting climate finance and investment.
As well as meeting with the global investment community, the five-day forum offers the chance to get a better understanding of the investment policy landscape, learn about the latest methods and tools for investment facilitation, and be part of the debate on sustainable finance and investment rules.
6
October 24-25
Dubai
Now in its second year, this annual summit brings together more than 2350 senior-level female achievers – from CEOs to entrepreneurs, Managing Directors to leaders in DEI to share their struggles, journey, stories, and successes with other inspiring women.

Rub shoulders with more than 250 senior-level female leaders spanning multiple sectors across the Middle East and Africa with dedicated networking opportunities to build and expand business relationships.

The two-day event also provides interactive workshops and sessions, providing leaders with knowledge, advice and best practice.

Expect a stellar lineup of speakers, thought leaders and disruptors who will share their success stories, the challeneges they face and the leadership lessons they have learned.

Among inspiring female leaders, hear from Roula Droubi, Director of Government, Industry and Community engagement MENAT for Boeing and H.E Aarefa Al Falahi, VP at Mashreq Bank, among others. Saudi PIF's Director of Transformation Roberto Croci will also be a speaker.

Included in the event is a gala dinner and awards' ceremony, recognising women leaders who have demonstrated the spirit of leadership, innovation and excellence.
7
November 8
Sofitel Dubai Downtown, Dubai
Designed in partnership with CFOs and finance directors from some of the world's most innovative companies, World Finance Forum is uniquely positioned to give business leaders – including CEOs – the tools they need to drive growth.
Invaluable not just to CFOs, but also chief executives, this one-day event will explore the future of the finance chief role – everything from the changing finance skillset of a CFO, to what the finance function will look like in 10 years' time.
Among the more than 15 insightful sessions and roundtables planned are inspiring talks on leading a finance transformation, maximising the ROI of digital transformation, adapting financial strategy to geopolitical shifts, spearheading technology adoption and profitable growth, and building high-performing teams.
Hear from leading regional finance chiefs from Uber, Thales, Honeywell, Maersk, Bayt.com, Kimberly-Clark and Al Islami Foods.
8
November 27-29
Emirates Palace Mandarin Oriental, Abu Dhabi
Taking place for the first time in the MENA region, the 2023 Fortune Global Forum will take to the Abu Dhabi stage for a three-day event later this year. Held under the theme, 'A New Era for Business', the forum will address global agendas including market and trade dynamics, geopolitical tides, emerging technologies, and talent, as well as workplace shifts, climate risk, and consumer trends.
According to Alan Murray, Fortune CEO, "the world is on the cusp of a new era of globalisation, requiring Fortune 500 companies to rethink their global footprints", adding that Abu Dhabi's location, climate, culture, infrastructure and other assets make it a "top contender for business operations".
Launched in 1995, the Fortune Global Forum has established itself as a prime global platform for leaders, chairpersons, presidents, and CEOs of the world's largest companies, including the Fortune Global 500TM, to discuss trends and factors shaping the global economy and explore cooperation and mutual investments.
Following the usual Fortune format, attending CEOs can participate in strategy sessions, industry tours, networking opportunities, keynote speaker sessions, and panels.
Along with heads of state, expect to hear from CEOs from the world's leading companies, with chief executives from PayPal, McLaren Racing, Pearson, Tata Sons, Geely Automobile Holdings and Careem set to take to the stage.
9
30 Nov – 12 Dec
Expo City Dubai, UAE

COP28 UAE will be a milestone moment when the first Global Stocktake (GST) will provide a comprehensive assessment of progress since adopting the Paris Agreement, helping to align efforts on climate action, including measures that need to be put in place to bridge the gaps in progress.
And the UAE is uniquely positioned to build bridges and foster consensus to accelerate inclusive climate progress.
As Dr. Sultan Ahmed Al Jaber, the President-Designate for COP28 UAE puts it: "Together, we will prioritise efforts to accelerate emissions reductions through a pragmatic energy transition, reform land use, and transform food systems.
The COP28 Presidency is the first to hold an open consultation on thematic areas and sequencing, inviting inputs from a broad mix of stakeholders across government, business, civil society, youth, and Indigenous Peoples, among others. These consultations have helped to highlight the most pressing action areas for COP28 to progress, and the importance of their interconnectedness – and the conference's thematic programme will reflect this.

Taking place at Expo City Dubai, the conference is segregated into the Blue Zone for delegates and the Green Zone for civil society and is expected to convene more than 70,000 participants, including heads of state, government officials, industry leaders, academics, and representatives from civil society organisations.
There will be formal negotiations, as well as panel discussions, speaking events and cultural events across the two weeks of the conference.


10
December 5-6
Armani Hotel, Burj Khalifa, Dubai
A firm fixture in the calendar of the most prominent and influential families in the region, the Middle East Family Office Investment Summit will take to the Dubai stage for its tenth edition in December.
Organised by the Alea Global Group, a family office with a long and prestigious history in the region, the event will convene more than 1,100 family offices across five regions, along with hundreds of service providers, and more than 600 speakers for a packed two-day programme that will cover the latest topics impacting family businesses.
As well delivering speeches and sessions from regional investment and family office experts, the summit will see some of the region's leading family businesses leading discussions and sharing best practices. Among these, Sheikh Youself Al Sabah from ITC, Kuwait; Areej Darwish, of Oman's Mohsin Haider Darwish business; and Abdulla Al Gurg, Chairman of his UAE family's global investment company.
As well as keynote speeches and open talks, the summit will offer 60-minute breakout roundtable discussions designed to promote the sharing of experiences and brainstorming of ideas. Success stories of impact investment around the region will also be shared.
Among topics to be discussed, how the Middle East can further capitalise on international tourism, how investment in energy can impact so much more than profits, pitfalls to avoid in digital asset investment, and the most profitable sectors in which to invest in the next decade.
Success stories of impact investment around the region will also be shared, along with real-world examples of family offices navigating cultural, religious, social and national differences for the benefit of all.
******
For more business insights, check out the latest edition of Business Chief Middle East & Africa and be sure to follow us on LinkedIn and Twitter.
You may also be interested in the Business Chief EMEA website.
Please also check out our upcoming event – Sustainability LIVE in London on September 6-7, 2023.
BizClik is a global provider of B2B digital media platforms that cover executive communities for CEOs, CFOs and CMOs, as well as leaders in Sustainability, Procurement & Supply Chain, Technology & AI, Cyber, FinTech & InsurTech. We also cover industries including Manufacturing, Mining, Energy, EV, Construction, Healthcare and Food & Drink.
BizClik, based in London, Dubai and New York, offers services such as content creation, advertising and sponsorship solutions, webinars and events.