Rolls-Royce launches world's most expensive car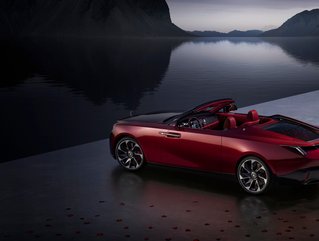 ROLLS-ROYCE LA ROSE NOIRE DROPTAIL. Credit | Rolls-Royce
The new Droptail stands as a testament to Rolls-Royce's relentless pursuit of perfection, with only four ever to be made, says CEO Torsten Müller-Ötvös
The newly released Droptail is art in motion, a handmade, modern interpretation of the roadster body style representing the next chapter of Rolls-Royce Coachbuild.
Only four expressions of the car will ever be made, each the result of remarkable collaborations between Rolls-Royce and its clients.
The first commission, Rolls-Royce La Rose Noire Droptail, embodies the allure of the Black Baccara rose and is worth US$32m, having taken five years to create.
"Rolls-Royce La Rose Noire Droptail is a love story, thoughtfully captured and stunningly projected onto the canvas of a Rolls-Royce motor car," says Torsten Müller-Ötvös, Chief Executive Officer of Rolls-Royce Motor Cars.
"It is an expression of the deep and passionate partnership between a husband and wife who are the heads of a prominent international family — to be part of their remarkable story is a privilege."
Rolls-Royce has been synonymous with luxury for over a century
Established in 1904, British luxury automobile brand Rolls-Royce now operates as a subsidiary of BMW AG, having previously been part of the Volkswagen Group.
The brand has fallen under multiple companies and groups since its inception, but the logo's solid reputation for luxurious, considerate craftsmanship has seen the brand through over a century on British streets.
La Rose Noire Droptail — art in motion
One of only four Droptails that will ever be made, La Rose Noir was created as an ode to its owner's favourite flower, the French Black Baccara Rose. The new bespoke Rolls-Royce is the first two-seater in the brand's modern history, and features the first altered logo ever on a Rolls Royce vehicle.
The interior is a stunning combination of 1,603 individual pieces of wood, of which 533 are painted red to represent scattered rose petals. The piece of parquetry took weeks to create by just one craftsperson at the company.
Its assembly required such intense concentration that the single craftsperson tasked with creating it would only work in one-hour sessions for no more than five hours per day, ensuring they possessed the concentration required for perfect execution. Weeks were spent working in absolute silence in a sound-insulated space, mitigating any distractions.
In total, the parquetry required nearly two years of development and over nine months of flawless craftsmanship.
The interior of the car also contains a specially commissioned removable 43mm Audemars Piguet luxury watch doubles as both a dashboard clock, but can be released from a clasp and worn as a watch using a stored strap.
The La Rose Droptail comes with a removable hard top with an electrochromic glass section which, at the touch of a button, instantly switches from dark to a near-translucent shade.
The vehicle is 5.3 metres long and two metres wide, featuring 22-inch wheels and a 6.75-liter twin-turbo V12 engine under the hood, and featuring a new exterior paint that required 150 iterations to perfect.
Whilst the owner of the incredible new car remains a mystery, the vehicle itself is hitting the roads of France soon.
"La Rose Noire Droptail stands as a testament to our brand's relentless pursuit of perfection, where artistry and the vision of a single client truly harmonise," Müller-Ötvös states.
"In every detail of this historic commission, there are echoes of both Rolls-Royce's rich heritage and the commissioning clients' character, from its captivating yet formidable form to its flawless and elegant romantic gestures.
La Rose Noire Droptail, like the remarkable clients who dared to make such a potent and contemporary statement, will be written into Rolls-Royce history forever."
****************
For more business insights, check out the latest edition of Business Chief Middle East & Africa and be sure to follow us on LinkedIn and Twitter.
You may also be interested in the Business Chief EMEA website.
Please also check out our upcoming event – Sustainability LIVE in London on September 6-7, 2023.
BizClik is a global provider of B2B digital media platforms that cover executive communities for CEOs, CFOs and CMOs, as well as leaders in Sustainability, Procurement & Supply Chain, Technology & AI, Cyber, FinTech & InsurTech. We also cover industries including Manufacturing, Mining, Energy, EV, Construction, Healthcare and Food & Drink.
BizClik, based in London, Dubai and New York, offers services such as content creation, advertising and sponsorship solutions, webinars and events.