Abu Dhabi sets ambitious tourism target of 24 million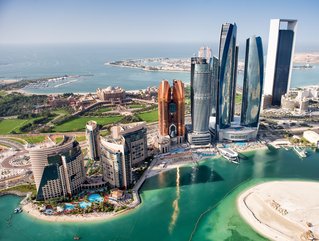 Abu Dhabi's constantly evolving skyline and coastline
After welcoming 18 million visitors in 2022, the emirate of Abu Dhabi says it is targeting 24 million in 2023, as regional market booms
It is hard to imagine Dubai 30 years ago when trade show Arabian Travel Market (ATM) was launched. Back then, iconic hotel Burj al Arab was still under construction, Emirates Airline only had around a dozen aircraft, and hopes of becoming one of the world's top tourism destinations seemed wishful thinking.
Fast forward 30 years and ATM (which runs from 1-4 May at Dubai World Trade Centre) is still going strong, while Dubai's tourism sector has surpassed all expectations.
Dubai International Airport (DXB) is the busiest in the world when it comes to international passengers, welcoming 66.1 million passengers in 2022.
Tourists are attracted by the endless sunshine, incredible hotels, world-class shopping, and unique experiences – from desert safaris to ascending the world's tallest building, Burj Khalifa.
Dubai's rapid growth and development was watched carefully by others in the region, and indeed the UAE, keen to see how a transition to a tourism-based economy could pan out.
One of those watching, and learning, was UAE capital Abu Dhabi. Etihad Airways, based in Abu Dhabi, was launched in July 2003. The Formula 1 Abu Dhabi Grand Prix was first held in 2009. Ferrari World on Yas Island opened in 2010. Since then, the Louvre Abu Dhabi opened in 2017, part of an ongoing development of a Cultural District that will also include Guggenheim Abu Dhabi (set to open in 2025).

Increased awareness of Abu Dhabi as a destination boosts tourism
Abu Dhabi attracted 18 million visitors in 2022, a rise of 13% on 2021 figures. However, the Department of Culture and Tourism – Abu Dhabi (DCT Abu Dhabi), has announced new plans to attract more than 24 million visitors to the emirate by the end of 2023. That is a significant goal, adding 6 million visitors, a third of last year's total.
"Our ambitious goal to welcome more than 24 million visitors by the end of 2023 builds on healthy growth over the past year," said HE Saood Abdulaziz Al Hosani, Undersecretary at DCT Abu Dhabi. "This encouraging performance was enabled through powerful collaborations and delivery of memorable travel and business experiences across the whole year, supported by an integrated ecosystem of best-in-class services, infrastructure, and impactful marketing.
"In Abu Dhabi we are demonstrating the power of partnerships across the tourism sector and the fact that collectively we can thrive."
Key markets for Abu Dhabi, the largest of the seven emirates that make up the UAE (along with Dubai, Sharjah, Ajman, Umm Al Quwain, Fujairah and Ras Al Khaimah) are diverse, with the greatest numbers coming from India, Saudi Arabia, the UK, and the US.
There is an increased destination awareness plus Abu Dhabi's increased range of entertainment, sporting events, and trade shows.
DCT Abu Dhabi promotes, protects, and progresses Abu Dhabi as a capital for culture and tourism. By working in partnership with the organisations that define the emirate's position as a leading international destination, DCT Abu Dhabi strives to build an ecosystem that enables tourism, business, and communities to flourish.