CEO Sundip Patel on purpose, people and MENA expansion plans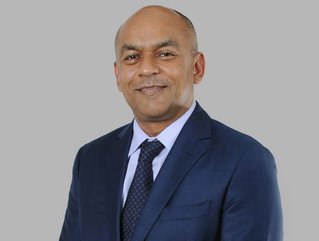 CEO Sundip Patel founded AVANA Companies with his brother 21 years ago
As AVANA Companies expands in the Middle East region, CEO Sundip Patel shares his inspiring entrepreneurial story and shows why having a purpose matters
When Sundip Patel started his entrepreneurial journey in finance, it didn't matter that he didn't know the industry – his purpose to help others, and especially the minority community, propelled him forward.
Flash forward more than 20 years and as co-founder and CEO of AVANA Companies – a firm focused on empowering small businesses by providing loans and investment opportunities that are impactful and socially driven – Sundip has proven that purpose drives success.
With US$1 billion under assets, and with headquarters both in the US and Bahrain, AVANA Companies was named to Inc. 5000 List of America's Fastest-Growing Private Companies in 2021.
"In founding AVANA Companies, an ecosystem of companies focused on private credit to SMEs, fintech lending asset management for credit unions and banks, I made it our mission to deploy capital for a better tomorrow," says Sundip tells Business Chief.
"I wanted to help the small business owners that don't come from wealth or have insider knowledge of their industry to be afforded the same opportunities as I was afforded when I started my journey."
He also wanted to help them learn from the mistakes he himself had made in his early entrepreneurial days.
Sundip, who co-founded AVANA in Arizona with his brother Sanat in 2002, says he experienced firsthand the extra hurdles and setbacks that minorities face when securing capital and trying to build a business – years before he started AVANA.
"When I applied for my first-ever loan, I got everything wrong," he recalls. "Same goes for learning how to raise capital for our private credit business focused on SMEs, launching a marketing campaign and any other aspect of being an entrepreneur."
But through his early career failures, Sundip says he quickly learned the importance of resiliency.
"Every success is built on the steps of failures. To be a successful entrepreneur, you must be constantly curious, practice humility and be gracious to have opportunities to learn. There will always be setbacks along the way, but you pick yourself up and move on. It's not how many times that you succeed that defines you. It's how many times you fail and get up."
AVANA Companies, which celebrated its 20th anniversary last year, now has its sights set on expansion in the Middle East region, as it looks utilise AVANA's technology to help SMEs in the region grasp the economic opportunities open to them.
We caught up with Sundip, to discover his plans for regional expansion, find out what drives him, and understand how his leadership has evolved over the last 20 years.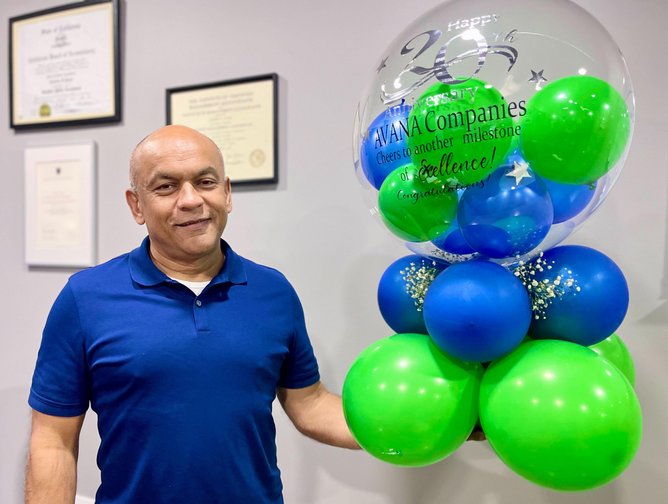 Sundip Patel celebrated 20 years of founding AVANA Companies in 2022
In your own words, how would you describe AVANA Companies?
At the heart of AVANA Companies, we've always tried to help people thrive. Today we say, "Capital for a Better Tomorrow," which means our company exists to help others flourish. We see it as a two-way street, for businesses we can help them grow to be successful by providing capital. For investors, we provide them the opportunity to invest in the projects they would not otherwise be able to.
You are passionate about enabling entrepreneurs. What is your motivation?
People define their legacy by their children and the work they have done. My legacy will be my daughter and the impact I have in my community, communities served by our worldwide team, and those impacted by our clients. This is what motivates me daily.
I know there are world-changing entrepreneurs out there that lack the capital, technology, and support to bring their ideas to life. I believe that AVANA can change that and challenge the status quo. Nothing can replace our tenacity and persistence in the unshakable belief that we will succeed. We are never happy with the outcome, and we have made a habit of being dissatisfied with the status quo.
What initiatives have you launched to make the industry more equitable?
To be more equitable and have a social and environmental impact, you must be able to prove it. It is not enough to say, 'we have impact.' You must make an upfront commitment to properly measure your impact.
It is extremely difficult, albeit, impossible to measure past impact, you must measure the impact as it is happening in real time. The first step is deciding on what to measure, defining what impact is. This is something our industry struggles with. Social impact measurement is complicated, there are a lot of components, so we must be deliberate and build that into our DNA.
This is something AVANA is taking seriously as we move to be at the forefront of my making our industry more equitable. We're being intentional about measuring impact and hiring a third-party company to independently measure the clean energy we've generated and jobs our customers have created.
Through this process we are creating a baseline that will measure our social impact so that we can continue growing. We can use this baseline to be more intentional about choosing industry segments allowing us to make decisions that will truly have the most impact in the long run.
EqualSeat™ is a fintech platform that levels the playing field for retail investors by giving them access to fractional investment opportunities in private credit. The rationale has always been rooted in the hope to pass on the knowledge of investing to the next generation. I wanted a platform that I could use to teach my daughter how to invest, so that over time she won't have to rely on anyone to be successful in her investing journey.
Investing historically isn't inclusive of women or minorities. EqualSeat's aim is to be inclusive of underserved groups and give them a seat at the table. Long term, I want AVANA and Ezdaher to be at the forefront of training and empowering people to invest in jobs-creating and energy-saving projects that have a social impact on their communities.
Why is building an inclusive and diverse workforce so important? And how have you achieved this?
In my mind there is nothing more important to AVANA than getting our culture right. Culture is something that is experienced, constantly evolving and you must be deliberate about what it is you're working to shape. Culture is shaped by values and values are enduring and long-lasting. At the heart of our culture is the purpose that in whatever we do we will make sure we provide Capital for a Better Tomorrow.
AVANA aims to be inclusive in our products and services and we want to support a diverse pool of customers, so our culture must reflect that. For example, if we want to serve women entrepreneurs, we must have staff that can empathise with their experience, their challenges in order to provide this clientele with the best experience possible.
I come from a very diverse background, my perspective is informed by many different cultural experiences and the influencers in my life come from different backgrounds. I am lucky enough to have collected wisdom throughout my journey and I find ways to share this with my team.
Keeping a pulse on our company culture is an important part of this. I schedule water cooler chats randomly with staff throughout the day. This gives me a chance to understand their perspective and for me to share mine.
AVANA also uses software that asks each employee at the end of week to rate how they are feeling about their week. This gives me a sense of the mood overall and it helps me and my leadership team understand how we can celebrate wins and address challenges even when we're scattered across the globe.
Tell us about your expansion plans for the Middle East region
It is very important to us we have a presence in the Middle East. I am a big fan of Warren Buffet and in his book a moment that stands out to me is when he writes "I was born in 1930, I had two sisters that have every bit the intelligence that I had, have every bit the drive, but they didn't have the same opportunities."
There is an opportunity to serve our current clients and add new ones in the Middle East, especially because women are now afforded more economic opportunities. With AVANA's technology, we are there to support their growth. Opportunity is what separates us everywhere, access to this technology creates a lasting impact in this market.
Expanding in this region has not been the easiest road, which is true for most American companies. AVANA is only one of a handful of licenses ever granted to a fully American owned company. We went through the regulatory hurdles of the process to show our commitment to the people in the community, women entrepreneurs, institutional investors, and the rising driving force of the economy, small businesses. We are committed to growing that impact with the support of SAMA which has been instrumental in the process.
We are getting closer to the milestone of being fully operational in Saudi Arabia. AVANA Companies is launching Ezdaher Financing Company, a recent SAMA regulated company that follows Saudi Vision 2030, a unique transformative economic and social reform blueprint for the region.
While banks will not typically take the time to understand how a small business works, learning the whole story of the entrepreneur, for AVANA and affiliate Ezdaher Financing Company, we take the time to listen to our customers because we believe that if we are a part of the process, we can directly empower them.
Our team is blazing a trail for borrowers who can use our lending products and investors who can use our platform to deploy capital with impact to help grow the small business community and economy in the Kingdom, and eventually other regions in Africa, Asia and throughout Middle East.
The combination of an online lending and fractional investment platform with our multi-decade experience in private credit can enable other lenders to launch various products quickly in the Kingdom and beyond. In the next five years, I would like to grow our portfolio of loans and ultimately replicate our efforts in other markets too. The hope is to inspire others to get into this segment and to diversify our offerings.
We're witnessing a shift among today's class of investors; many want to do good and seek impact investing opportunities. As we grow in Saudi Arabia and other emerging markets, those investors will have the ability to join our efforts to deliver capital for better tomorrow.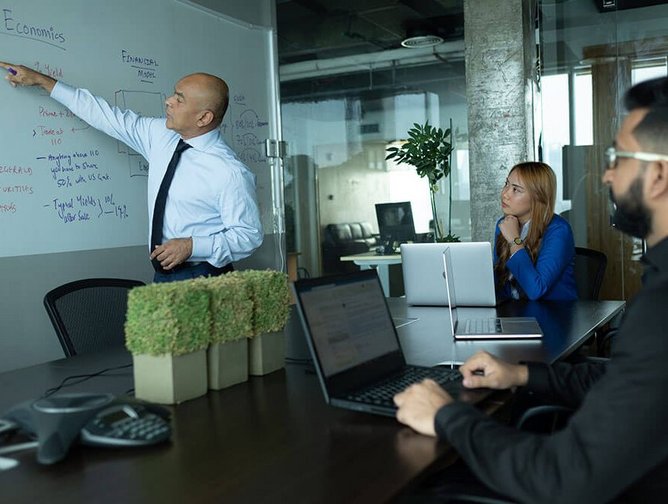 Sundip says there is nothing more important to AVANA than getting workplace culture right
How would you describe your leadership style and how has that evolved over time?
Leadership is observable behaviour that enables our company vision to come true through the people at AVANA. This requires me to constantly navigate change. I've grown to listen to the team to understand their needs.
As time has gone on, leadership for me is less of a need to control and instead leadership is providing more autonomy by letting go of the reins and providing guardrails that are supportive of our team to be their best self. Good, effective leadership is rooted in trust. It requires trusting and empowering your top executives to enact the company's mission, ensuring the team always knows they have my full support. If you're unable to let go of the reins, it is in your best interest to back off and hire a CEO to manage the company.
At one point, I brought on a coach to evaluate my leadership abilities and see if I was still the best leader for the company. Before AVANA, I led a startup which required an entrepreneur mindset. I've evolved from that approach to leadership because I found that being too involved can actually counteract your goals.
Today, my leadership style consists of asking questions to ensure my team has all the information, autonomy with resources and supportive guidance to carry out their responsibilities in fulfilling our mission.
What do you consider to be the key leadership skills and qualities needed in the post-pandemic era?
Resoundingly, two words – empathy and authenticity. Something that became clear throughout the pandemic was that I'd ask myself "why?" I'd weigh the important things in life, learning how to balance the ability to be flexible and trusting my employees to put their families first.
I came to realise leadership is about your interactions with your team, you must ensure you are ready for everything and aware that you are building connections whether it be conscious or unconscious.
As a leader, all eyes are on you, and I am aware of how they are experiencing me as a leader in any given situation. But that's what authentic leadership is all about — being vulnerable, being honest and being wildly curious. Leadership requires having perspective during various situations and acting with empathy as you exercise judgment and make decisions.
Finally, what gets you out of bed in the morning? And conversely, what keeps you awake at night?
What gets me out of bed is the prospect of Ezdaher's growth in the Kingdom, including its contribution in fulfilling Vision 2030. Every day is an adventure where I do not know exactly what is in store for me.
I take comfort in knowing I have been afforded an opportunity to make a difference in Saudi Arabia, the US, the lives of our employees around the globe, investors and in the lives of the businesses we serve. Moreover, unifying my team to leverage our technology for deploying private credit to solve real-world problems, like access to capital, in an emerging market like Saudi Arabia, well, there are very few things that are more exciting.
As for what keeps me up at night, it's always doing right by 'my people.' Being intentional about culture and building a workplace that enables my employees to be their best self is always on my mind.
As the team looks ahead to Vision 2023 and beyond, I find myself thinking about building and growing our team in Saudi Arabia. I want them to feel like they are a part of AVANA's culture. My version of counting sheep is playing out countless scenarios to process the possibilities of the future. Building a fantastic culture that's true to our mission keeps me awake, but it's the excitement of the unknown that keeps me dreaming This is a mission worth waking up tor!