Meet the CEO behind the Middle East's leading travel company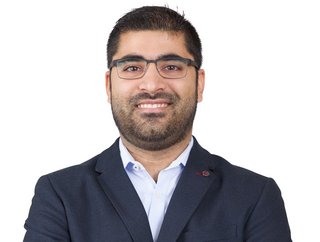 CEO since 2016, Muzzammil Ahussain has led the growth of Almosafer into the Middle East's leading travel company
Muzzammil Ahussain, CEO of leading travel firm Almosafer, talks to Business Chief about strategy, technology and Saudi Arabia's huge tourism opportunity
Heading up Saudi Arabia's leading travel company might seem like a huge challenge, but given the Kingdom's status as the world's second-fastest growing tourism destination, it is also a significant opportunity.
An opportunity Muzzammil Ahussain is embracing, as CEO of PIF-backed Almosafer – the Middle East's leading travel company.
"It's an incredibly exciting time to be in the travel and tourism industry in the Kingdom, which has only just begun to realise its potential," Muzzammil tells Business Chief.
Saudi is now the second-fastest growing tourism destination in the world recording a staggering 93.5 million international and domestic tourists in 2022, something Muzzammil describes as an "astonishing feat given how nascent the industry is."
Muzzammil has led Almosafer, which is part of Seera Group, the reimagined Al Tayyer Travel Group, since 2016.
In that time, he has overseen the transformation of the consumer segment into a fully-fledged omnichannel travel agency for the Middle East, as well as the amalgamation of all of Seera Group's travel businesses under the Almosafer umbrella.
The business, which caters to every travel vertical, is on a significant trajectory of growth, driven by the incredible appetite for travel and tourism in the Kingdom and internationally.
In 2023 alone, Almosofar is targeting 40% to 50% growth. And with a pending investment from the Kingdom's Public Investment Fund (PIF) – one of the largest sovereign wealth funds in the world – "we will be able to accelerate the growth of our businesses, leapfrogging ahead and scaling up our investments to further develop travel and tourism experiences."
Driving the success of Almosafer too is the company's digital-first approach, with Almosafer recently becoming the first travel company in the region to pilot the integration of ChatGPT.
"AI has changed the digital landscape and people do not yet fully know of its full potential or the impact it will have," he says. "We need to ensure that we are able to capitalise on the opportunities that it presents to us."
Here, we talk technology, leadership, strategy, and Saudi's changing business (and tourism) landscape with Muzzammil.
Tell us about Almosafer, and how it works?
As the Middle East's leading travel company, we cater to every travel vertical. There are four businesses under the Almosafer umbrella – our consumer segment; Almosafer Business for corporate and government travel; Discover Saudi, our destination management company; and Mawasim, our Hajj and Umrah tour operator.
We are on a significant trajectory of growth as we consolidate our position as the most holistic travel company and a national champion of travel tourism in the Kingdom of Saudi Arabia.
The landscape in Saudi is changing rapidly. How are you adapting as a business?
Since the introduction of Saudi Vision 2030, the Kingdom has experienced unprecedented social and economic development. In the tourism sector, Saudi opened its doors to international tourists for the first time with the introduction of a new visa programme. We were quick to capitalise on this great opportunity for Almosafer to showcase the many wonderful attractions in the Kingdom to an international audience.
When the global pandemic temporarily hindered these plans, we were able to pivot quickly towards the domestic audience, catering to their needs and wants. We have now seen a dramatic change in how Saudi people view domestic tourism – they now see their own country as a destination to explore. Between January to April 2023, domestic bookings accounted for 56% of the total bookings, an increase of 47% for the same pre-pandemic period in 2019.
Now, the appetite for travel to, in and from the Kingdom is stronger than ever. We will continue to serve this demand, developing products and services that cater to traveller's needs, continuously developing our platforms to ensure seamless user experiences, and developing the necessary human capital to provide our customers with our expertise.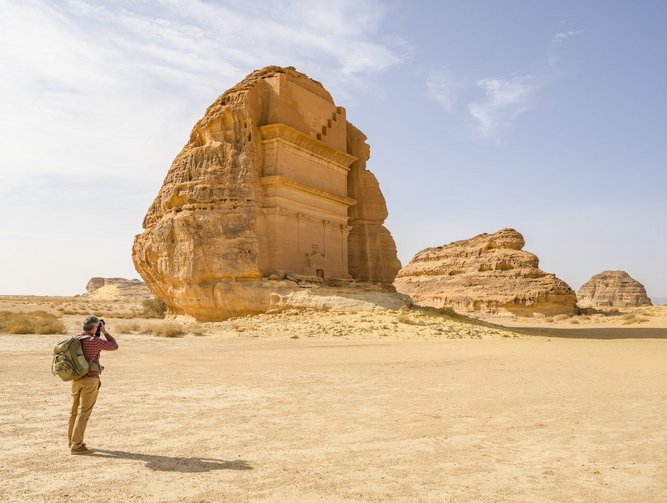 Saudi Arabia is looking to welcome 100 million international visitors annually by 2030, including to the Al Madinah region (pictured here)
In what ways is Vision 2030 a guiding force for Almosafer?
The tourism agenda is a significant part of Saudi Vision 2030, with the ambition of welcoming 100 million international visitors annually and for the sector to account for 10% of annual GDP by 2030.
As a national champion of tourism, we are working towards achieving this goal by contributing towards the development of the necessary infrastructure for a thriving tourism industry in the Kingdom.
In supporting Vision 2030, Almosafer is creating opportunities for outbound, leisure and religious travel, whilst serving B2C and B2B customers, partners, and suppliers with state-of-the-art travel solutions, a digital-first mindset and travel advisory.
In the building of Almosafer, what have been the greatest challenges – for you and as a company?
One of my biggest career achievements was steering Almosafer through the challenges of the global pandemic. The entire travel and tourism industry was impacted significantly by the closure of international borders and other pandemic restrictions.
We took this opportunity to streamline our operations, continue to develop our technology platforms and build synergies across our business and teams. During this time, we also spent time and resources on gaining sharp insights to better understand and serve travellers with tailored products and solutions post pandemic.
This meant that we emerged stronger from the pandemic, better positioned to capitalise on the inevitable bounce back in demand for travel and to facilitate the growth of the Kingdom's tourism sector.
Ongoing challenges remains. One challenge is that some international travellers hold misconceptions about the Kingdom which remains a mystery to them. We have worked with our international partners to educate them on the many attractions in the Kingdom, including the country's famed Arabian hospitality, to position it as a destination of choice.
The tourism industry in the Kingdom is also new, meaning that the infrastructure is under development and there is a gap between demand and supply. At Almosafer, we are working hard with our partners and stakeholders to meet this demand, developing the necessary products, services and human capital.
However, there are many market opportunities for travellers who have yet to discover the Kingdom. The industry is rapidly developing and there are many job opportunities and career paths for ambitious Saudi talent interested in building a successful career in the sector.
As a digital leader, how are you embracing technology?
As a digital-first company, we keep our finger on the pulse of the latest technology trends and developments to continuously improve our online platforms to provide our customers with seamless user experiences.
The current technology everyone is talking about is undoubtedly artificial intelligence and it's evident AI will play a significant role in all industries, including the travel and tourism sector.
There is a huge opportunity to utilise AI to automate certain tasks and provide real-time insights. It can help organisations and customers to make faster and more informed decisions.
We have recognised this huge potential and are currently piloting the integration of ChatGPT on the mobile application of our consumer segment which will serve to enhance the customer booking experience.
Through ChatGPT, Khalid – Almosafer's personal travel advisor – will be empowered to become a more holistic travel consultant with the necessary knowledge and expertise.
We will continue to seek out the latest and best technological innovations to enhance our customer experience and maintain our position at the forefront of technology in Saudi Arabia's travel industry.
Finally, how would you describe your leadership style?
I strongly believe in an open-door policy. No one is too junior or an idea too small to come and talk to me – this is key to driving innovation and growth with the best ideas coming from every corner of the company. It also ensures our team members feel valued and feel comfortable in raising issues to ensure that they are addressed.
This is a culture that I encourage amongst all our leadership team.