Middle East CEOs prioritise innovation as economic driver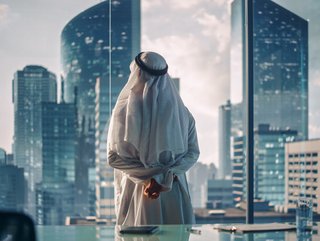 Middle East bosses believe technology innovation is most critical factor for growth
CEOs in the Middle East believe the most critical factor in economic growth is technology innovation, and they are prioritising it, a new ADL report finds
When economic challenges hit, the general view is that innovation tanks.
Faced with a recession, executives often cut costs, curtail expansion, freeze hiring, and promise to return to innovation once the world has stabilised.
But playing it safe can be a mistake, and can cost in the long-term, limiting an organisation's competitive advantage.
This is something Chief Executives across the Middle East region are recognising, as they push for growth.
Nearly one-third (29%) of Middle East bosses believe that the most critical factor for economic growth is technology innovation, with 29% prioritising it compared to the global average (26%).
That's according to the new CEO Insights study, Turning Turmoil to Advantage from Arthur D Little (ADL), the leading management consultancy firm with the longest-standing presence in the Middle East region.
"In a downturn, conventional business wisdom is to cut costs and focus on survival," Francesco Marsella, Managing Partner at Arthur D. Little says.
But despite current challenges and many dark macroeconomic previsions for 2023, "most CEOs we spoke to are optimistic for the future working with passion, entrepreneurship, and creativity to manage performance today while building the future.
"They see opportunity in adversity, looking beyond the current crisis to embrace a more positive future for their companies and wider society."
And certainly, chief executives in the Middle East remain positive, with more than half (61%) expecting a stable or positive worldwide economic outlook over the next three to five years – ahead of Europe and Asia and on a par with Africa.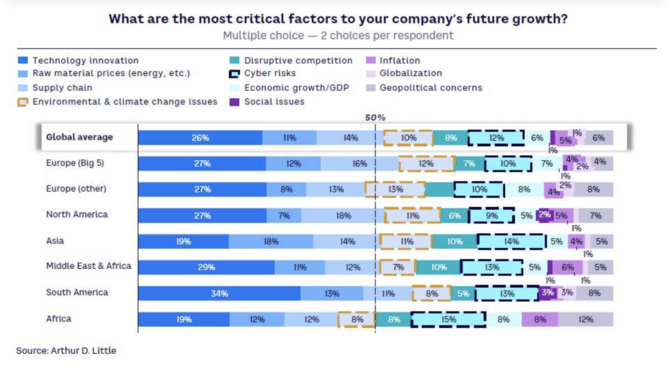 Middle East bosses believe that the most critical factor for economic growth is technology innovation
Future innovation – focus on attracting new client segments
When it comes to prioritising innovation, the report finds Middle East CEOs will put less emphasis on diversification and disruptive offerings and will focus more on attracting new client segments.
Already in the Middle East, "we see good examples of an industry's moves to improve both efficiency and innovation in the travel and transportation", Thomas Kuruvilla, MP for Arthur D. Little Middle East says.
Because, while the COVID crisis pushed airlines and airports into large-scale efficiency programs to achieve major cost reductions, impacting thousands of jobs, explains Thomas – at the same time, these companies formed new partnerships to offer new services to passengers, such as combined intermodal mobility offerings – like bringing together aircraft, rail, and mobility on-demand services.
Thomas predicts the next eight years will showcase tremendous advances in new client segments in the region as more investment is poured into reskilling initiatives for employees in the manufacturing and energy and utilities sector, ultimately contributing to competitive sustainability projects in the run-up to COP.
In the Middle East, healthcare (25%), manufacturing (33%) and energy & utilities (33%) see the highest volume of reskilling endeavours in the workplace, the report finds, with a moderate need for employee reskilling in the telecoms industry, travel and transportation, and financial services.
Among other Middle East findings from the report:
Cyber risk urgent Cyber risk is viewed as a key, urgent factor by 13% of CEOs in the Middle East, slightly less than Africa (15%) and Asia (14%) but ahead of their peers in Europe and North America.

Increase in ESG focus More and more CEOs in the Middle East (7%) are prioritising environmental and climate change as a factor in future growth, though not as much as those in Europe, North America, and Asia (10%).