Two-thirds of logistics executives preparing for recession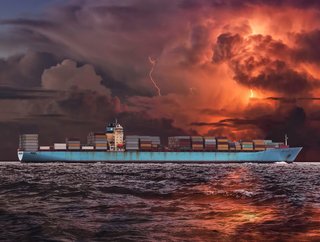 Almost 70% of global logistics executives are bracing for recession, according to the Agility Emerging Markets Logistics Index 2023
For its 14th annual industry snapshot, the Emerging Markets Logistics Index 2023, Agility Logistics spoke to 750 leading executives from across the world
Almost 70% of global logistics executives are bracing for recession amid higher costs, slowing demand, and ongoing supply chain disruption arising from China's battle to contain Covid, Russia's war in Ukraine and the impact of climate change.

That's according to a new study carried out by Agility Logistics for its 2023 Emerging Markets Logistics Index.

The firm surveyed 750 industry professionals from across the world, who also revealed their shipping, storage and other logistics costs remained well above the pre-pandemic levels of early 2020.

Two-thirds (66.4%) of respondents said a global recession was certain or likely in 2023.

Tarek Sultan, Vice Chairman at Agility, said: "Carriers and shippers are feeling the effects of higher energy prices, tight labour markets and broader inflation – even though freight rates have fallen and ports have cleared cargo backlogs.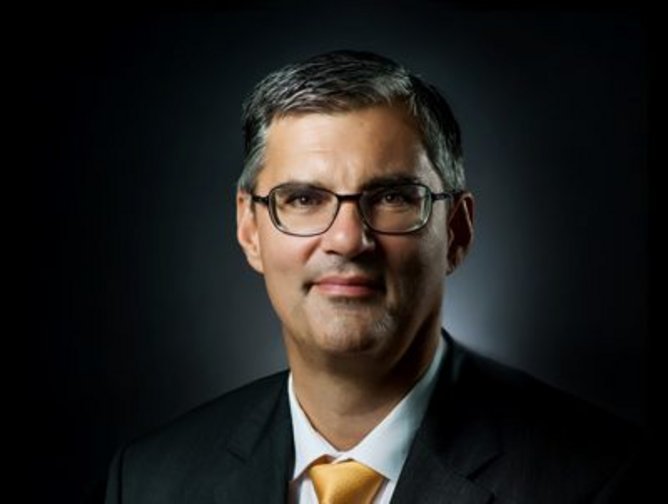 "Three years after the start of the pandemic, there is still a lot of volatility in supply chains. Now there's fresh uncertainty as consumers and businesses pull back on spending and hiring."
China and India still top of the pile
Agility's survey and resulting index for this year is the company's 14th annual snapshot of industry sentiment and ranking of the world's 50 leading emerging markets.
The index ranks countries for overall competitiveness based on their logistics strengths, business climates and digital readiness – factors that make them attractive to logistics providers, freight forwarders, air and ocean carriers, distributors and investors.
China and India, the world's two largest countries by population, retained their spots at No. 1 and 2 on the list.
The top 10 was completed by the UAE, Malaysia, Indonesia, Saudi Arabia, Qatar, Thailand, Mexico and Vietnam, while South Africa (24) and Kenya (25) were the highest entries from Sub-Saharan Africa.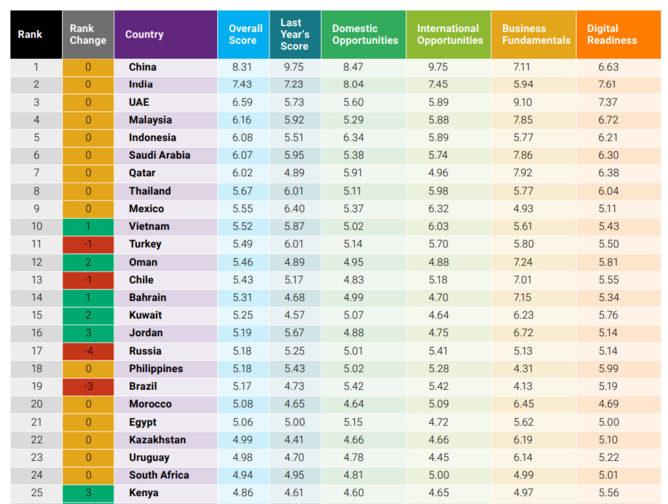 India jumped four spots to No. 1 in agility's 'digital readiness' ranking, which assesses the emerging markets that lead in digital skills, e-commerce, sustainability and support for entrepreneurs and start-ups.
The UAE, China, Malaysia and Qatar rounded out the top five.
Agility Index: Conflict and political turmoil make for volatile rankings
Further down the list, Agility said there was "more volatility" than in any prior year of the index.
Conflict, sanctions, political turmoil, economic missteps and continued Covid fallout COVID damaged the competitiveness of nations including Ukraine, Iran, Russia, Colombia and Paraguay.
Brazil saw its ranking fall by three places amid a continuing period of economic and political upheaval.
According to London-based international affairs think tank, Chatham House, the country is experiencing rising poverty and food insecurity with more than 33 million Brazilians in famine conditions and 63 million below the World Bank poverty threshold.
Among countries leaping forward in certain index categories are Bangladesh, Pakistan, Jordan, Sri Lanka and Ghana.
Read the full report: Agility Emerging Markets Logistics Index 2023