How Zoom is fostering a 'structured hybrid approach' to work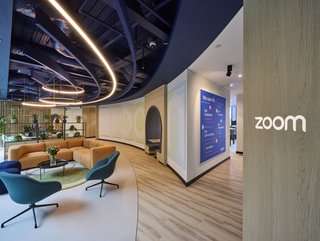 Zoom has opened a new office in central London. Picture: Zoom
Zoom's new London Engagement Hub has opened just days after the company ordered the majority of its employees to work from the office two days per week
Days after instructing most of its global employees to work in-person at least twice a week, Zoom has unveiled its new office in central London.
The tech giant hopes the London Engagement Hub will spearhead a shift from traditional offices to "experimental" work spaces, aided by its own technology.
Zoom said it had designed the new office to support the "changing nature of the employee experience", marking a "new era" of modern work.
Situated in Holborn, the 15,000 sq ft space has been transformed into a "multi-use cohesive hub" with built-in Zoom technology, providing a place where Zoom's 200+ UK employees can come together to share ideas and strategies.

Zoom's London unveiling coincides with office working mandate
Zoom announced in recent days that it planned to take a "structured hybrid approach" to working arrangements which, in practice, means those who live within 50 miles of an office will be required to attend at least twice a week.
The decision carries a certain hint of irony given the company's immense growth in recent years is almost entirely thanks to the huge increase in the number of people working from home, triggered of course by the COVID-19 pandemic.
Despite the mandate, which is being introduced over the coming weeks, the video communication specialist has been keen to emphasise its commitment to optimising the benefits of technology and flexible working.
"We have totally reimagined our London office for the modern, digitally-connected age," said Phil Perry, Head of EMEA North at Zoom.
"We are confident the state-of-the-art design, underpinned by the full suite of Zoom technologies, will make it the perfect place for our teams to come together to do their best work on some days, while being optimised for hybrid and remote interactions leveraging the full power of the Zoom platform on others.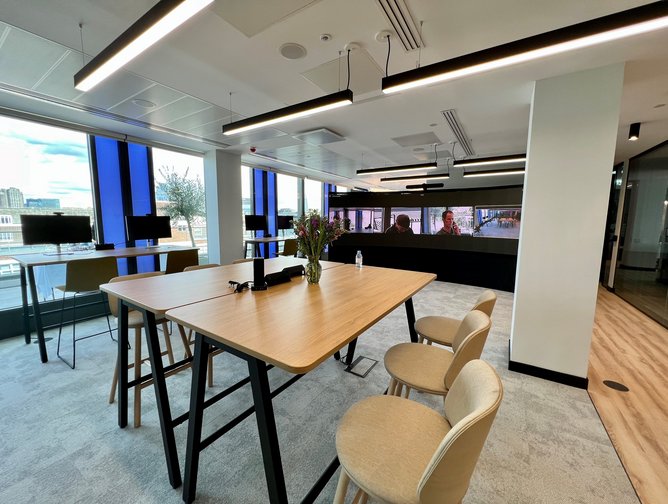 Zoom has unveiled its new London office. Picture: Zoom
"This also underlines our commitment to and confidence in the UK – a key market for Zoom where we continue to see strong adoption across our entire unified communications platform encompassing virtual meetings, telephony, internal communications, online events and more."
Zoom creates the modern workplace
Split into different zones, Zoom's London Engagement Hub includes 75 work points, ranging from library-style benches and touchdown spaces to agile tables for collaboration and traditional desks. These can all be booked using the company's own workspace reservation tool.
Meanwhile, each meeting room is equipped with the latest Zoom Rooms technology along with digital signage to bring collaboration and customisation into any space, making meetings frictionless regardless of which devices employees are using.
Even for those working in traditional office roles, Zoom's Virtual Kiosk enables them to manage proceedings remotely, greet guests and handle administration tasks.
What's more, the Executive Briefing Centre (EBC) – a demonstration space set to open early next year – will offer a hands-on, immersive education experience for employees, young prospects and customers.