Lamborghini overtakes Ferrari with €20 billion valuation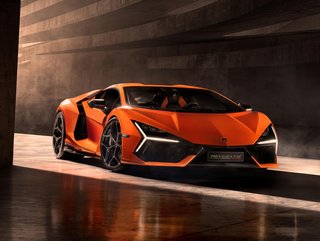 Lamborghini's new Revuelto V12 plug-in hybrid. Picture: Lamborghini
Italian luxury car maker Lamborghini is experiencing record demand for both current and new models, with potential waiting times surpassing 12 months
Lamborghini's new Revuelto V12 plug-in hybrid (PHEV) and limited editions have helped the supercar specialist overtake Ferrari with a €20bn valuation, according to analysis from Bloomberg Intelligence (BI).
Analysts value Lamborghini at €19.7bn using Ferrari's 2024 EV/Ebitda ratio of 19x, although it could trade at a discount post-initial public offering (IPO).
The aforementioned models are likely to drive Lamborghini's Ebitda margin above 38% in 2024, having surpassed that of Ferrari in 2022.
The latter's margin is also set to climb above 38% on the back of its Purosangue and limited edition Daytona, with customers' waiting times for both brands likely to exceed 12 months.
Porsche's IPO success means Lamborghini is likely to take the same route in 2023, driven by their parent company Volkswagen.
Michael Dean, BI Senior Automotive Industry Analyst, said: "Lamborghini's 25.8% Ebit margin overtook Ferrari's 24.1% in 2022, driving a valuation of as much as €20bn which may spur another IPO by parent Volkswagen after Porsche's success."
Lamborghini enjoying high demand
Lamborghini is experiencing record demand for current and new models, with potential waiting times surpassing 12 months.
That translated into a strong performance in 2022, with the Aventador completely sold out in its run-out phase and more limited-edition models driving the margin to exceed Ferrari.
BI predicts Lamborghini, Ferrari and Bentley's Ebitda margins will gradually narrow over the coming years as the luxury brands transition to hybrids.
The next step for all three is to launch battery electric vehicles (BEV) between 2025 and 2029. Rolls-Royce has taken the lead on this front, unveiling its first Spectre BEV in October.
Bentley valuation is boost to VW
Bentley's decision to become fully electric by 2030 is the most advanced plan for a luxury brand, although Rolls-Royce has a similar target.
This should enhance Bentley's valuation potential against BI's €17bn valuation, which is based on a conservative 20% discount to Ferrari's 2024 EV/Ebitda.
As it stands, Audi only discloses revenue and Ebit data for Bentley, meaning BI used the firm's UK 2021 accounts as a basis to calculate its 31.5% Ebitda 2023 margin, about 17% below Ferrari expectations.
It is thought improved performance and electrification may result in Volkswagen reevaluating its need for 100% ownership.
Bentley has thus far overperformed under Audi's recent stewardship. A revamp of its offering saw record sales of 15,174 units in 2022, making it the most popular pure-luxury automotive brand.