How Kenyan brands are disrupting using technology post-COVID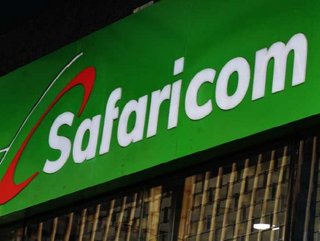 Kenyan brands have achieved remarkable brand value growth of 72% year-on-year with the top brands using digital transformation to meet consumer demands
This is an interesting year for Kenya. The African nation is due to hold its general elections, an event that usually comes with socio-economic disruptions, especially to business and investment and a tradition where corporates tend to hold and postpone their investment decisions in anticipation of policy change.
That said, Kenya stands strong. Not only is the country East Africa's most stable, home to the regional HQ of international giants like Alphabet and Visa, but Its economic output has doubled over the last decade. Now Africa's sixth biggest, up from 13th place in 2013, Kenya's economy has seen annual growth averaging 3.8% over nine years boosting GDP to US$92.6bn.
The country's brands have in turn witnessed huge development, achieving remarkable brand value growth of 72% year-on-year, according to Brand Finance, which recently revealed its ranking of Kenya's top 20 most valuable and strongest brands.
While telecoms brand Safaricom retains its top position as the most valuable brand in Kenya, Equity Bank becomes the strongest brand in Kenya, and beer brand Tusker more than doubles in brand value, achieving an impressive 132% brand value growth, to be Kenya's fastest growing brand.
What these brands and the other in the top 20 ranking have in common is that they are using technology to disrupt, using digital transformation to meet consumer demands, and disrupting the brick-and-mortar business model to actively connect with end users.
The result is that Kenya is now leading Africa's technology landscape as its brands increasingly use digital transformation to meet consumer demands, says Brand Finance.
Take utilities brand Kenya Electricity Generating and Nairobi Securities Exchange, both new entrants in the Kenyan top 20 ranking, and both examples of brands that have grown their brand value by leveraging digital transformation.
Kenya Electricity Generating (KenGen) has reached a brand value of US$37m thanks to transforming its data management using cloud technology. This has provided increased efficiency, translating in cost-saving benefits to end users. Similarly. Nairobi Securities Exchange, which has a brand value of US$1m) is leveraging the popularity of mobile phone applications among Kenyans to enable investors to access, buy and sell shares on the stock market.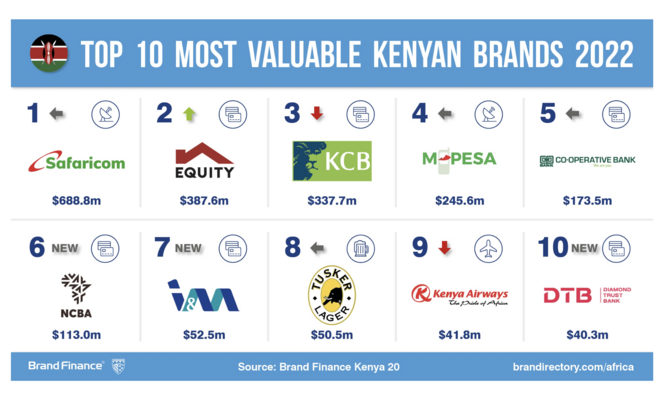 "Every Kenyan brand has faced enormous disruption from the COVID-19 pandemic, but the successful brands have been the brands that have used new technology to adapt to the new conditions," says Walter Serem, Regional Manager, East Africa, Brand Finance Africa.
"Shifting to different sales and communication channels has allowed brands like Tusker to connect directly with customers and provide services in an innovative manner."
So, how are Kenya's homegrown brands leveraging technology and pivoting to get ahead – and grow both their brand value and strength? Here, we look at four of Kenya's leading brands.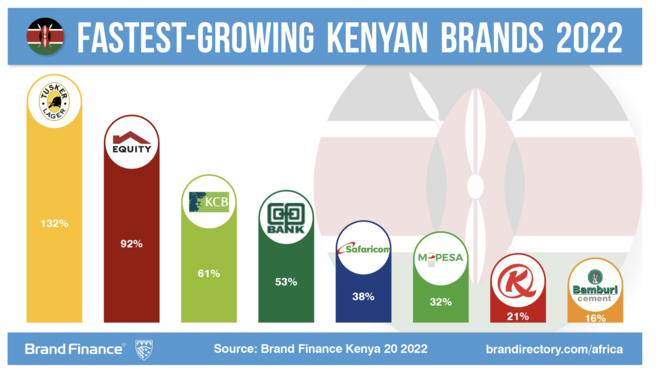 Safaricom
Brand value US$689m (up 38%)
Brand strength 87.7% AAA
Safaricom is spearheading the telecoms industry in Kenya with its wide variety of service offerings. A boost in mobile data usage is enabling Safaricom to achieve growth in the Kenyan market, by democratising access to mobile data with its relatively low price point for high data usage offers. The brand is leveraging this mobile data provision to build strategic partnerships with fintech and third-party brands including M-Pesa and Makao. An innovation in the region, M-Pesa, a popular mobile application used primarily for online money transfer, has driven up the brand value and strength of Safaricom. These partnerships have created a one-stop destination for customers to access travel and online payment methods using Safaricom's mobile data offerings.
Equity Bank
Brand value US$388m (up 92%)
Brand strength 90.8% AAA+
Not only has Equity Bank witnessed phenomenal brand value growth of 92%, it has also been determined to be the strongest brand in Kenya with elite AAA+ brand rating. The bank facilitates online banking with its mobile application EazzyNet which allows customers to use their bank account for online shopping, making transactions overseas, accessing loan options and paying bills via a smartphone. The bank's versatile service offerings make it a popular choice and a household name across Kenya.
Tusker
Brand value US$50m (up 132%)
Brand strength 73.4% AA
This homegrown beer brand has more than doubled its brand value, by 132%, to be Kenya's fastest-growing brand. This brand value growth was all the more impressive, given the extremely difficult trading conditions, including global supply chain disruptions, and the widespread closure of many restaurants and bars due to pandemic restrictions. To achieve this, the brand primarily used social media marketing and influencer marketing through the lockdown. By partnering with sportspersons and social media influencers, Tusker created engaging online content to increase demand and sales. They also partnered with Jumia, an e-commerce brand to meet customer demands and ship directly to homes in the lockdown.
Kenya Airways
Brand value US$42m (up 21%)
Brand strength 64.9% AA-
Among Kenya's top 10 brands, Kenya Airways has seen its brand value grow by a fifth. The airline adapted its core operations amid the pandemic as demand for travel dropped, and instead converted its existing aircraft into cargo carriers to tackle limited supplies of food, essentials, and medical equipment. The Kenyan flag carrier also partnered with several international airlines including BA, Delta Air Lines, Oman Air and Air France to enhance its travel network.