Egypt's electric train project gains US$345m funding boost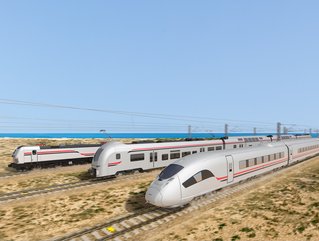 Egypt is building a 2,000km electric rail network
Islamic Development Bank provides US$345m funding for Egypt's train network project as economy struggles with soaring inflation and currency depreciation
Egypt's ambitious US$23 billion railway network project has received a welcome boost from Islamic Development Bank (IsDB), which approved financing of US$345 million.
The financing for Phase I of the Electric Express Train Project comes when Egypt is struggling with raging inflation and depreciation of its currency – making it even harder to meet its Vision 2030 plans to become more sustainable.
The 2,000km rail network is being built to provide safe, affordable, and sustainable transport systems, and will consist of three lines.
Described as "the Suez Canal on wheels", a 660km route will connect the strategic port cities of Ain Sokhna on the Red Sea to Marsa Matrouh and Alexandria on the Mediterranean.

A second line covering 1,100km will run between Cairo and Abu Simbel near the Sudan border, while a third line of 225km and connect the world heritage sites in Luxor with tourist hotspot Hurghada by the Red Sea.

Once completed, the network will be accessible by around 90% of Egyptians and provide 500 million journeys annually. It will also be the sixth largest high-speed rail network in the world.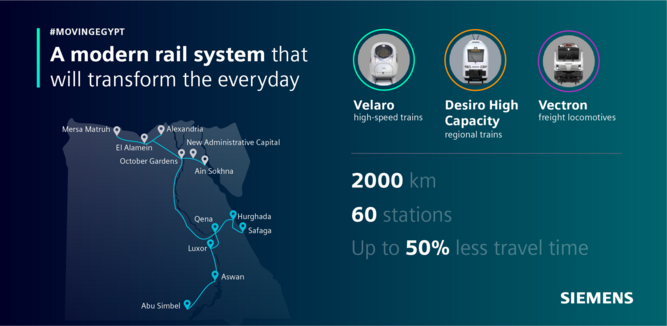 Siemens is building Egypt's electric rail system
Siemens Mobility to build Egypt's all-electric rail network
In May 2022, Egypt signed a contract with Siemens Mobility to build the network that will ultimately connect 60 cities with trains capable of 230km/h. In August, the Ministry of Transport signed a deal with German railway giants Deutsche Bahn and the Egyptian company Elsewedy Electric for the management and operation of the network.
Siemens Mobility will deliver 41 Velaro high-speed trains, 94 Desiro High Capacity regional train sets, and 41 Vectron freight locomotives as part of the contract, while also building eight depots and providing maintenance for 15 years.
The fully electric network will cut carbon emissions by an estimated 70%.
Inflation at five-year high in Egypt as food prices rocket
The backing from Islamic Development Bank will go some way to alleviating pressures on the rail project as Egypt's economy continues to struggle.
Inflation is at a 5-year high in Egypt, hitting 30.9% in February – and is expected to go even higher. The Egyptian pound has also lost around 50% of its value in the last year. Food prices have rocketed by more than 60% in the last 12 months, fuelled in part by supply chain disruptions from the war in Ukraine.
These factors make it harder for Egypt to stick to its Vision 2030 plan. Launched in 2016, the ambitious agenda set national targets in line with the UN Sustainable Development Goals.
In November, Egypt hosted the COP27 summit in Sharm El-Sheikh.