5 of the best sustainable fine-dining restaurants in Paris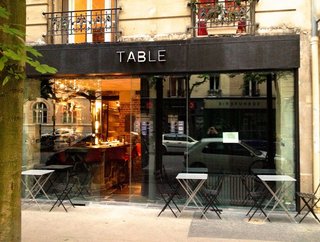 Established by self-taught Bruno Verjus a decade ago, Table lets the ingredients do the talking
Style and substance take centre stage at these five Michelin-starred restaurant in Paris, which put sustainability at the heart of their culinary offerings
Not only do these five Paris-based restaurants have 10 Michelin stars between them, but they have each bagged Michelin's highly-sought-after Green Star, which recognises the finest restaurants committed to sustainable gastronomy.
As well as delivering menus that put vegetables centre stage, these six eateries are focused on sourcing ingredients responsibly, championing local and ethical produce, pioneering the fight against food waste, and using seasonal ingredients.
Here, Business Chief's five best sustainable fine-dining restaurants.
1
L'Arpège
3 Michelin Stars
Green Star
Not only has legendary chef Alain Passard retained three Michelin stars at L'Arpège for more than two decades, but he's done it by putting vegetables front and centre.
"I want to elevate the humble vegetable to a grand cru," Passard has said.
Way before it was fashionable to do so, plant-based culinary pioneer Passard removed red meat from his menu in 2001 and has delivered a menu centred around vegetables for the last 22 years – though some game, fish and seafood dishes are served.
The chef-turned-gardener has three biodynamic kitchen gardens located in different regions in France, where he grows all the vegetables, fruits and herbs used in his dishes. Produce is hand-harvested and amounts to 50 tonnes per year.
"At L'Arpège, every ingredient comes with its own passport and provenance, and we know the experts behind all our products: gardeners, cheese makers, livestock breeders, fisherman, etc. I love working with people I know and trust!"
Vegetables are mainly roasted and grilled over flames, to retain the essence of the produce, and the menu is ever-changing with signature dishes including white asparagus with turnip carpaccio.
The restaurant is located in the 7th arrondissement near the Rodin museum.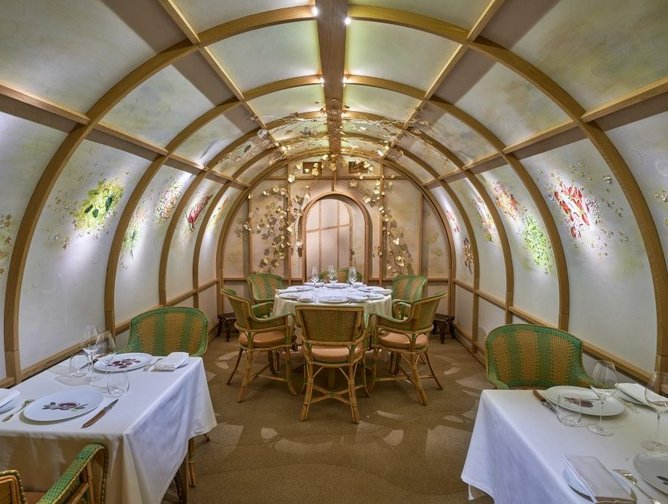 At 3 Michelin-starred L'Arpege, vegetables reign supreme
2
2 Michelin Stars
Green Star
This Two Michelin-starred restaurant may be tiny in sizes, but it is big on atmosphere, flavours and authenticity.
Established by self-taught Bruno Verjus a decade ago, Table has dropped French fine-dining traditions in favour of more humble dishes where the main event is the ingredient and the sauces and seasonings play supporting roles.
Bruno, who lived in China for 20 years and was previously a food blogger, is passionate about using and championing regional produce, delivering dishes that feature seasonal ingredients, including white asparagus from Alsace and wild salmon from the Adour.
His commitment to local producers and to allowing their ingredients to shine is the reason for the Green star.
Among signatures, flash-cooked scallops, long-roasted lamb and crunchy lobster on its rock have become favourites.
Located in the city's 12th district, and with an open kitchen, Table is reportedly a popular dining spot for the fashion elite, including Hedi Slimane, the artistic director of Celine.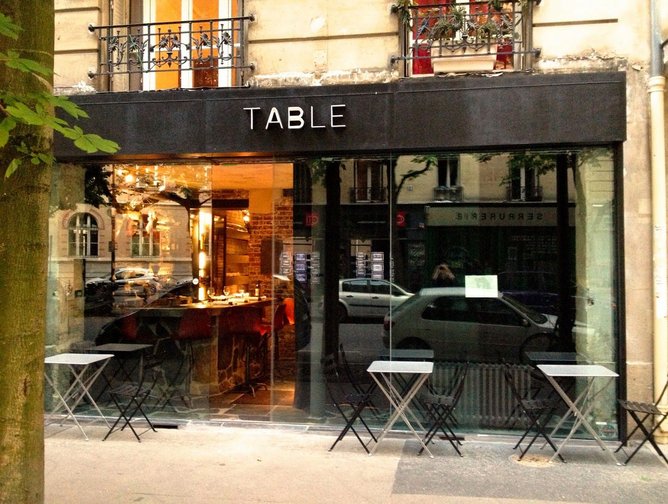 Chef Bruno Verjus champions regional producers
3
2 Michelin Stars
Green Star
Another protegee of Alain Passard (L'Auberge), David Toutain established his own namesake restaurant in Paris' quiet and residential 7th district a decade ago, securing a Michelin star within the first year and the second in 2019.
Given David's experience at plant-based L'Auberge and his upbringing on his grandparents' farm in Normandy, his environmentally friendly approach to cuisine in his own restaurant is unsurprising.
"My cuisine reflects the values passed down by my grandparents who were farmers: serving what nature offers us, and not the other way around," he has said.
Toutain's culinary focus is vegetables, which take centre stage in every dish, with a focus on revealing hidden flavours. Local suppliers and minimisation of waste is also central to the restaurant's approach.
There are four tasting menus named after vegetables or plants with dishes dictated by the seasons. Toutain works with small-scale, independent eco-friendly suppliers sourcing produce that is not just local and seasonal, but also in small batches to cater to confirmed reservations only.
He has developed a permaculture garden near Honfleur, where he cultivates rare herbs and plants that season his dishes and drinks. His plates are renowned for being creative, with signature dishes are always on-menu, salsify with peanut-dusted cream.
Toutain has recently opened a Hong Kong outpost, called Feuille, his first project outside of his native France – where his love for the humble vegetable is taking the city by storm.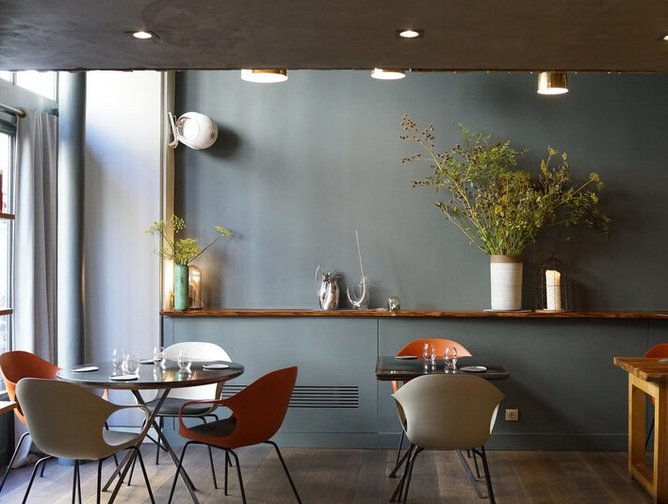 Local produce and minimising waste is central to the philosophy at David Toutain
4
1 Michelin Star
Green Star
As well as bagging the prized Green Michelin star, Septime has one star, is listed in the World's 50 Best Restaurants and was winner of the Sustainable Restaurant Award in 2017.
This 12-year-old restaurant, helmed by another former L'Arpege protegee, Bertrand Grebaut, delivers industrial décor, a relaxed but trendy vibe and seasonal French cuisine. There is no pretension here, just great food and an eco-conscious approach to dining.
Like Arpege and David Toutain, Septime is both seasonal and planet-based with vegetable-focused dishes changing every two weeks. Unlike Arpege, the menu here is a surprise tasting menu of seven courses delivering dishes that play on contrasting textures and flavours – think raw with charred, pureed with crisp.
Produce is sustainably sourced, with fish and meat hailing from responsible and sustainable farming and fishing suppliers. With a zero-waste philosophy, all parts of every ingredient is used, while bio-waste is sent to a vermicomposting centre to be recycled.
While the restaurant vibe is no-fuss, the dishes themselves are highly inventive with multi-level textures and flavours, such as caramelised pointed cabbage with madras curry butter.
Located in the 12th district neighbourhood of Paris, Septime also has a wine bar around the corner (Septime La Cave). You will need to book three weeks in advance for a table here.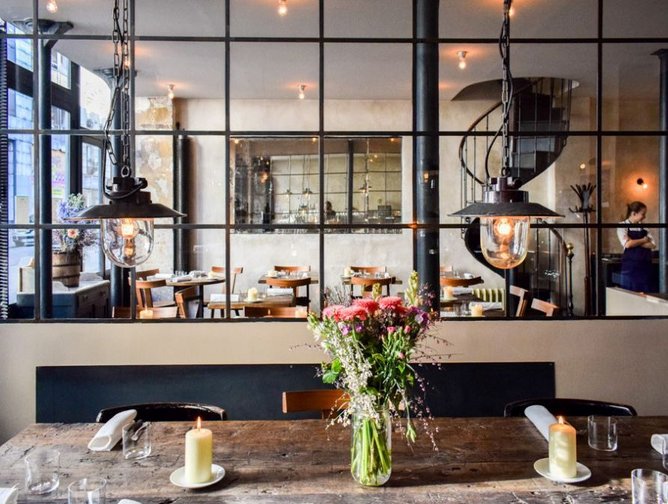 Helmed by former Passard protegee Bertrand Grebaut, Septime offers a surprise tasting menu
5
1 Michelin Star
Green Star
Substance meets style at Le George, the one Michelin-starred restaurant helmed by former Gordon Ramsey restaurant chef Simone Zanoni.
Housed within the legendary Four Seasons George V Paris, the only European hotel decorated with five Michelin stars (across three restaruants), Le George stands out for its high impact style (think huge Baccarat chandelier) and low impact on the environment.
Le George operates a garden in the heart of Versailles, just 15km from Paris, growing fresh and organic local produce for the kitchen. Spanning 20 acres, the garden is fed with organic composted waste from the the hotel's restaurants to create a plate-to-plate biosystem – and is manned by workers who are being reintroduced back into the workplace.
The Mediterranean sharing menu delivers dishes that are light and inspired by cuisine from France to Northern Italy, including menus dedicated to vegetarian and vegan dishes.
Among the restaurant's standout dishes, the onion tarte tatin with parmesan sorbet, beet carpaccio with raspberries and hazelnuts, and crispy hog with tomatoes and mustard condiment.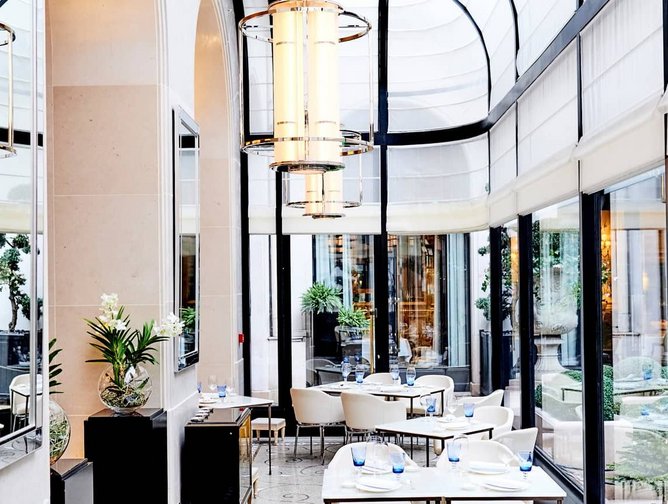 Le George is housed within the legendary Four Seasons George V Paris
******
For more business insights check out the latest edition of Business Chief Middle East & Africa and be sure to follow us on LinkedIn & Twitter.
You may also be interested in Business Chief US & Canada.
Please also check out our upcoming event - Sustainability LIVE in London on September 6-7, 2023.
BizClik is a global provider of B2B digital media platforms that cover executive communities for CEOs, CFOs and CMOs, as well as leaders in Sustainability, Procurement & Supply Chain, Technology & AI, Cyber, FinTech & InsurTech. We also cover industries including Manufacturing, Mining, Energy, EV, Construction, Healthcare and Food & Drink.
BizClik, based in London, Dubai and New York, offers services such as content creation, advertising and sponsorship solutions, webinars and events.