Almarai bullish on M&A as Saudi food security prioritised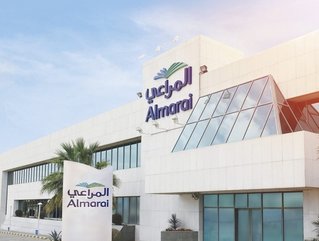 Saudi food conglomerate Almarai is stepping up acquisition activity, as it looks to help shore up food security in the Kingdom and reduce 80% imports
The Middle East's largest dairy company, Almarai, is bullish for growth.
Since announcing its ambitious food security plans in May 2021, the Saudi food conglomerate has been on a mission to both expand its offering and footprint and to up and accelerate production, as it looks to strengthen food security in the region.
Just this week, the company completed its acquisition of International Dairy and Juice limited, its former joint venture with PepsiCo in Egypt and Jordan – an investment that will allow Almarai to further expand strategically in the wider region.
This acquisition, along with the Saudi food giant's many others over the last year, follows the launch of Almarai's food security plans and is in line with Saudi Arabia's Vision 2030 – to diversify its economy away from oil and to strengthen food security in the region.
Currently, Saudi Arabia imports 80% of its food requirements, but in the wake of the Covid-19 pandemic and Russia's invasion of Ukraine, not to mention weakened supply chains, the Kingdom plans to ensure sustainability of critical resources through more domestic production of food.
As Saudi and the Middle East's largest F&B manufacturing and distribution companies, not to mention the world's largest vertically integrated dairy company, Saudi-listed multinational Almarai – whose products are distributed to seven countries regionally – is taking the lead on ensuring regional food security.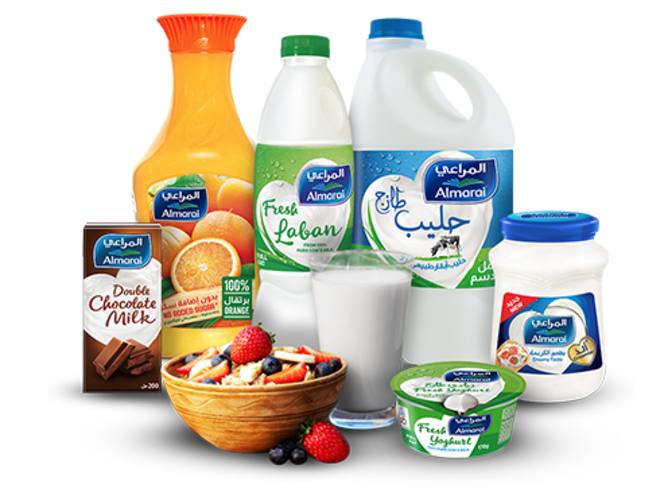 Almarai is the world's largest vertically integrated dairy company
Almarai's ambitious plans – M&A taking centre stage
As part of the measures to shore up food security in the Kingdom, Almarai has been making strategic investments in poultry, one of its main categories, since announcing plans to double its poultry processing capacity in its domestic market by 2026.
The aim? To increase its market share of the chilled and frozen chicken categories, which currently sits at around 55% of Saudi requirements.
To achieve this, the Riyadh-based company recently acquired Premier Foods, a halal meat and poultry producer from Riyadh; increased its stake in Saudi poultry producer Pure Breed Company to 93.5%; and announced an investment of 4.5bn sar in the Hail Region in Saudi, to expand poultry production – including establishing a factory and new farms.
The company, which currently offers a vast product mix, encompassing dairy, juices, poultry, bakery, and infant nutrition, is also looking to beef up its bakery offer ensuring more local production and less imports.
Expanding its bakery production line, Almarai recently bought Bakemart's operations in the UAE and Bahrain in a deal worth US$25.5m and invested via its subsidiary Western Bakeries an additional stake of 25% in Modern Food Industries, which manufactures and sells bakery products.
Seafood and beef are also part of Almarai's expansion plans, with the company announcing recently the injection of US$67m to fund its entry into the seafood category, with a seafood processing facility; along with the acquisition of the production hub of UAE-based Binghatti Beverages Manufacturing, as it looks to enter the branded local beef market.
Saudi joins the UAE in tackling food security challenges
Saudi is not alone in its food security ambitions, with the UAE and other countries in the MENA region increasingly investing in technology, companies and facilities to empower local food production, diversify product ranges, and expand footprints, in a bid to tackle food security challenges.
This comes as a global report finds the MENA region has some of the highest levels of food insecurity in the world – with findings from the Global food Security Q2 2022 report by Deep knowledge Analytics stating that the MENA region will remain one of the most "import-dependent regions in the world" with about 50% of its food imported.
This percentage is higher for GCC countries like Saudi and the UAE, which currently import 80% and 85%, respectively, of the food it consumes.
For both nations, food security is, and has historically been, threatened by topographic factors, with just 1.5% of Saudi land suitable for agriculture, for example. Add to this water scarcity, not to mention growing demand for diverse food types, driven by shifting consumption habits, and it's easy to see why imports are so high.
But, in recent years, both governments have begun charting a path toward food security, to ensure that all citizens have access to sufficient, safe and nutritious food, in the case of unforeseen disasters or crises.
The pandemic demonstrated that over-reliance on exports creates fragile and volatile supply chains, and consumption of food is anticipated to grow at 2.3% in the UAE to reach 52.4 million tonnes by 2025.
Both the UAE and KSA are taking steps to encourage local food production capabilities, deploying degenerative and advanced farming tech, including building vertical indoor farms, empowering local farmers and digitising the supply chain.
Take Abu Dhabi's new vertical farm, from AeroFarms. Marking the world's largest indoor vertical farm of its kind for R&D, the farm aims to solve some for the world's most pressing agriculture challenges.
But both governments too are pushing private F&B companies to diversify and accelerate their production through strategic M&A investments.