Billionaires EMEA: Germany is top country, London top city
Europe sees robust wealth gains, London is top billionaire city, Saudi Arabia records fastest wealth expansion – Altrata reveals billionaire trends in EMEA
Global billionaire wealth surged by 17.8% in 2021 to a record US$11.8 trillion, as the billionaire population rose by 3.3% to 3,311 individuals, according to Altrata's recently released Billionaire Census 2022.
This marked the third successive year of billionaire population expansion, but the weakest growth since 2018, with growth buoyed by a largely rebounding global economy and a strong upturn in corporate earnings and IPO activity.
While the 3,311 billionaires represent just 0.9% of the global ultra-high net worth (UHNW) population – those with more than US$30 million in net worth – they hold a vast 27.4% of total UHNW wealth.
Europe sees robust billionaire wealth gains despite virus and rising inflation
The number of billionaires in Europe rose by 6.8% to 954 individuals, with collective net worth jumping by 22.3% to $3.1 trillion. This was the strongest growth of all regions in 2021, slightly increasing Europe's lead over third-ranked Asia in terms of population size and regaining its status as the second-ranked region for billionaire wealth (having lost ground both to North America and Asia in recent years).
According to the report, this relative over-performance was partly a consequence of the region's travails in 2020, which provided considerable scope for a strong rebound in corporate earnings, consumer spending (especially on services), investor sentiment and wealth-creation opportunities as economies reopened after the ending of pandemic restrictions. This took place against a backdrop of abundant central bank liquidity, supportive fiscal policy, and elevated household savings. Equities and real estate assets posted firm gains in value across the region, despite widespread supply-chain disruption and rising inflation.
Africa's billionaire wealth bolstered by rising demand for commodities
The comparatively small billionaire population of Africa means that caution is required when interpreting annual growth rates, but wealth developments were generally positive in a global context. Cumulative wealth among Africa's 46 billionaires increased by 16.5% to $104bn as recovering global demand boosted corporate revenue and stock prices for Africa's energy, metals, materials, and food producers.
Middle East sees concentration of ultra-wealth in 2021
The world's fourth-largest billionaire region saw a concentration of ultra-wealth in 2021. The number of billionaires in the Middle East declined by 12% to 191 individuals, while cumulative wealth increased by 12.5% to $519bn. Overall economic activity was boosted by a more positive backdrop of rebounding commodity demand (and prices) and gradually recovering international travel, two important sectors for the region's wealth markets. After a lean period in recent years, equity markets surged higher in the largest Gulf Arab oil economies, whose currencies are mostly pegged to the US dollar.
Among other notable billionaire themes and trends in the EMEA region:
1. Germany tops countries in EMEA for the number of billionaires with 176, up slightly by 1.1%, and a cumulative wealth of US$602bn. The UK came in fifth place with 120 billionaires (US$26bn) and Switzerland bagged seventh spot with 111 (US$365bn).
2. Russia sees 11% decline in billionaire numbers leading to a drop of four places, to eighth position. This was even before the imposition of severe international sanctions, and a reflection of weak growth dynamics, a challenging business environment and a high dependence on natural-resource sectors.
3. Saudi Arabia records the fastest expansion of wealth, along with Canada – thanks to robust double-digit growth, mainly positive trends in capital markets and rising demand for commodities.
4. London takes top city spot in the EMEA region for number of billionaires, ranking fourth globally with 77, an 8% rise in billionaire numbers which outpaced country-level performance. Moscow moved down one place to fifth, while Paris moved up one place to 14th.
5. Kuwait City home to the world's highest density of billionaires with one billionaire for approximately every 33,000 residents.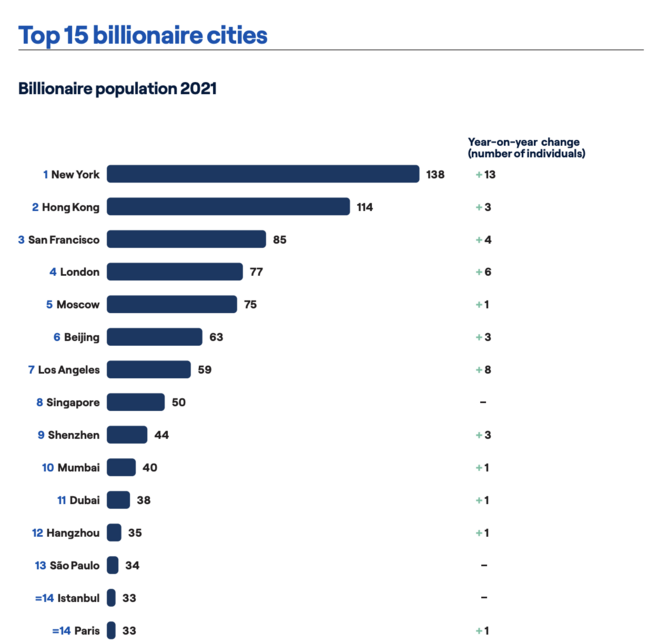 Global trends – industry, gender, philanthropy
Banking and finance continue to lead billionaire generation. Financial services have long been a major driver of wealth generation in many of the world's largest billionaire markets, especially in the US, the UK, Hong Kong and Switzerland, and 2021 is no different with the banking and finance sector the main industry focus for the largest share of billionaires. This share is twice as large as the second-ranked sector of industrial conglomerates.
While there has been a gradual decline in the size of the global banking and finance industry over the past decade, caused by post-financial crisis restructuring and regulation, the influence of financial markets on billionaire wealth has arguably increased, reflecting a period of unprecedented central bank liquidity, historically low interest rates, and relatively subdued global growth and consumer demand.
Real estate ranked third in billionaires' primary industry focus, followed closely by technology, each accounting for 7% shares. Manufacturing, business and consumer services, healthcare and the non-profit sector all accounted for 5-6%, though the report predicts that healthcare is likely to see its billionaire share rise in the coming years, thanks to the pandemic and ageing of the most developed economies.
Technology has youngest, most self-made and male billionaires
Unsurprisingly, technology has by far the youngest, most self-made and male billionaires, with the median age of billionaires in the tech sector at 54.6, that's 11 years younger than that of the global billionaire population. Also, a significantly larger share of tech-focused billionaires are in the highest wealth tiers (those above US$10bn and US$50bn).
Female representation is highest in manufacturing thanks to inheritance
When it comes to gender, the global billionaire population remains heavily male dominated, with women accounting for a modest 13% share, though on a gradual upward trend reflecting growth in female entrepreneurship, in particular. Female representation is highest in the manufacturing sector (13%), in part due to the role of inheritance which is far more common among female billionaires than their male counterparts.
Education is top philanthropic cause among billionaires
Whether influenced by global developments, personal motivations or local issues, billionaire donors have a wide range of charitable causes to which to give. However, there are a number of areas that consistently attract the largest shares of donations, and the relative popularity of billionaires' favourite philanthropic causes tends to remain fairly stable. Preferences for giving activity vary only slightly according to billionaires' primary industry. Education is, by some distance, the most popular area for benevolent donations across all five industries, followed by a combination of the same three charitable causes: healthcare/ medical research, arts and culture, and social services.
Billionaire Census 2022​​​​​​​