Deloitte Global Marketing Report highlights for UAE and KSA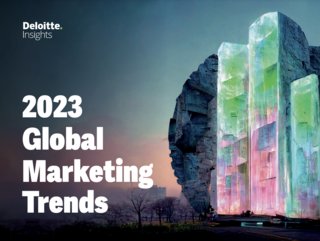 Deloitte's 2023 Global Marketing Trends - Resilient Seeds for Growth
Deloitte has released its 2023 Global Marketing Trends report, which for first time includes insights into brands in Saudi Arabia and United Arab Emirates
Deloitte has released its Global Marketing Trends report for 2023, based on a survey of more than 1,000 global CEOs and leaders, including those from Saudi Arabia and the UAE.
This year's report explores how marketers are coping with financial uncertainty to keep critical matters such as sustainability at the top of the agenda, while also stimulating growth.
Based on these findings, Deloitte has identified four key trends to deliver growth and provided some deeper regional insights.
1. Brands answer economic instability with marketing investments
CMOs are prioritising new technologies, expanding markets and customer personalisation.
2. CMOs drive growth through internal sustainability efforts
Sustainability is critical to consumers, and marketers are recognising that.
3. Creativity as a force for growth
High-growth brands are encouraging creativity, risk-taking and collaboration.
4. Rising technologies for marketers to watch
Adoption of emerging technologies like metaverse and blockchain can create competitive advantages.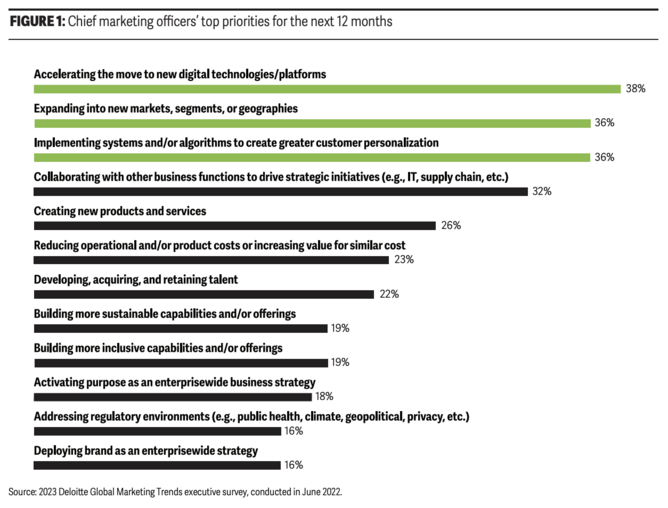 Deloitte
Metaverse and blockchain technologies high on marketing agendas

"This survey provides valuable insights into the current state of marketing in the Middle East and the priorities for brands as they look to the future," said Deloitte Digital Partner, Hussein M. Dajani.
"We are encouraged to see a strong focus on sustainability, creative transformations, and the adoption of emerging technologies to drive growth and customer engagement."
Sustainability is a key focus area, with 64% of company leaders in Saudi Arabia highlighting their internal sustainability practices in their marketing efforts. More than half of those surveyed (56%) expressed a commitment to long-term sustainability initiatives.
In the UAE, 56% of company leaders are focussing on long-term sustainable business commitments in their marketing efforts. Additionally, 54% say their marketing strategies should incorporate more sustainable products and service offerings.
Deloitte findings indicate that leaders in the region also have their sights set on emerging technologies, with the metaverse leading the way. As many as 90% of leaders in Saudi Arabia say the metaverse will play a significant role in their brand strategy in the next two years, and 82% in the UAE.
Blockchain is also on the radar, with 28% of leaders in the UAE saying their company is using blockchain technologies, but 60% plan to start using it over the next two years.
"This highlights the importance of staying ahead of the curve and embracing the latest technologies to remain competitive in the market," says Dajani.
"The findings show that high-growth brands are more likely to foster a creative environment, while the main reason cited by brands for not engaging in the metaverse is the difficulty of complex technology implementations."
Read more from the 2023 Global Marketing Trends - Resilient Seeds for Growth report, and the full reports for Saudi Arabia and the United Arab Emirates, by clicking the links below.