Eltizam Group CEO on driving tech and culture transformation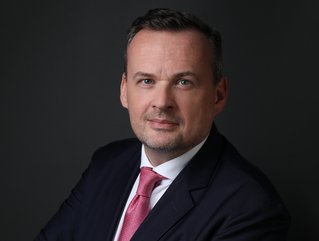 For nearly a decade, Chris has steered the Abu Dhabi-based Group's change management strategy
Abu Dhabi-based Eltizam Group's CEO Chris Roberts talks to Business Chief about his Get Wonky approach to culture and how AI can reduce building emissions
For seasoned CEO Chris Roberts, business growth comes down to two key factors – tech investment and culture innovation.
Investment in both over the last decade has allowed Chris to scale Eltizam Group into the Middle East's leading physical asset management company and investor in the built asset environment.
Since 2014, Chris has steered the Group's change management strategy, taking a business operating solely in Abu Dhabi with under 500 employees in 2014 to a leading regional brand with a 6,500-strong, highly skilled workforce across the UAE, Saudi Arabia, Egypt, Oman, Qatar and beyond.
As a champion of change, Chris spearheaded the restructure of Eltizam in 2021 – establishing four holding companies under the Group, leading successful acquisitions including Falcon Investments (the affiliate partner that has traded as Colliers in the MENA region since 1995) and expanding operations across the MEA region.
He has also led the creation of what he calls 'The AI of Culture', investing significant time in creating Get Wonky – a disruptive and dynamic culture model comprising four pillars: ESG, happiness, people development and innovation.
As an engine to foster engagement, collaboration creation, and empowerment across a fast-growing and diverse organisation, Get Wonky has transformed Eltizam into a powerhouse of change, fostering innovation and development at all levels.
"We enable culture, we don't impose it. We also let culture evolve, adapt and learn as our business and the market evolves," Chris tells Business Chief.
"Building such a foundation is essential as it cultivates an engaging culture that encourages innovation and individual development, leading to a thriving and forward-thinking organisation. This has enabled us to scale our business while driving positive results to our stakeholders."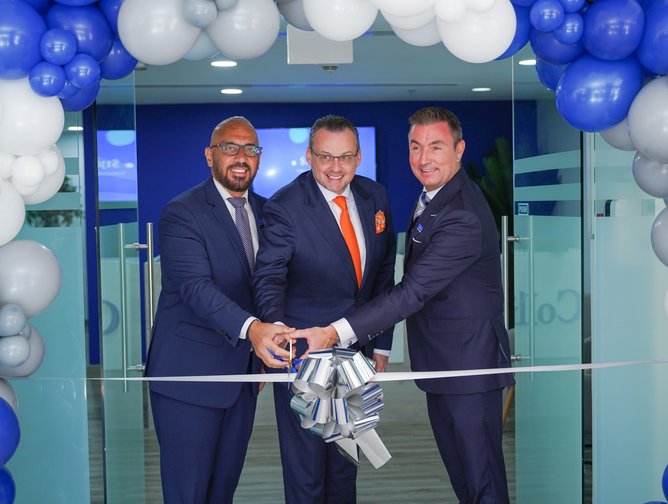 Eltizam CEO Chris Roberts has led successful acquisitions including Falcon Investments (the affiliate partner that has traded as Colliers in the MENA region since 1995)
Spearheading tech innovation – in the company and sector
This Culture of AI is critical to Eltizam's transition to a tech-driven company.
Investment in technology and especially artificial intelligence has been fundamental to the Group's accelerated growth – not only in creating a backbone of operations that can rapidly scale but in enabling Eltizam to disrupt the market with new and more efficient solutions for customers in the built environment industry.
"Based on our experience with AI over the past two years, we have been able to categorise the benefits into two broad areas – enhancing the customer experience and increasing efficiency of operations, meaning 'achieving more with less'," explains Chris.
The company is using AI to streamline operations and to facilitate managerial decision-making, and there are plans to integrate AI into its business intelligence (BI) platform, transforming it into one which delivers insights based on inference and learning.

"In other words, providing the team with accurate trends and forecasts," he says.
More crucially, as an organisation that owns various companies that essentially respond to the needs in the built environment, Chris and his team are spearheading tech innovation in the sector.
"We plan to bring to the market the future of the built environment, with AI at its core, using the technology to drive accelerated growth while also safeguarding the environment."
Using AI to reach carbon neutrality
With buildings responsible for around 40% of global carbon emissions and stakeholders increasingly demanding sustainability and socially responsible practices, Chris says the built environment industry must prioritise ESG considerations and strive towards reducing carbon footprint.
"We believe AI can be used to enhance energy efficiency in buildings, helping us reach carbon neutrality and create a more sustainable future," he states.
"Through intelligent platforms combining IoT and AI, we will be able to achieve better outcomes for buildings under our management, and with less manpower. This delivers powerful benefits to both our clients and our operating companies, while also contributing to achieving our ESG targets."
Chris, who formally introduced technology innovation as Eltizam's powerhouse through holding company EAST-O Holdings, points to a wide range of examples of the AI applications the company is using, from designing buildings to maintaining and managing the built environment.
"We have invested in several applications of AI across our technology landscape, which includes energy and carbon monitoring in buildings, human and vehicle access control and in-app language translation for our customers and technicians."
And recently, the company kicked off a strategic project to use AI for predictive maintenance through its proprietary facilities management software PropEzy FM.
"Ultimately, we are working towards a state where assets become 'conscious' through AI, which means that buildings tell us when it is time to execute maintenance orders, and more," says Chris.
"This is the goal, and it is driving our focus and investment into technology into 2024 and beyond."
Risks, ethics, and educating employees
But with great power comes great responsibility, and Chris says the integration of AI into the business world carries risks and ethical considerations that companies must understand before engaging with the technology.
He points to potential bias resulting from algorithmic design flaws and privacy breaches if adequate data protection measures aren't implemented, among others.
"It is crucial for companies that embrace the AI trend to engage in ongoing monitoring and evaluation of their AI applications and prioritise transparency to mitigate risks and uphold ethical standards in the development and deployment of AI systems.
"It is even more important to train the staff on ethical use of AI, which we are currently doing at Eltizam."
Educating and upskilling employees is a crucial part of the process, and one Chris and his executive team focus on, ensuring employees acquire the necessary skills to work with and leverage these tools effectively, and are also committed to the process of change.
"Upskilling ensures all employees remain relevant and adaptable and enables them to embrace the changes brought by digital transformation. This empowers individuals to contribute meaningfully to the organisation, enhances productivity and fosters a culture of continuous learning and innovation."
Chris says employee / management buy-in and change management are among some of the pitfalls companies make when undergoing digital transformation.
"You can invest in the most sophisticated solution but if employees resist changes to their day-to-day work habits, the transformation will fail," says Chris.
"We have learned our lessons in this area in the past and are improving how we engage business users during the transformation process, taking their feedback onboard more regularly and implementing more robust plans for managing change when solutions go live."
But getting employees on board with transformation requires leaders who have a distinct set of skills to cope with the rapidly evolving business landscape, says Chris. Among these, digital fluency to navigate digital transformation, agility to adapt to constantly changing circumstances, emotional intelligence to foster relationships and wellbeing, and data-driven decision-making to leverage insights for strategic planning.
"CEOs must embrace these skills to effectively lead in a changing environment where technology, work patterns and employee expectations have significantly transformed."
For Chris, the opportunity to drive positive transformation, both keeps him up at night and gets him out of bed in the morning.
"I embrace the opportunity to inspire innovation and shape the future of our company and community, fuelled by a strong sense of purpose and the potential to create meaningful change within the industry, and ultimately to shape the future of the built environment.
"I am driving strategies that will have an environmental impact, while generating positive business results, using state-of-the-art technology at the core of the business."