Entrepreneur to CEO: How to make a successful transition
By Rachel Turner, Co-founder, VC Talent Lab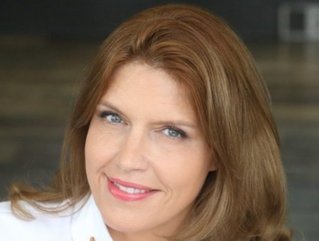 Founders can become very powerful CEOs if they proactively build the leadership skills and team to enable that, argues founder whisperer Rachel Turner
'Entrepreneurs make bad CEOs'.
This is a statement I hear a lot in the venture capital ecosystem, and as with most things, there's some truth in it. When founders lack mentorship, development, self-awareness or willingness they often do make dreadful CEOs, which is probably why only 1 in 4 companies retain a founder as CEO at their IPO.
It doesn't have to be that way. Founders can become incredibly powerful CEOs if they proactively build the leadership skills and team to enable that; and it's worth it, for both the founder and the business.
Having poured their heart and soul into their start-up, founders are often devastated if they are shoved out to make way for 'a professional CEO'. Meanwhile, research suggests there is both a performance and cultural benefit to the business of retaining founders as leaders.
While it's eminently possible for an entrepreneur to become a powerful CEO, the odds are stacked against them.
Let's first compare the experience of a Founder CEO with their corporate counterpart. The typical CEO of a large corporation will have spent 15 to 20 years growing and developing first as a manager, then as a leader, before they get a crack at the top job. In the meantime, the founder of a fast-scaling start-up may be expected to shift from entrepreneur to CEO in 12 months, not 12 years. Adding the fact that the superpowers they've developed as entrepreneurs will become the kryptonite of their effectiveness as a CEO, and you can see what a challenge they face. Only founders with enough willingness and humility to ask for help, and the right kind of support and counsel around them, are likely to make it.
It takes an intentional effort for entrepreneurs to shift their mindset, skills and modus operandi from founder to CEO. There are three archetypes of leadership a founder will need, at different stages of business growth to enable their business to achieve success.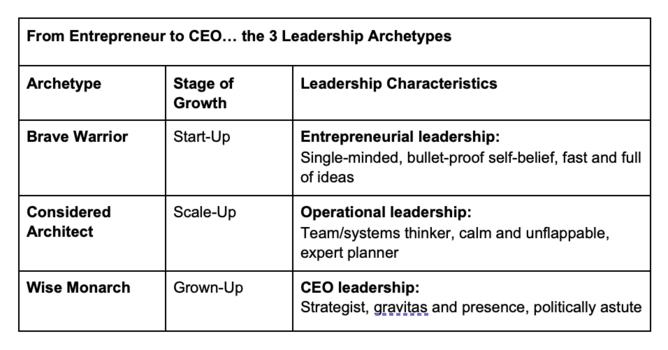 Each of these archetypes has a different energy, pace, outlook, focus and strength. Pause for a moment and think about a warrior on a far-flung beach, utterly focused on the goal and charging fast at the target. Now think of an architect pouring over blueprints in their office, reflecting on how all the parts of the building will need to work together. Now imagine a monarch, walking into court oozing gravitas and unflappable authority. What are they each thinking about? The warrior is thinking about their goal and the action, the architect of their plans and the systems, the monarch of their strategy and followership.
Most founders are Brave Warriors who quite like the idea of being a Wise Monarch. It's that operational Considered Architect bit that they don't like. The problem is, the Wise Monarch archetype is only effective IF a business is being managed by strong operational leaders who are working effectively together. Think of a mediaeval King with his nobles – if the nobles are weak or revolting – the monarch is in big trouble. If a business doesn't yet have a highly effective C-Suite with strong operational grip of the business, a founder is going to have to get their hands dirty with a bit of Considered Architect leadership too.
If founders recognise themselves as a Brave Warrior who needs to build Considered Architect and Wise Monarch muscle, where do they start? The first step is some honest self-reflection around their current superpowers and vulnerabilities (a coaching word for weaknesses!).
The chart below outlines several characteristics from each leadership archetype. Entrepreneurs should consider to what extent they are single minded in pursuit of a goal - indicating an entrepreneurial leadership style. To what degree do they have gravitas and presence, characteristics of CEO leadership, and how strong a systems thinker they are - typical aspects of operational leadership or the 'Considered Architect Mode'.
If you are a new founder, have a look at the chart below, and for each statement rate yourself on a scale of 1-10.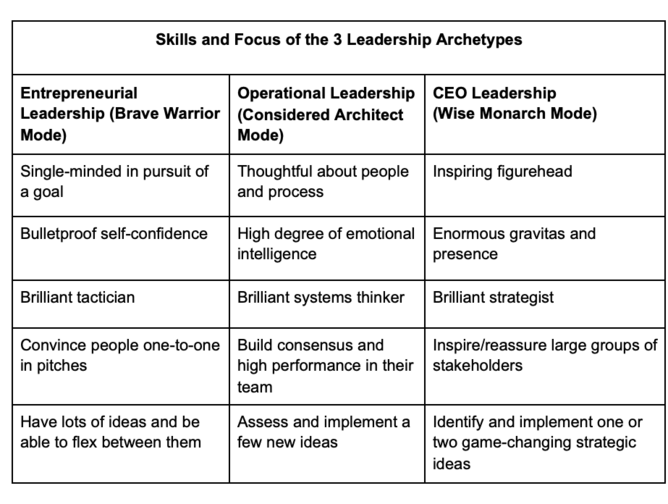 Pick your 3 lowest scores and make those your 'Entrepreneur to CEO goals' for 2023. For example, say you score yourself lowest on 'brilliant strategist', 'thoughtful about people and process' and 'reassure large groups of stakeholders', then your goals for 2023 would be: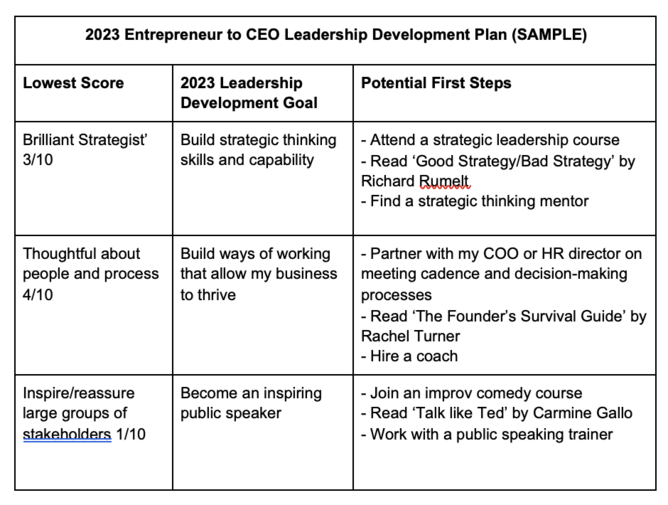 The journey from entrepreneur to CEO is the journey from doer-in-chief, to business-builder-in- chief, to strategist-and-figurehead-in-chief. Without an open-mind and a supportive community around you it's unlikely you'll succeed. Luckily, most founders are spectacular and, once they know what winning as a CEO will require, they have the drive and determination to see the journey through. Go well on the adventure with my profound admiration.

About Rachel Turner and VC Lab
Described as the "founder whisperer, Rachel Turner is a coach and leadership advisor with over twenty years' experience supporting founders and leaders to achieve extraordinary things. Before founding VC Talent Lab, Rachel trained in psychology and also previously worked in the music industry. She retrained as a leadership advisor to help other founders avoid many of the mistakes that she made when founding her own business.
VC Talent Lab aims to put leadership talent development at the heart of the VC ecosystem. They help VC-backed companies optimise their performance and build thriving companies and are trusted coaching partner to multiple global investment funds and work with founders from a wide range of sectors (from Series A investment through to IPO/exit).
Rachel is the author of The Founder's Survival Guide, designed to help founders evolve their leadership style as they scale their businesses, to make sure the company not only survives but thrives as it grows. (The book press release is here)