How Rivian helped deliver Amazon's first loss since 2014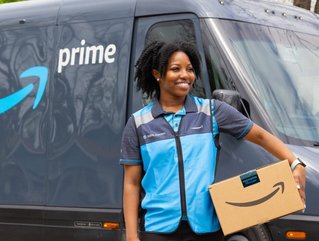 Amazon is aiming to have 100,000 Rivian electric deliver vans on the road by 2030
GlobalData insights into Top 25 Global Tech Companies by Revenue 2022 shows Amazon on top despite posting first loss since 2014 due to Rivian stock crash
The fluctuating share valuations of global technology companies in the past 18 months suggest that household-name brands have been struggling, and suffering. However, you may be surprised to hear that 60% of the top 25 publicly traded tech giants posted revenue increases in 2022.
That's according to analysis from GlobalData that showed those 25 companies grew revenues by 5.2% in 2022. Diving into the stats a little deeper, 60% of those same companies also posted a drop in net profits.
Amazon tops the list with revenue of US$514bn, which saw YoY revenue growth of 9.4% yet a YoY net profit growth of -108.2%.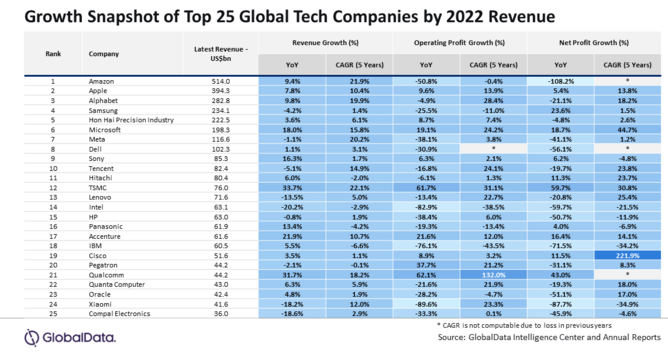 Analysis from GlobalData
There are only three companies in the top 10 that posted increases in both revenue and net profit. Second placed Apple had annual revenue of US$394.3bn, an increase of 7.8%, and rise in net profit of 5.4%. Sixth placed Microsoft had annual revenue of US$198.3bn, revenue growth of 18%, and net profit boost of 18.7%. Sony in ninth place took US$85.3bn in revenue, up 16.3%, with profits up 6.2%.
The other companies in the list that posted growth on both counts are Hitachi, TSMC, Panasonic, Accenture, Cisco, and Qualcomm.
Samsung, Meta, Tencent, Lenovo, Intel, HP, Pegatron, Xiaomi and Compal Electronics were the only companies in the top 25 list that reported a decline in revenue in 2022.
How Rivian stock drop is hurting investor Amazon
"In terms of profitability, 60% of the top 25 technology companies by revenue reported YoY decline in their net profit. TSMC and Qualcomm were the only companies that reported 40% YoY growth in their net profit in FY2022," said Ragupathy Jayaraman, Business Fundamentals Analyst at GlobalData.
"Amazon, Dell, Intel, HP, Oracle, Xiaomi and IBM reported more than 50% YoY decline in net profit in 2022. Amazon posted a US$2.7 billion loss in FY2022 compared to a net profit of US$33.3 billion in the previous year. The company attributes a major portion of the loss to its investment in the electric vehicle startup Rivian."
That hit was significant. Amazon holds a 20% stake in Rivian, and the electric carmaker's stock value plunged 82% in 2022, effectively wiping US$12.7bn off Amazon's operating income for that year.
Amazon has pledged to have 100,000 Rivian delivery vehicles on the road by 2030 but has so far ordered only around 10,000. That has led to the automaker trying to renegotiate an exclusivity agreement with the ecommerce giant in a bid to increase sales and boost the stock.
Good year for semiconductor manufacturers, bad for smartphones
Elsewhere, Jayaraman highlighted the growth in cloud revenues for the likes of AWS, Microsoft, and Google Cloud. When it comes to smartphones, Chinese brand Xiaomi saw an 18.2% drop in revenue and 87.7% decline in net profits as global shipments declined by 35%. Xiaomi sales in Q1 2023 fell a further 20%, according to research from Canalys.
It's been a good year for semiconductor (chip) makers though, as a global shortage has seen prices and demand soar. Taiwan Semiconductor Manufacturing Company (TSMC) saw revenue jump 33.7% in 2022, while net profits rocketed by 59.7% – making it the best profits performer on the top 25 list.
Other profit winners included Samsung (23.6%, despite revenue dipping 4.2%)), Accenture (16.4%), Cisco (11.5%).
Dell profits dropped by 56.1%, Intel by 59.7%, HP by 50.7%, IBM by 71.5%, Oracle by 51.1%, Xiamoi by 87.7%, and Compal Electronics by 45.9%.