Supply disruption and inflation cause risk to rise in MEA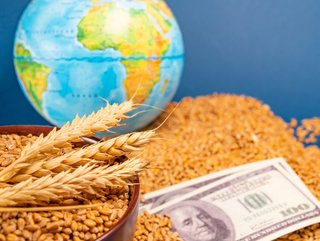 Food prices are spiralling in the Middle East and Africa
Latest data from analytics firm GlobalData shows risk in the Middle East and Africa region is rising, due to food shortages and spiralling prices
Risk is on the rise. That is the key takeaway from GlobalData's Global Risk Report Quarterly Update – Q4 2022, which says the Middle East and Africa region is suffering due to supply chain disruption, soaring inflation and food shortages.
A great deal of this disruption stems from the ongoing war in Ukraine, which is severely impacting food supply and, therefore, prices.
Overall, data and analytics company GlobalData says the MEA risk score has increased from 54.0 out of 100 to 54.3.
"The decision by OPEC+ to cut oil production can impact the profitability of oil-producing nations in the MEA region, which rely heavily on oil exports to drive their economies," said Bindi Patel, Economic Research Analyst at GlobalData.
"At the same time, many countries in the MEA region are heavily dependent on food imports, and disruptions to food supply chains due to factors such as conflict in Ukraine and Syria, drought in Horn of African nations and Kenya continue to create significant challenges for food security."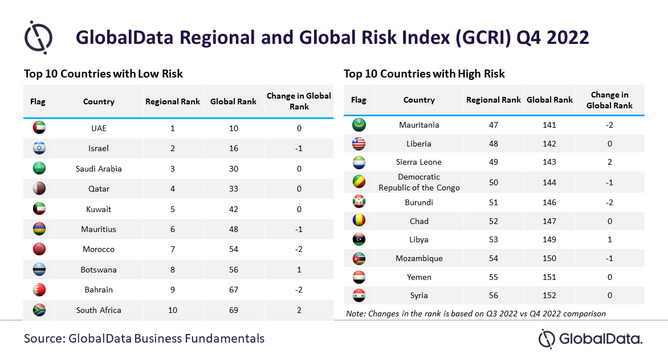 GlobalData's risk index
UAE is the country with lowest risk in the Middle East and Africa
On a positive note, the United Arab Emirates (UAE) is the country in the MEA region with the lowest risk, and also places tenth globally. Israel is in second position regionally (16th globally), and Saudi Arabia third (30th). Qatar (33rd) and Kuwait (42nd) complete the top five.
GlobalData's report looks at 56 countries in the region, with Syria coming in last place, making it the country with the highest risk in the region, and also ranked 152 out of 153 countries covered.
Ethiopia, Madagascar, Mali, Guinea-Bissau, Angola, Mauritania, Liberia, Sierra Leone, Democratic Republic of the Congo, Burundi, Chad, Libya, Mozambique, Yemen, and Syria were all in the list of top 15 highest-risk nations in the update.
"Despite the implementation of tighter monetary policies, the inflation level in the MEA region is expected to remain alarmingly high, with only a marginal decrease projected," said Patel.
"The inflation rate in the region is estimated to be 18.7% in 2023, with particularly high rates anticipated in Egypt (23.3%), Iran (40.7%), Turkey (43.7%), and Nigeria (19.3%).
"The overall risk for the countries in the region is still upward, as further slowdown in the global economy, increasing tighter monetary conditions, overall geopolitical tensions, and rise in poverty and food insecurity continue to negatively weigh on the MEA economies."