ME Time: Make the Middle East your next wellness destination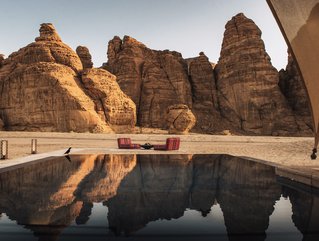 Located in AlUla, the ancient desert region of Saudi, wellness-focused property, Banyan Tree AiUla, is an all-villa tented resort flanked by sandstone mountains
The region is redefining the wellness travel experience with immersive and integrated resorts that pay homage to ancient Arabic traditions and rituals
Move over, Asia, the Middle East region is posturing to become the world's next big wellness destination.
While some countries in the region have already dipped a toe into wellness, opening high-end health resorts or five-star spas (here's looking at you Dubai), the latest destinations are reaching greater wellbeing heights.
With the aim of promoting self-healing and self-discovery, these new-generation regional resorts are not only fully immersive and entirely holistic – blending wellness, culture, history, luxury and sustainability – but they are uniquely Arabic.
Tapping into the serenity and spirituality of the desert landscape and harnessing the unique characteristics of therapies, rituals and ingredients deeply rooted in Arabic culture, the region is rolling out a growing list of wellness destinations to lure travellers actively seeking ways to enhance personal wellbeing and mindfulness.
Take Qatar. Last year, the Gulf nation became home to the world's first wellness destination to embrace Traditional Arabic and Islamic Medicine (TAIM) as its philosophy.
Quite literally a hidden oasis in the heart of Qatar's desert landscape, Zulal Wellness Resort by Chiva-Som – the Middle East branch of the world-renowned Thai-born wellness retreat Chiva-Som and the region's first full-immersion wellness resort – has integrated TAIM throughout its approach to wellness.
Region's first full-immersion wellness resort embraces TAIM
The resort has brought on board dedicated TAIM practitioners to deliver TAIM-inspired treatments like Hijama, a blood-letting therapy similar to cupping that is designed to rid the blood of impurities; an abdominal massage using a warm herbal compress created with herbs indigenous to the Arabian-peninsula; and a camel milk slimming body mask.
TAIM also inspires the cuisine. Nourishing dishes rooted in Arabic health-food traditions feature indigenous herbs and spices, and traditional Arabic superfoods like figs, dates, olives, and camel milk, bolstered by healthy cooking techniques to ensure maximum nutrition. While a menu of medicinal teas, courtesy of the in-house apothecary, offers inner restoration and relaxation, especially when taken in the House of Wisdom, a library housing thousands of books, thanks to a partnership with the Qatar National Library.
According to Sadie Johannessen, Zulal's director of health and wellness, "TAIM's key principle is restoration and life balance through good diet, physical therapies and fitness, mental health and rest, optimal digestion and elimination, and nurturing of the spirit."
This applies to both individuals and families, and uniquely, Zulal offers a Family Wellness concept delivering multi-generational practices and activities designed to encourage connection and positive habits.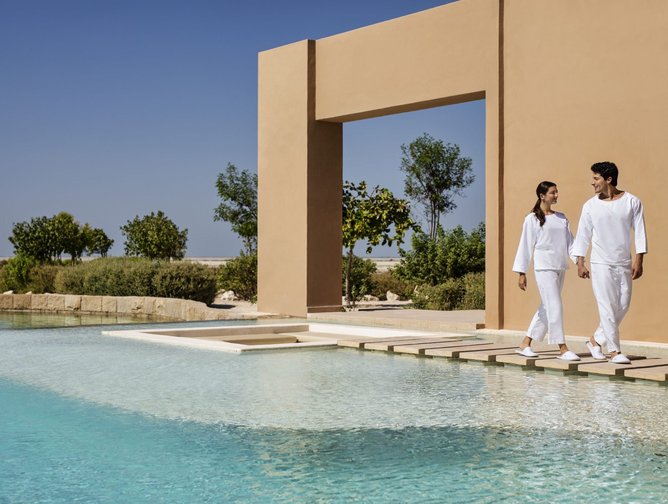 Zulal Wellness Resort by Chiva-Som in Qatar is the world's first wellness destination embrace Traditional Arabic and Islamic Medicine (TAIM) as its philosophy
This embrace of ancient Middle East wellness philosophy and of the desert landscape as a destination is part of Qatar's National Vision 2030, to honour the preservation of tradition and indigenous knowledge and culture and boost family togetherness.
It is a strategy also employed by close neighbour Saudi Arabia. The Kingdom is carving out its own immersive Arabic-focused wellness strategy, as this less-than-traditional tourist destination looks to lure 100 million visitors annually by the end of the decade.
The tourism drive is part of the Kingdom's efforts (Saudi Vision 2030) to diversify its economy away from oil revenues and evolve into one of the world's leading sustainable tourism destinations.
Saudi Arabia rolling out resorts that redefine wellness
Mega projects from Red Sea Global (Red Sea Project and Amaala) and the Saudi government (The AiUla Project / NEOM) are rolling out high-end holistic wellness destinations that are redefining the wellness travel experience.
Centered around regeneration and sustainability, these immersive and integrated resorts focus on nourishing the mind, body, and soul by maximising the benefits provided by the tranquillity of the desert, traditions of the region, and ingredients indigenous to it.
Take Saudi's flagship wellness retreat, and the World's Best New Wellness Retreat in 2022, Habitas AlUla – a desert-based eco-luxury villa resort that pays homage to the traditions of the region.
Habitas is the first property to inhabit AlUla, the ancient desert region of Saudi famed for its breath-taking landscapes and millennium-old archaeological sites, which is being transformed into a holistic wellness destination.
An oasis of calm and wellbeing, focused on sustainability, community, and shared experience, Habitas is home to eco-friendly practices (think electric cars and farm-to-table practices) and immersive experiences that are rooted in local traditions and designed to restore and relax, sustain, and nourish.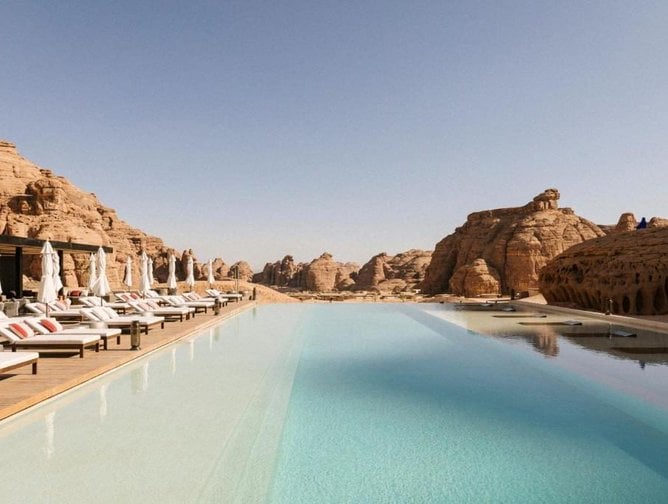 The first property to inhabit the ancient Saudi desert region of AlUla, Habitas AlUla was named the World's Best New Wellness Retreat in 2022
"Habitas AlUla is an experience-led resort, aimed at the modern traveller, with a mindset to rewire intrinsic behaviours for ultimate happiness and satisfaction," says Oliver Ripley, Habitas Co-Founder & CEO. "Everything we do is based on connection and sustainability."
Fire meditation, sound healing, Tibetan tapping, breathwork, restorative yoga, art and culture walks and canyon trekking are among the wellness practices offered against a striking backdrop of ancient rock formations and dunes, with the resort playing host to the 16-day AlUla Wellness Festival, themed around the healing power of silence, later this year.
The resort's Thuraya Wellness Centre, named after a star-constellation used by Bedouins to navigate, features a wellness agora and yoga deck, and delivers treatments combining Middle Eastern wellness techniques with local ancestral practices, like the date seed body scrub. While, within the on-site alchemy bar, wellness practitioners conjure up oils and masks using local plants and ingredients like salts and clay.
Full moon massage under the stars, anyone?
Wellness-focused property, Banyan Tree AiUla, has also opened in the ancient city. With its all-villa tented resort flanked by sandstone mountains, and a bespoke wellbeing offer that uses natural and native ingredients and fuses ancient Arabian practices with Banyan Tree's Thai roots, the resort promises guests a truly holistic and immersive approach to wellness.
Guests can connect deeply with the surroundings through various outdoor wellbeing experiences, from star-lit open-air sound baths to a massage inside a hidden cave surrounded by precious minerals, incense and scented candles made with locally grown ingredients. Banyan Tree's wellness programming will also see a regular roll call of world-renowned masters pop in to deliver transformational workshops.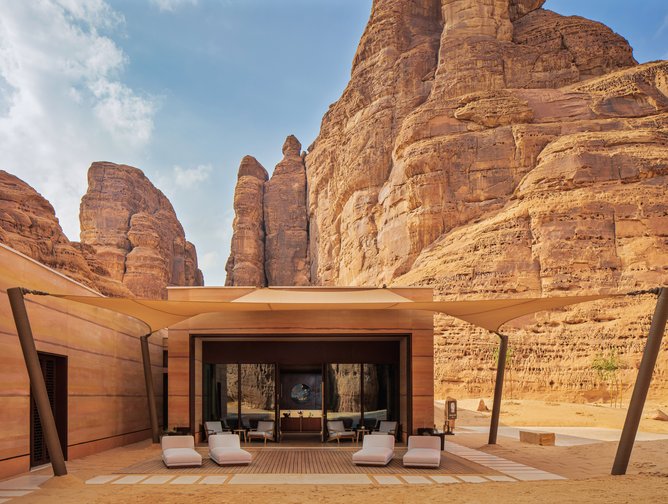 Wellness-focused property, Banyan Tree AiUla promises guests a truly holistic and immersive approach to wellness
Transformative wellness journeys at heart of Saudi tourism
Set to raise the bar of wellness even higher is Saudi's newest wellness destination, Amaala, a year-round destination located on the country's undeveloped northwest coast that will be powered by 100% renewable energy.
Part of Red Sea Global's vision of regenerative ultra-luxury tourism, Amaala is designed as a place for "transformative, personal journeys" curated around wellbeing, arts, culture, and luxury lifestyle, and will be home to the most comprehensive wellness offerings ever created in one destination, according to Red Sea Global, with first phase completion by mid-2024 and full completion by 2027.
Among Amaala's initial holistic and regenerative wellness resorts are Clinique La Prairie Health Resort, Rosewood Amaala, and Jayasom Wellness Resort.
Located between the world's fourth-largest reef and the Hijaz mountains, Rosewood Amaala will focus on "regenerative" experiences that combine wellness and sustainability and will deliver rock pools, a spa using treatments and ingredients with local origins, not to mention a curated list of meaningful experiences.
Not dissimilar to Qatar's Zulal, Amaala's newly announced Jayasom Wellness Resort will not only draw on local wisdom along with Western evidence- based practice for its treatments and practices, but also deliver a multi-generational wellness offering – an adult-only space, dedicated to "contemplation, healing, and self-discovery" and a family section where togetherness and communal activities are encouraged.
Designed as a holistic sanctuary, with a focus on transformation, the resort will deliver personalised retreat experiences promoting self-healing and self-discovery – with wellness trails, yoga pavilions, next-gen treatments and 'conscious cuisine' all part of the offer.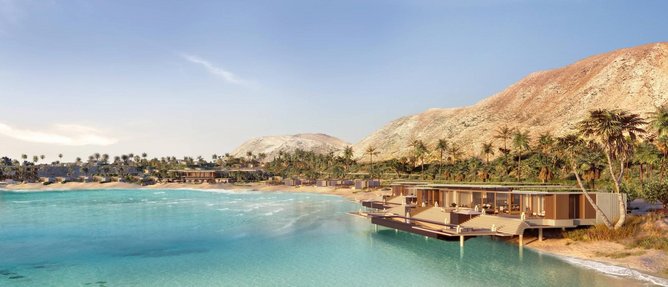 Once open, Amaala's Jayasom Wellness Resort will deliver personalised retreat experiences promoting self-healing and self-discovery
Transformation of health and wellbeing will also take centre stage at Amaala's Clinique La Prairie.
Anchored around the pursuit of longevity for which Clinique La Prairie is renowned, this new development is part of "the most important health and longevity-focused resort ever developed", according to Simone Gibertonia, CEO of Clinique La Prairie.
Not only will it offer a "serene place in which to unwind, meditate and rejuvenate",it will deliver wellness experiences designed to take guests on "transformative personal journeys inspired by arts, wellness, and the purity of the Red Sea", says John Pagano, Red Sea Global's CEO.
Guests will be able to book in for transformative itineraries to treat everything from fatigue, anxiety and insomnia to diabetes and digestive disorders with therapies ranging from IV infusions to cryochamber; while on-site offerings like a cooking school, museum, and rolling programme of workshops aim to foster relaxation and self-discovery.
Not a country to be left out, the UAE – which has long been lauded for its five-star spas and aesthetic expertise – is also upping its wellness factor, rolling out holistic wellness resorts.

Among these is Zoya Health & Wellbeing Resort, the UAE's first five-star wellness resort that made its debut last year in the UAE's smallest emirate Ajman.

Set among the UAE's oldest natural mangroves, rather than in the desert, the 61-room adult-only resort delivers transformative personalised development journeys for travellers seeking to nourish and invigorate mind, body, and soul.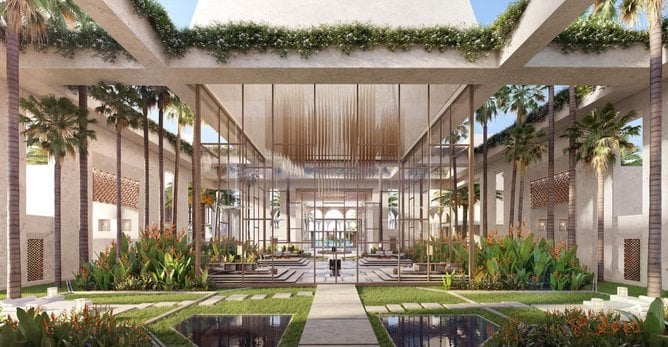 Amaala's Clinique La Prairie will be the most important health and longevity-focused resort ever developed
Based on holistic and integrative methods, the transformational programmes have been created to "address the ailments of the modern world, to be preventative rather than curative", says Saudi owner Ameer Said. "Detoxing and therapeutic fasting is central to what we offer, combined with physiotherapy, aesthetic medicine, and the right nutrition to boost vitality."
All guests undergo a full health assessment before being given a personalised agenda designed to address individual needs, with everything from metabolic treatments and holistic therapies to physical exercises and spiritual sessions on offer, complemented by activities like sunrise meditation, sunset yoga, mangrove kayaking and a round of golf.
3 wellness packages – Middle East
1 Sleep Programme
This barefoot luxury destination delivers wellness programmes (1 to 7 days) dedicated to everything from losing weight to boosting brain power. On the 7-day sleep programme, guests receive screenings and sleep tracking throughout along with personalised therapies including Yoga Nidra, Holistic Massage, meditation, and nutrition advice designed to help restore energy levels, de-stress, and establish a sustainable sleep routine.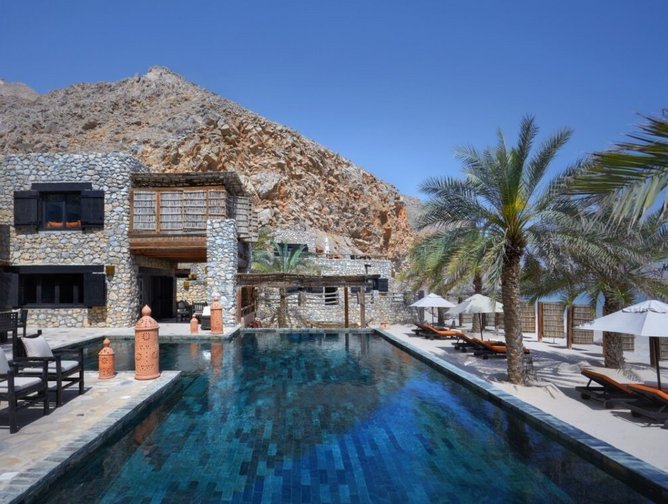 Oman's Six Senses Zighy Bay delivers a range of wellness programmes including one focused on sleep enhancement
2 Immune Support
Zoya Health & Wellbeing Resort, Ajman, UAE
Billed as a way to boost the immune system's function and improve long-term cellular resistance, this 6-night personalised programme uses detox methods, from daily oxygen therapy sessions and IV infusions to sodium inhalation, deep tissue massage and Turkish Hammam rituals. This is paired with a clean eating menu, daily yoga, meditation, and spiritual sessions and activities like golf, kayaking and dune trekking. The 5-star resort is set in the seaside community of Al Zorah, Ajman, nestled between some of the oldest natural mangroves in the country.
3 Mind Body – Wellness
Zulal Wellness Resort by Chiva-Som
Run over 3, 5, 7, 10 or 14 nights, the Mind Body, Wellness programme is designed to de-stress, replenish, and boost the immune system via various healing traditions and holistic activities. After a consultation, plans are customised and include everything from Arabic medicine-inspired body, foot and scalp massages and heat treatments that work on mental wellbeing, to physio sessions, fitness activities and cooking classes. Add to this, daily yoga, Pilates, meditation and spiritual sessions, access to the Himalayan salt room, Hammam and arctic cave, and an in-room wellness bar.